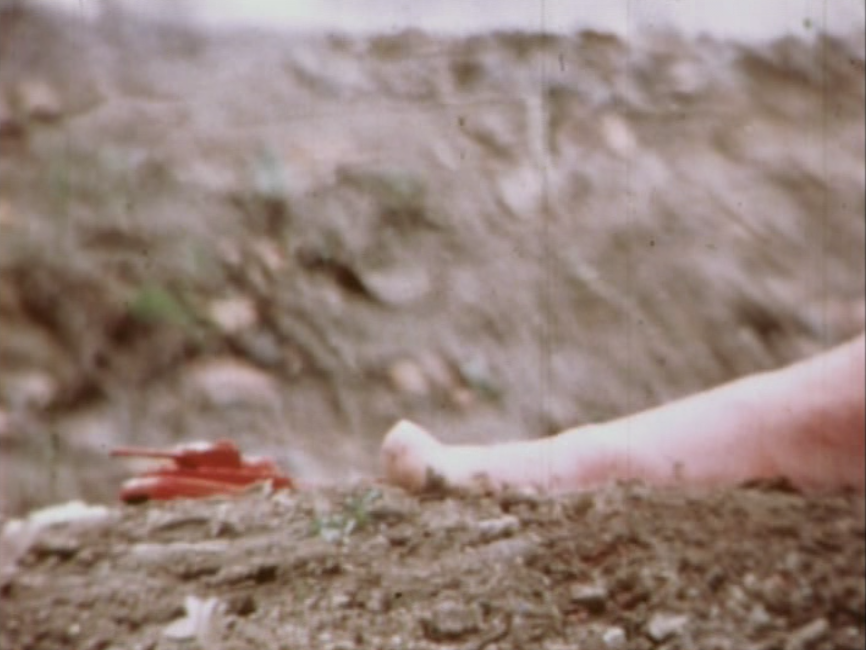 Date produced: 1972
Filmmaker(s):
Country of Production:
Mexico
Languages:
Spanish
Duration:
00:15:00
Format:
Super8
Colour:
Colour
Sound Notes:
Unknown
Awards/Recognition:
Luis Buñuel Award of the Third Independent National Film Contest 1973
Description:
" La segunda primera matriz narraba visual y poéticamente una historia de la humanidad, desde el origen hasta la carrera espacial, como una nueva frontera. En una primera sección, entre tomas de nubes, remolinos y oscuridad, hacía referencia al origen de la vida. (...) Después del lanzamiento del cohete y de las imágenes sobre la exploración del espacio, se ve a una mujer desnuda en el campo. La cámara hace un lento tilt down recorriendo su cuerpo. Al pasar por el pubis sigue a una gota de sangre que comienza a deslizarse por la pierna. Cuando llega al suelo aparece un desfile de tanques de guerra en miniatura, rojos, como los que se habían mostrado anteriormente en la película. La película termina con un cartel que dice 'Pero también se puede parir la nada' " (Vázquez Mantecón, 2012).

La segunda primera matriz [The second first womb] told visually and poetically a story about humanity, from its origin to the Space Race, as a new frontier. In a first section, amongst shots of clouds, swirls and darkness, it referred to the origin of life. (...) After the launch of a rocket and images about exploring space, the film shows a woman naked in the country. The camera makes a slow tilt down of her body. When passing by the pubis, the camera follows a drop of blood that slides by the leg. When it reaches the floor, a parade of miniature war tanks appear, red, like the ones previously shown. The film ends with a sign that says 'But you can also give birth to nothing' " (Vázquez Mantecón, 2012).
Resources:
Vázquez Mantecón, Álvaro. El Cine Super 8 en México 1970-1989 . Filmoteca UNAM, 2012. Find this book in Filmoteca UNAM Docs

This film appears in the DVD anthology Superocheros. Filmoteca UNAM, Mexico City, 2008.
Subjects:
Genre:
Form:
Tags:
---