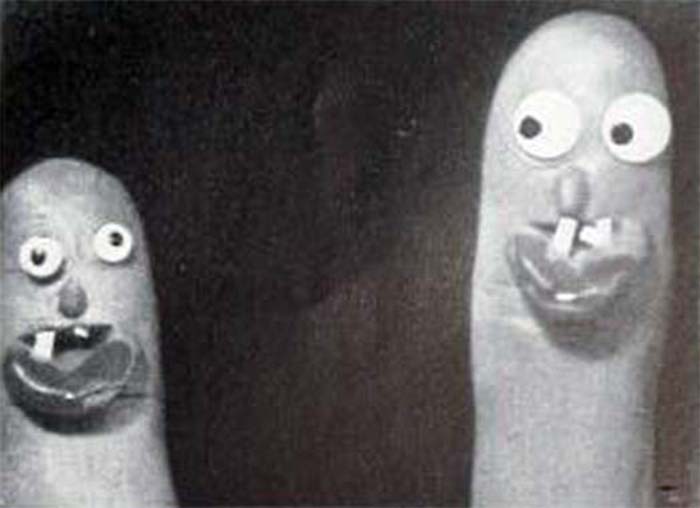 Date produced: 1936
Filmmaker(s):
Languages:
English
Length:
800 ft
Format:
16mm
Colour:
Kodachrome
Sound Notes:
Silent
Awards/Recognition:
ACL Ten Best 1936 - General Class
American Cinematographer Amateur Movie Makers Contest, 1936 - Special Effect Photography
Description:
"A perfectly delightful holiday in personal filming, replete with humor, and imagination, is the comedy, Nite Life, produced by J. Kinney Moore, entirely in Kodachrome and, what is more, almost entirely in interior Kodachrome, by artificial light. Mr. Moore, in his work, refutes the contention, sometimes heard, that the amateur should be wary of film comedy. And, beside negotiating this pinnacle successfully, the producer has added an outstanding technical handling of Kodachrome, as well as a highly diverting and intelligent use of the various camera illusions it is possible to produce with the aid of modern 16mm. equipment. The obvious zest and pleasure with which the actor producer entered into the creation of this film add immeasurably to its value as a genuine document of personal filming achievement. Examples of carefully planned and executed trick photography follow one another in such rapid succession in the film that the spectator is left time only to gasp. However, these tricks are not executed simply for their own sake, but strictly in accordance with the furtherance of the plot. It must be said that, in the second part of the film, the author does yield slightly to the temptation of attenuating the action somewhat in order to spin out his bag of tricks. But the film as a whole is so delightful that any audience could easily forgive this small shortcoming." Movie Makers, Dec. 1936, 542.
Resources:
An article in Movie Makers (Nov. 1936, 533, 559) was written by J. Kinney Moore about his film, detailing how he made the film (difficulties with production, filming his house cat Tom, and how the title and end credits were made).

"Nite Life was a farce about the difficulties of sleeping during bad dreams, ringing alarm clocks, and every other imaginable annoyance occurring in a night in the life of the filmer." Movie Makers, April 1946, 162.

"Nite Life, that knockout Kodachrome comedy, has been in production since January first of this year, at an average working time of four hours a day. After just missing a mention last year, J. Kinney Moore, ACL, took but one New Year's resolution — to make a Ten Best film or bust. The result arrived at League headquarters in a specially built container, padlocked and insured for $5,000." Movie Makers, Dec. 1936, 565.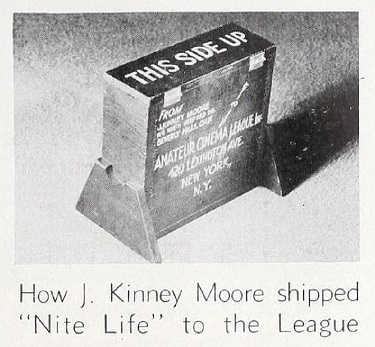 Accompanying musical compositions chosen for a public screening of the film are listed in "Musical Mood and Tempo for the 1936 Prize-Winners" (American Cinematographer, Feb. 1937, 74-75, 78).

This film was available in the ACL's Club Film Library.
Locations:
Beverly Hills, California (Filming)
Subjects:
Genre:
Form:
Screenings:
Screened by the Los Angeles Amateur Cine Club in 1937: Los Angeles, CA
Screened by the Staten Island Cinema Club in 1937: Staten Island, N.Y.
Screened by St. Louis Amateur Motion Picture Club in 1938: St. Louis, MO
Screened by the Amateur Cinema Club of Buffalo in 1938: Buffalo, N.Y.
Screened by the Boston Cinamateur Club in 1938: Boston, MA
Screened by the Cine Section of the Shreveport Camera Club in 1938: Shreveport, LA
Screened by the St. Paul Amateur Movie Makers Club in 1939: St. Paul, MN
Screened by the Metropolitan Motion Picture Club in 1939: New York City, N.Y.
Screened by the Ra-Cine Club in 1941: Racine, WI
Screened by the Springfield Amateur Movie Club in 1941: Springfield, MA
Screened by the Movie Section of the Edison Camera Club in 1941: Chicago, IL
Screened by the Tri-City Cinema Club in 1942: Moline, IL
Screened by the 8-16 Movie Club in 1943: Philadelphia, PA
Screened by the Cine Group of the Schenectady Photographic Society in 1945: Schenectady, N.Y.
---
Do you know where this film is? Get in touch with us at amdb@ucalgary.ca.