---
---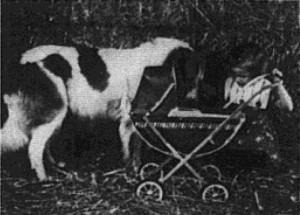 Date produced: 1959
Filmmaker(s):
Description:
"A most pleasant day with a little girl, her four kittens, and collie dog. The kittens do so many things that set them apart from other animals. They seem to enjoy their various playful activies before the flood lights and camera. While all this is going on, the collie feels just a little bit left out of things. Finally, all return to the barn for some fresh milk and a good night" PSA Journal, Nov. 1960, 39.
---
Date produced: 1965
Filmmaker(s):
Description:
"The Black Cat is a 25-minute version of Edgar Allen Poe's story by the same name and concerns a man who does away with his wife in what he believes to be the perfect crime, only to be outdone in the end by the family black cat. This low key, well dramatized version is the only 8mm film among the top ten and also received the MPD Scenario Film Award" PSA Journal, Sept. 1965, 50.
---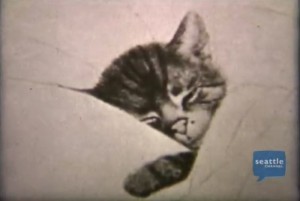 Date produced: 1938
Filmmaker(s):
Description:
"The 1938 Seattle film, shot by Iwao Matsushita, features chubby cats playing, eating, and being cuddled by their humans." K5 News.
---
Date produced: 1933
Filmmaker(s):
Description:
"Under the classification of Home Movie, Van Dee Sickler of Los Angeles was awarded the $50.00 prize for his picture 'Mishcief,' a 16 mm subject in 200 feet. The continuity is evolved around his wife, a Scotch terrier, a cat and a bird. The continuity, titles and photography of this picture were very good." American Cinematographer, Dec. 1934, 376.
---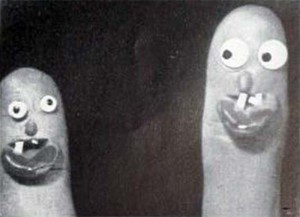 Date produced: 1936
Filmmaker(s):
Description:
"A perfectly delightful holiday in personal filming, replete with humor, and imagination, is the comedy, Nite Life, produced by J. Kinney Moore, entirely in Kodachrome and, what is more, almost entirely in interior Kodachrome, by artificial light. Mr. Moore, in his work, refutes the contention, sometimes heard, that the amateur should be wary of film comedy. And, beside negotiating this pinnacle successfully, the producer has added an outstanding technical handling of Kodachrome, as well as a highly diverting and intelligent use of the various camera illusions it is possible to produce with the aid of modern 16mm. equipment. The obvious zest and pleasure with which the actor producer entered into the creation of this film add immeasurably to its value as a genuine document of personal filming achievement. Examples of carefully planned and executed trick photography follow one another in such rapid succession in the film that the spectator is left time only to gasp. However, these tricks are not executed simply for their own sake, but strictly in accordance with the furtherance of the plot. It must be said that, in the second part of the film, the author does yield slightly to the temptation of attenuating the action somewhat in order to spin out his bag of tricks. But the film as a whole is so delightful that any audience could easily forgive this small shortcoming." Movie Makers, Dec. 1936, 542.
---
Date produced: 1968
Filmmaker(s):
Description:
"On the Reef can refer to only one place in the world and that's the Great Barrier Reef off the eastern coast of Australia. Graemer Grosvenor handled the world of sea life very nicely with a smooth flowing story of a group of young adventurers in this area of the unusual. This film from Australia had no difficulty in capturing the Nature Film Award" PSA Journal, Oct. 1968, 49.
---
Date produced: 1955
Filmmaker(s):
Description:
"A Short, appealing story of the little kitten who had no home. A wonderful example of what can be done within four flocks of one's home. The cast includes Mrs. Houghton, their two daughters, a few neighbors, and the family dog and kitten" PSA Journal, Dec. 1955, 36.
---
Date produced: 1934
Filmmaker(s):
Description:
"This was a sequel to his last year's picture 'Mischief.' It has the same characters, the dog, cat and bird with an addition to the dog and cat family." American Cinematographer, Feb. 1936, 73.
---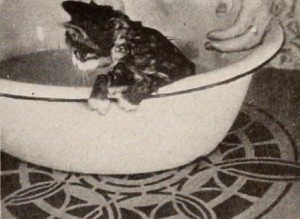 Date produced: 1945
Filmmaker(s):
Description:
"Every movie maker who owns a kitten probably has tried to film it; and, if so, he knows what a difficult task it is. Walter Bergmann has recorded, on film, incidents in the life of a stray kitten that is adopted by a soft hearted family. Reaction shots of a wise and dignified old cat express the disdain with which it views the foolish antics of the kitten, especially when the latter satisfies its curiosity about high places. Human beings in the film are introduced logically and unobtrusively, but Squeaky is essentially concerned with the star actor. Mr. Bergmann may be pardoned for occasional uneven exposure, for he has produced a film that will delight everybody, and especially those who love cats." Movie Makers, Dec. 1945, 496.
---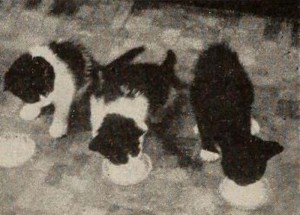 Date produced: 1946
Filmmaker(s):
Description:
"Last year's Honorable Mention Squeaky has grown up into a Ten Best and has had kittens to boot. In Squeaky's Kittens, Walter Bergmann presents the mother cat rearing her four lively offspring with the help of the Bergmann household. With what must have taken a great deal of patience and dexterity, the kittens are shown being fed and playing and sparring in typical fashion. Their inevitable disposal among the neighbors constitutes a delightful sequence in which the children and grownups of a suburban community are depicted in wholly natural and pleasing manner. Mr. Bergmann's manipulation of lighting, both interior and exterior, is warm and skillful, and he has supplemented the story with titles in light vein that are inserted with restraint." Movie Makers, Dec. 1946, 486.
---
Total Pages: 2