---
---
Date produced: 1930
Filmmaker(s):
Description:
"The Art of Photo Engraving, 1600 ft., 16mm., filmed by Edward J. Schon, tells the story of photo engraving from the first step to the last. It makes the complete process clear to the nontechnical audience while its interest to the engraver is such that Mr. Schon was invited to attend the recent American Photo Engravers' Convention in Philadelphia to screen the film and speak on his experiences in making it. It is probable that this excellent amateur made industrial has initiated a series of similar films on the same topic. Because of the unusually careful focusing and consistently even exposure, in spite of the wide variety of lighting conditions met with in interior scenes, this film is photographically outstanding. The continuity, presenting the plant's operations in natural sequence, is commendable for its clarity, particularly in view of the numerous complicated processes featured." Movie Makers, Dec. 1930, 759.
---
Date produced: 1945
Filmmaker(s):
Description:
"Ralph E. Gray has once again turned his inquiring and sympathetic camera upon the people and places of Mexico. The result is Arts and Crafts in Mexico, an authentic and altogether admirable record of that country's hereditary handicrafts. Here, in almost lavish detail, is an intent family of woodworkers, fascinating in their casual skills with hands and feet. Here are senoritas who both weave and wear the lovely silken rebozo, which shares honors only with the serape as the mantle of Mexico. One sees with equal clarity and charm the fashioning of pottery, the firing of copper vessels and the fine crafting of Mexico's soft and gleaming silver. Even the great Diego Rivera, pictured at work in a sequence which is a genuine "'beat," is engagingly included within the family of Mexico's artisans. Mr. Gray has compiled a cinematic document of great beauty, genuine human interest and authentic social value." Movie Makers, Dec. 1945, 494.
---
Date produced: 1938
Filmmaker(s):
Description:
Film on Puri leper potters and their methods. Japan. Calcutta. Pegu, Burma; Kuala Lumpur, Bienhoa, French Indochina; Annam.
---
Date produced: 1982
Filmmaker(s):
Description:
El filme muestra el proceso de realización de un anillo de bodas.

The film depicts the process of creating a wedding ring.
---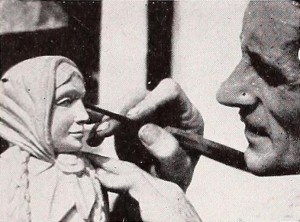 Date produced: 1943
Filmmaker(s):
Description:
"Nine times a place winner in seven years of Ten Best competition, Frank E. Gunnell has probably done his best work to date in Baie St. Paul. The film is a bright and sunny visit to the little French Canadian parish of that name, nestling in parochial contentment along the St. Lawrence. Central in this existence stands the baroque and inevitable church, while about it one finds the familiar family names of the village butcher and baker, doctor and dressmaker, recurrent along the cobbled highways. Here too is an intent, sharp featured little woodcarver, a housewife coolly competent about her embroidery and an aloof mademoiselle who presides with dazzling beauty over an ancient spinning wheel. Packed with this essential human interest, Baie St. Paul was filmed with the sparkling competence that one has for years expected from a Gunnell production. Its editing fits shrewdly into the pastoral mood of the subject matter, while its titles, both in their wording and execution, are colorful and in good taste. Baie St. Paul should take a high and honored place in the Gunnell catalog of fine films." Movie Makers, Dec. 1944, 477.
---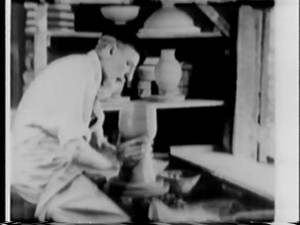 Date produced: 1933
Filmmaker(s):
Description:
"Ceramics, by Kenneth V. Bloomer, ACL, and Elizabeth Sansom, ACL, is probably the most ambitious amateur film ever attempted on this particular subject and perhaps stands alone in its field. The makers of the film were fortunate in having the cooperation of a famous ceramic artist, Leon Volkmar, who maintains his atelier at Bedford Village, N. Y. It was here that the entire film was produced, its makers having imbibed the spirit of the artist craftsmen so thoroughly that every deft touch, every careful step in the process of making a lovely vase are recorded. The interior lighting and closeup technique are especially good, particularly in those parts where only the delicate focusing of a closeup will reveal the nuances of the artist's touch as he models. The sequences which show the firing of the pottery are unusually well handled and the whole is outstanding in its clarity of continuity. Such a film might be described as a "glorified industrial" but, more than that, it is an educational film in the best sense of the word." Movie Makers, Dec. 1933, 499-500.
---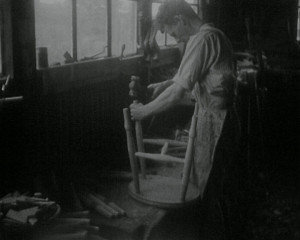 Date produced: 1934
Filmmaker(s):
Description:
"The production of components for chairs is compared and contrasted at three locations in the Chiltern Hills" (EAFA Database).
---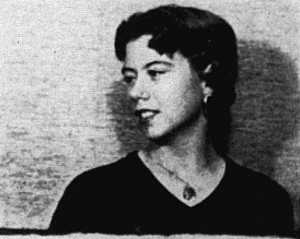 Date produced: 1957
Filmmaker(s):
Description:
"From the shore of Lake Superior, H. E. Jameson gathered many small stones (agates) which he cuts, grinds, and polishes into pins, bracelets, rings, necklaces, and car decorations. We are permitted to see some of the details of this operation and an interesting variety of finished products. This bit of work by lapidary should appeal to everyone" PSA Journal, Nov. 1957, 33.
---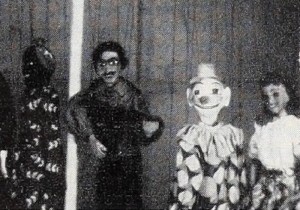 Date produced: 1951
Filmmaker(s):
Description:
"Although Hobby Show consists of little more than a walk through an exhibition hall, where the talented hobbyists of Long Beach, Calif., have exhibited their crafts and collections, Leonard E. Graham and his wife, Velma, have succeeded in making the experience a constantly interesting one. Each of the exhibits is fascinating in itself, and the Grahams have done an admirable job of overcoming the obstacles of lighting, shooting through glass (which they had to do for some detailed studies of miniatures) and filming under generally difficult conditions. Technically, the film is top drawer. The musical score for the picture of old player-piano music was an inspiration and a delight." Movie Makers, Dec. 1951, 412.
---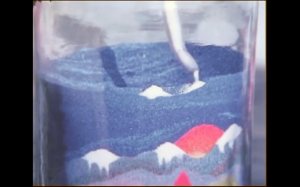 Date produced: 1985
Filmmaker(s):
Description:
En este documental se muestra el proceso de elaboración de una curiosa pieza de artesanía: una botella de cristal rellena de arena de distintos colores, formando así motivos figurativos y geométricos.

This documentary shows the process of making a curious craft piece: a crystal bottle filled by sand of diverse colors that forms new figure and geometrical patterns.
---
Total Pages: 2