---
---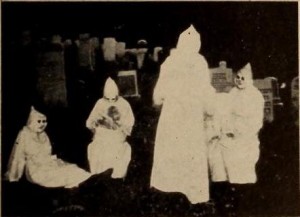 Date produced: 1949
Filmmaker(s):
Description:
"When darkness envelops the land and all sensible folk are safe in their beds, it is then, 'tis said, that the disembodied creatures disport themselves in and around the lonely cemeteries. A grave subject for a filmer, but Earl H. Sparks has created from it as zany a witches' comedy as the Walpurgis Night of unholy legend — or the madcap merriment of the Marx Brothers. Resourceful and adept technical handling, plus a lively if perverse imagination, imbue this phantom farce with high good humor and, shall we say, a haunting charm?" Movie Makers, Dec. 1949, 468.
---
Date produced: 1959
Filmmaker(s):
Description:
"Four of the boys gathered for their monthly poker game. To get even with the winner, a different kind of bet was offered and accepted by the winner. He was fitted with ghost-like attire, presented with a sword and sent to do battle with old McDonald, deceased. Chilling and spooky to the end" PSA Journal, Nov. 1959, 49.
---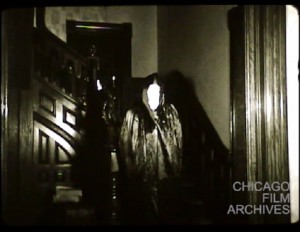 Date produced: 1946
Filmmaker(s):
Description:
"A short mystery film from members of the Amateur Cinema League. A group of relatives gather in a haunted house for the reading of a will. Someone among them knows a secret about the house, and uses stories about the Black Widow to try and scare everyone away. In the end, their identity is revealed and all the secrets come to light. Title cards narrate the dialogue." Chicago Film Archives.
---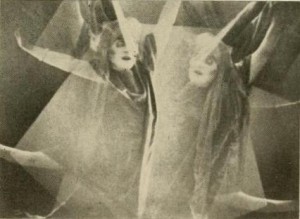 Date produced: 1928
Filmmaker(s):
Description:
"The Fall of the House of Usher" not only represents a new cinema technique but it is also unique in that it does not attempt to tell Poe's story in detail, rather to invoke in its audiences the esthetic impressions and moods which the tale creates in its readers. This revolutionary approach to the cinema opens a fascinating field for further pioneering. Fortified with the new scientific instruments which have recently been devised for the detection and recording of emotional reactions, the amateur producer may now truly be said to face a new world for cinematic experimentation in translating such reactions into film. Properly motivated by medical authority films of this nature may even prove to have a tremendous psychological significance. From any viewpoint "The Fall of the House of Usher" represents a forecast of possibilities which are amazing." Movie Makers, January 1929, 847.
---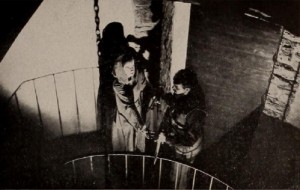 Date produced: 1947
Filmmaker(s):
Description:
"David Bradley, the dynamic heart of Willow Films, producers of Macbeth, has behind him a long and amazing record of outstanding dramatic pictures. Among these are his productions of The Christmas Carol and Oliver Twist, by Charles Dickens; Emperor Jones, by Eugene O'Neill, and Peer Gynt, by Henrik Ibsen. His Macbeth is the greatest of them all. And in a sense, this moving evocation of the brooding Shakespearian tragedy is the end product of them all — since, in it, Mr. Bradley's creative and cinematic abilities have come fully and splendidly of age. The character of this brilliant achievement may perhaps best be illumined by Mr. Bradley's own words from his plans for the film. "We realized clearly," he has written, "that the strength of our Macbeth must be found in stimulating cinematic treatment, portrayed with such angular camera compositions as to suggest the twisted, supernatural aspects of the drama. We planned our lighting for harsh contrasts and textures, so that, on occasion, the brooding menace of cold, murky stone could almost be felt. For our Macbeth was to be, above all, a movie, depending on atmosphere more than acting, 'punch' more than pomp, for its ultimate success or failure." That it has been success, not failure, is rewardingly the case." Movie Makers, Dec. 1947, 534, 536.
---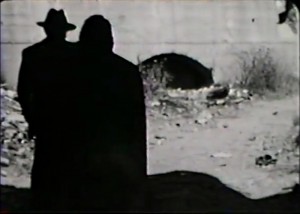 Date produced: 1933
Filmmaker(s):
Description:
"Story of murder during a treasure hunt." Movie Makers, Nov. 1933, 475.
---
Date produced: 1960
Filmmaker(s):
Description:
"The visitor gains entrance to use the telephone. He is a person of strange power. Everything in the house feels and responds to his ghostly presence. After much apprehension, the housewife persuades him to leave; the spell is broken" PSA Journal, Nov. 1960, 42.
---