---
---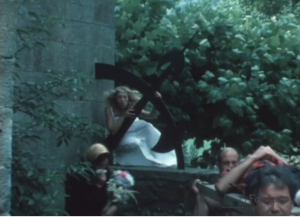 Date produced:
Filmmaker(s):
Description:
El filme comienza con un hombre vagando por el campo. Encuentra a una mujer vestida de blanco y comienzan a besarse, hasta que eventualmente caen sobre el pasto. El hombre lleva a la mujer vestida de blanco a conocer a una mujer mayor que la rechaza y la hace huir. El hombre va en su búsqueda y nota que ella tiene patas de pato, él cae al suelo y muera mientras ella coloca un pequeño costal café cerca de su pecho. La película muestra después a un grupo de hombres cargando su cuerpo hacia su ceremonia fúnebre mientras la mujer mayor llora detrás de la procesión y la mujer de blanco observa escondida en una esquina. Cuando el cuerpo es dejado solo, la mujer de blanco se aproxima para tomar el costal café y desaparece.

The film begins with a man wandering in the country. He finds a woman dressed in white and they begin to kiss, eventually falling on the grass. The man takes the woman dressed in white to meet an older woman who rejects her and makes her leave. He goes looking for the woman in white and sees that she has duck legs, he falls and dies while she places a small brown sack by his chest. The film then shows men carrying his body to his burial while the older woman cries behind the funeral procession and the woman in white watches hiding in a corner. When the body is left alone, the woman in white approaches him and takes the brown sack back and leaves.
---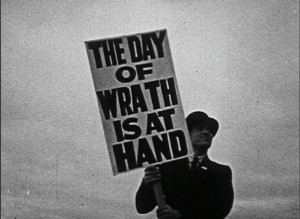 Date produced: 1934
Filmmaker(s):
Description:
"Science fiction film influenced by the style of inter-war European art cinema." East Anglian Film Archive.

"Each year the contest sponsored by the American Society of Cinematographers through this magazine seems to bring forth a surprise. For several years the 8mm cinematrographers have been setting the pace, but never has any of them reached the goal achieved this year by Miss Ruth Stuart. Miss Stuart has been a contributor to this contest every year for the past three years; in 1933 she was given the medal for travel pictures. Her 200 ft. 16mm subject 'Doomsday' was also awarded honors in the British Institute of Amateur Cinematographers. In the American Society of Cinematographers contest just closed she was given a recognition for the Outstanding picture, in photography and Documentary pictures. It will be surprising to many that this unusual honor should befall a woman. Photography, by the unwritten law, is supposedly the realm of male species. Miss Stuart, however showed such a fine understanding of the value of pictures that move, how to fabricate these moving photographs into an interesting document that would hold any audience anywhere in the civilized world. For a person who films she must have developed a stony heart in order to cut as judiciously as the picture indicates. There is a tempo to the production that is very seldom achieved by an amateur. There are no obvious pet shots or scenes. Each sequence, each scene, each picture was left in production for a purpose to give it atmosphere to help the story along." American Cinematographer, Jan. 1937, 25.

"Well photographed, well planned film dealing with the contrasted fears of town and country folk and their reaction to catastrophe" (IAC 1975).

'A fantasy based upon a fear which has preyed upon credulous minds from the beginning of time' is the maker's description of this ambitious attempt to show how people react to the possibility of a catastrophe and then to the real event. The story hinges upon a cosmic event that upsets the Earth's equilibrium, causes an imbalance of weather conditions and other natural forces, resulting in widespread panic' (EAFA Database)."
---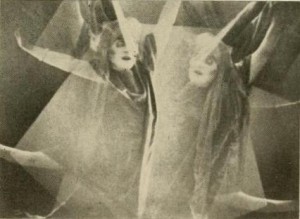 Date produced: 1928
Filmmaker(s):
Description:
"The Fall of the House of Usher" not only represents a new cinema technique but it is also unique in that it does not attempt to tell Poe's story in detail, rather to invoke in its audiences the esthetic impressions and moods which the tale creates in its readers. This revolutionary approach to the cinema opens a fascinating field for further pioneering. Fortified with the new scientific instruments which have recently been devised for the detection and recording of emotional reactions, the amateur producer may now truly be said to face a new world for cinematic experimentation in translating such reactions into film. Properly motivated by medical authority films of this nature may even prove to have a tremendous psychological significance. From any viewpoint "The Fall of the House of Usher" represents a forecast of possibilities which are amazing." Movie Makers, January 1929, 847.
---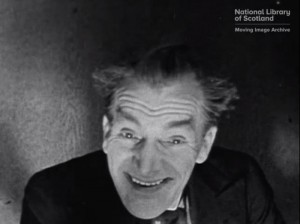 Date produced: 1936
Description:
"A bridge party invite a mysterious stranger to make up a fourth at their table, only to be unpleasantly surprised by his card tricks. When their fourth player arrives late, the strange interloper disappears, leaving an oddly familiar Joker in his place" National Library of Scotland Moving Image Archive.
---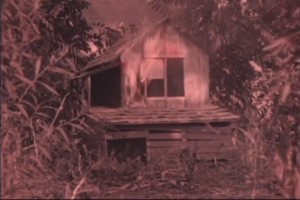 Date produced: 1938
Filmmaker(s):
Description:
"Supernatural thriller made by a teenage girl." Filmpreservation.org

"15 year old Mary is bored. With her parents permission she writes her chum Martha to come for summer vacation and they will make a movie. In the meantime two convicts escape from the nearby prison. To frighten the girls away the convicts decide to play ghosts. Film ends with posse, capture and hand colored inferno." Oregon Historical Society.
---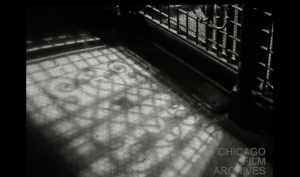 Date produced: 1972
Filmmaker(s):
Description:
"A fickle (or is it haunted?!) elevator disrupts a man's daily routine, ending tragically in a stairwell." Chicago Film Archives
---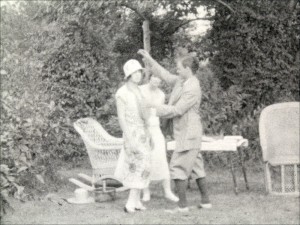 Date produced: 1925
Filmmaker(s):
Description:
"Mag the Hag" is a 1925 amateur fiction film shot and edited by Hiram Percy Maxim (1869-1936), founder of the Amateur Cinema League. It is one of the earliest amateur fiction films shot on 16mm in Northeast Historic Film's collections. It features Maxim's daughter, Percy Maxim Lee, in the lead role of Percy Proudfoot. oldfilm.org
---
Date produced: 1936
Filmmaker(s):
Description:
"Misdirected medical research, with gruesome and very exciting consequences, is the basis of the plot of The Scalpel, a photoplay produced by Richard H. Lyford, with the aid of a group of boys and girls of high school age. The plot is extravagant, the story is rather too filled with amazing action, and there is not a doubt that the melodrama as a whole puts too great a burden on the acting ability of a group of young people, even though they are surprisingly able. Nevertheless, here is an amateur made thriller of the Frankenstein and werwolf tradition that really sends chills chasing down your spine. The transition of the unfortunate doctor into a demented and abnormal creature involved makeup that is really astonishing outside of a theatrical studio. It can't be said that the handling of the episode is any less convincing in this amateur production than are the same undertakings in the best Hollywood films of this nature. In addition to being really successful in its object, this picture offers some excellent technical work and very competent management of a large cast." Movie Makers, Dec. 1936, 550-551.
---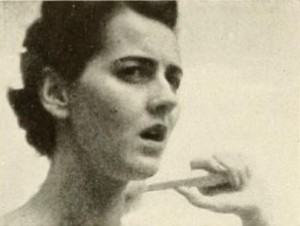 Date produced: 1940
Filmmaker(s):
Description:
"Three Wishes is a fantasy, done by Earl L. Cochran with a delightful touch of originality. The story is told in footage that is relatively brief, yet clever editing and planning make it thoroughly complete. Here we have the familiar legend of the fortunate mortal who is given exactly three wishes by a supernatural power — and what happens when these three wishes are granted. The feat that Mr. Cochran accomplished was to tell such a story humorously and effectively, but without resort to complicated camera trickery. Except for one double exposed scene of the inevitable jinni which is evoked by rubbing a silver teapot (and this is a very good shot, too!) the film tells its story with straight cinematography. While the interior and exterior technique of scene recording, including a shot of an auction, was completely adequate, the outstanding feature of this film is its story telling quality, accomplished by careful cutting. An excellent performance was given by the single lead character of the photoplay, while the brief appearance of the jinni was very expertly handled." Movie Makers, Dec. 1940, 600.
---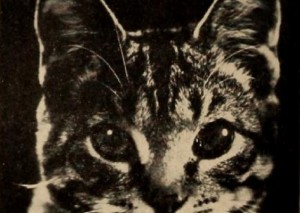 Date produced: 1949
Filmmaker(s):
Description:
"A witch who tires of her venomous role decides to transmit her characteristics to the soul of a cat. In this utterly charming film, William A. Thomas shows that he understands this soul perfectly — in both its winsome and its wilder aspects. With inexhaustible patience, he has recorded all the mischievous doings of a lively kitten that finally sees the light of love and casts off the witch's spell — i.e., the cat has kittens. Mr. Thomas's staging of the witch scenes — a role played with relish by Olive Thomas — is eerie and effective, while his sequences on the satanic feline are done with amused affection. The Witch Cat will appall those who "can't bear the beasts," delight those who adore them." Movie Makers, Dec. 1949, 455.
---