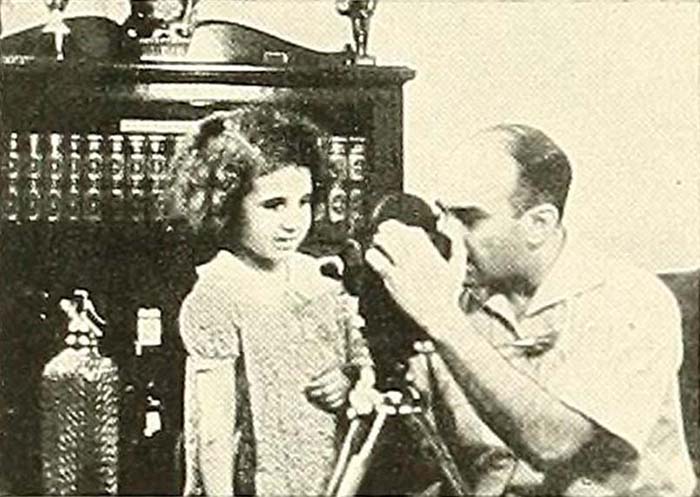 Date produced: 1937
Filmmaker(s):
Languages:
English
Length:
300 ft
Format:
16mm
Colour:
B&W
Sound Notes:
Silent
Awards/Recognition:
ACL Ten Best 1937 - General Class
American Cinematographer Amateur Movie Makers Contest, 1937 - Equipment Prize, Victor Animatograph Corporation projects for the most interesting lighting effect
Description:
"Already well in the forefront of contemporary photoplay producers, Charles J. Carbonaro has taken a marked step onward in his current comedy, Little Sherlock. Simply planned yet smoothly integrated, this new production tells a delightful tale of the precocious daughter of a photographer, who was always "helping" father. How, during a surprise robbery of their home, she records the crux of the event with Daddy's amateur movie camera provides a denouement which is both satisfying and successful. In Little Sherlock, Mr. Carbonaro has more than maintained the suave lighting and impeccable technical standards for which his work is known; he now wins new honors with a display of genuine talent for light comedy direction. To both of these credits must be added praise for his own acting of the busy cameraman and for the portrayal of the eager apprentice by his own daughter, Alice." Movie Makers, Dec. 1937, 603.
Resources:
Discussed in "Closeups" (Movie Makers, June 1937, 294). Carbonaro also discusses the film's production in "Amateur Photoplay Expedients" (Movie Makers, 1938, 390, 391, 407).

The film won first award in the Metropolitan Motion Picture Club's annual members' film contest in 1938 (Movie Makers, March 1938, 129).

The film was available in the ACL's Club Film Library.
Subjects:
Genre:
Form:
Screenings:
Screened by the Metropolitan Motion Picture Club in 1937 and 1938: New York City, N.Y.
Screened by the Greater Oakland Motion Picture Club in 1938: Oakland, CA
Screened by the Cleveland Cinema Club in 1938: Cleveland, OH
Screened by the Jefferson City Cinema Club in 1938: Jefferson City, MO
Screened by the Y.M.C.A. Movie and Camera Club in 1938: Des Moines, IA
Screened by the Movie Group of the Telephone Camera Club of Manhattan in 1938: Manhattan, N.Y.
Screened by the Pictorial Photographers of America in 1939: New York City, N.Y.
Screened by the Washington Society of Amateur Cinematographers in 1939: Washington, D.C.
Screened by the Stockton Cine Club in 1939: Stockton, CA
Screened by the Manchester Cinema Club in 1940: Manchester, CT
Screened by the Norfolk Amateur Movie Club in 1940: Norfolk, VA
Screened by the Cinema Club of the Triple Cities in 1940: Binghamton, N.Y.
Screened by the Cine Group of the Schenectady Photographic Society in 1940: Schenectady, N.Y.
Screened by Russel C. Holslag for Macy's Photographic Forum in 1940: New York City, N.Y.
---
Do you know where this film is? Get in touch with us at amdb@ucalgary.ca.