---
---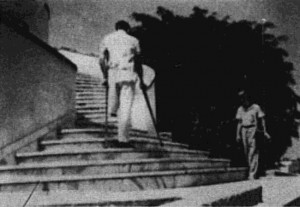 Date produced: 1959
Filmmaker(s):
Description:
"The Title is taken from the opening scene of a shoeshine box busy shining shoes with the help of a small boy. On the side of the box is the price of the shine, 10¢. An episode in a series of events in which the little box is every presented. A simple, yet touching portrayal in which the audience is so carefully drawn to live those few minutes with a wonderful little boy. The film leads but does not close in on us, our emotions may move with our interpretation. The maker, Antonio Cernuda, with a display of the artist and philosopher, has earned his second Gold Medal Award" PSA Journal, Nov. 1959, 47-48.
---
Date produced: 1935
Filmmaker(s):
Description:
"One of the most difficult of amateur subjects, a record of a child's vacation, is presented most ably in Adirondack Adventure, by Frank Gunnell, ACL. The photography was a joy to behold and showed quite clearly that a great deal of care and experience was back of it. Fine outdoor lighting, which made the most of every scene, predominated. The continuity of this competent picture was developed in such a fashion as to feature Mr. Gunnell's small son naturally and unobtrusively. Incidents which make up the picture are handled clearly and yet with a light touch. Only a movie maker would appreciate the fact that the sequences were far from casual but, instead, were staged carefully. The real charm of a summer vacation has been preserved in this fine picture." Movie Makers, Dec. 1935, 534.
---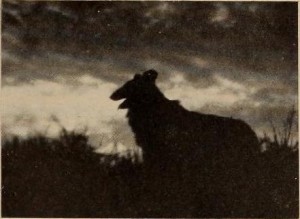 Date produced: 1949
Filmmaker(s):
Description:
"Raymond Berger has based his film on the familiar story of a dog that finds his way back home from a long distance, paralleled with a little girl's grief at the dog's absence. Imprisoned accidentally in the luggage compartment of a parked car, Lassie, a magnificent Collie, is driven miles from home before his equally accidental release. As the dog turns homeward, Mr. Berger maintains the suspense of his adventures over difficult terrain with admirable skill. A little closer cutting in the final re- union scenes at home would have heightened the dramatic quality. The few long shots in this 8mm. film are outstandingly executed, and there are touching closeups of the little girl as she mourns her pet." Movie Makers, Dec. 1949, 468.
---
Date produced: 1954
Filmmaker(s):
Description:
"Film was created for the Toronto Star to recruit paper delivery employees. Film shows paper boy delivering the Toronto Star and buying a radio and bicycle with his earnings. Film was produced by Thatcher Film Productions, Toronto, Ontario, Leslie P. Thatcher. It was presented by the Toronto Star" Archives of Ontario.
---
Date produced: 1936
Filmmaker(s):
Description:
"As We Forgive, produced by the Religious Motion Picture Foundation and filmed by Kenneth F. Space, with the technical assistance of Dan Lindsay, is a fine example of weaving the theme of the picture into the very warp and woof of its photographic material. The makers of this photoplay had a sincere and simple theme to present, and the excellence of their presentation lay in the fact that every detail of the handling, both in technique and continuity, was done sincerely and simply. It is this carefully worked out unity of treatment with theme that enables the film to serve as a model for producers of photoplays with a message. The filmers particularly are to be congratulated on their handling of child actors, one of the most difficult problems to be solved successfully in any field of the drama. From the technical point of view, we may remark the well exposed interiors, in which the lighting was carefully planned to give the effect of normal illumination; the fine photographic quality displayed in the closeups and camera angles and the smooth unity of the entire technical handling." Movie Makers, Dec. 1936, 542.
---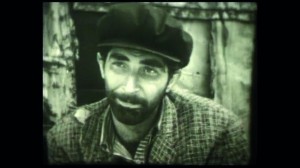 Date produced: 1967
Filmmaker(s):
Description:
"Samim Kocagöz'ün "Teneke" adlı eserinden uyarlanmıştır. İşgüzar bir bekçinin uzun ve yorucu bir kovalamacanın ardından, yoksulluğunun gerçek yüzüyle karşılaşmasının öyküsüdür." Sinematek.tv: http://sinematek.tv/asayis-berkemal-1967-2/ (15 Oct 2019).
"Adapted from Samim Kocagöz's short story, "Teneke." It tells the story of a meddlesome watchman/night guard, who faces the reality of poverty after a long and tiring chase." Sinematek.tv: http://sinematek.tv/asayis-berkemal-1967-2/ (15 Oct 2019).
---
Date produced: 1933
Filmmaker(s):
Description:
"At the Sandpits is perhaps Crawley's first completed work, produced when he was a teenager; Crawley went on to make many award-winning amateur films before turning professional in the 1940s as a producer of industrial films. Employing rapid cutting, trick photography, and imaginative scenarios, At the Sandpits conveys a strong sense of dynamic action in a short film about a family picnic. The film begins by showing the preparation of sandwiches for a picnic; after showing the meal in a few deft shots, the adults are seen relaxing, while the kids and pets, shot from extreme low angle in slow motion, run toward the sandpits. The film continues with short but carefully constructed sequences of the kids pretending to be buried alive in the sand, having a baseball game, and then returning home, tired. Finally, the film concludes with a strange dream sequence, employing trick photography, in which three girls appear decapitated behind a sheet" Tepperman, 173.
---
Date produced: 1934
Filmmaker(s):
Description:
"Delmer J. Frazier, ACL, of Oakland, Calif., is a man who can see the fine possibilities for plot ideas sticking out all about him in the current popular magazines. In his delightful film, Black Magic, he used an advertisement, but stories and funny papers are pretty fertile too. His story opened with the young lad of the house immersed in the mystic joys offered by a pancake flour company. ''Send Ten Wrappers and Get the Magic Wand!" He did, the wand arrived and the fun began. Fun, until his chum said the wrong magic words and started to disappear — wand and all. Only heroic measures on the part of our hero (and the cameraman) saved the day." Movie Makers, April 1935, 167.

"This was a well thought picture, but lacked a bit in photography to stack up with the prize winners." American Cinematographer, Feb. 1936, 73.
---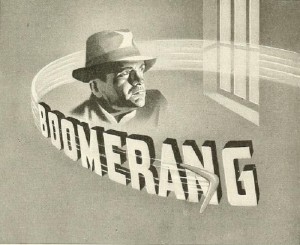 Date produced: 1940
Filmmaker(s):
Description:
"Boomerang is a simple, direct and hard hitting drama with a moral. Caught in lean times, a young man is laid off from his factory job. Lusting blindly for revenge, he kidnaps his boss's little daughter and sets off down the long, lonely road of the hunted fugitive. Days stretch into weeks, but still he eludes capture, as his patient little prisoner slowly melts his resentment with kindness and childish trust. At last, won over by the warmth of her love, he goes recklessly forth to get a doll that she wanted, only to meet death in a blaze of gunfire. The boomerang of revenge has come full circle. In this rather specialized drama, Chester Glassley has done a good job with a difficult story. The buildup is slow but relentless. The long series of outdoor hideouts is convincingly haunted with fear and menace, and the movie maker has done much to enhance their mood with an adroit use of his camera. Perhaps most outstanding, however, is the genuine portrayal of the little girl." Movie Makers, Dec. 1940, 602.
---
Date produced: 1950
Filmmaker(s):
Description:
"Home movie made by Charles Devenish Woodley, showing the beekeeping operation at his home." Library and Archives Canada.
---
Total Pages: 13