---
---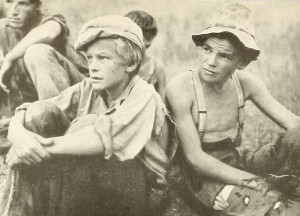 Date produced: 1937
Filmmaker(s):
Description:
"The present fate and possible future of the southern share-cropping farmer have been pictured in dramatic and authentic detail by Alan S. Hacker, ACL, in a five reel, 16mm. film recently completed under the sponsorship of the Sharecropper Film Committee, New York City. Made to aid the Southern Tenant Farmers' Union, the production illustrates the agricultural despotism and destitution which have resulted in the formation of that group bargaining organization. Farms and families of Arkansas, Tennessee and Mississippi appear in this documentary record, which kept Mr. Hacker three months in the field. Lee R. Hays. an Arkansan, served him as liaison officer with the union and its supporters, while Gardner Jackson, of the film committee, contributed to the production's planning. Narrative comment and a musical background are scheduled additions to the pictured story, in preparation for screenings before school and civic groups interested in the success of the Southern Tenant Farmers' Union." - "Practical Films," Movie Makers, March 1937, 128.
---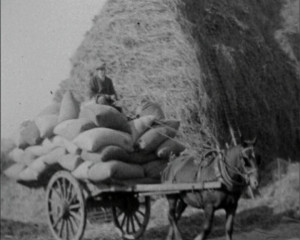 Date produced: 1925
Filmmaker(s):
---
Date produced: 1939
Filmmaker(s):
Description:
"Filmed in 1939 by the town doctor, Cologne is a personalized portrait of a farming community that merited only a single sentence in the WPA's 1938 guidebook to Minnesota: "COLOGNE (945 alt., 355 pop.) is a German community named for the ancient city on the Rhine." Dr. Raymond Dowidat and his wife, Esther, arrived in 1937 for his first practice after internship, and the impulse for the film seems to have arisen from their desire to document Cologne before they moved on to his next position in Minneapolis." filmpreservation.org
---
Date produced: 1927
Filmmaker(s):
Description:
"Clyde Hammond, of 65 Murdock Street, Youngstown, Ohio, won an honorable mention in the 16 millimeter division for his study of country life, 'The Dragon Fly.'Mr. Hammond worked out a strong atmospheric study of a selfish country boy, home from college, and his hard-working farmer father."Photoplay, Jun. 1928, 137
---
Date produced: 1937
Filmmaker(s):
Description:
"It has a story with titles in verse telling how the farm woman compared herself with the Duchess of Windsor and decides she prefers Pa to the Duke and her own simple tasks to the life of a Duchess." American Cinematographer, Feb. 1940, 87.
---
Date produced: 1955
Filmmaker(s):
Description:
"Excellent handling of camera and lights. A nice story telling family film starring Maxine (who has appeared in several other prize winning films) and her new baby." PSA Journal, Dec. 1955, 37.
---
Date produced: 1949
Filmmaker(s):
Description:
"Film about the Woodley's at their place in the country." Library and Archives Canada.
---
Date produced: 1930
Description:
"In this film record set in the beautiful Cumbrian countryside, sheep shearing and other farming activities take second place to fun. Whether swimming and splashing in a stream, feeding lambs, or taking a rowing boat out on the lake, there is plenty to keep children - and adults - busy. And of course we mustn't forget that essential outdoor activity - a picnic in the sunshine and fresh air." (BFI Player)
---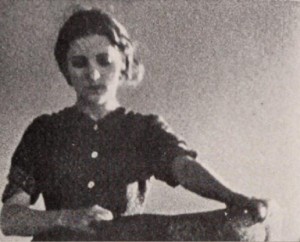 Date produced: 1933
Filmmaker(s):
Description:
"In New Horizon, Cinematographer Clardy presented the life of a farm girl at a moment of crisis. One reel, almost without titles, tells the story of her efforts to marry the man she loves in spite of her father's opposition which keeps her chained to the farm." American Cinematographer, Feb. 1935, 78.

"Clardy was the winner last year of the gold medal for scenario and photography. Last year Clardy's picture was based on a western theme, while this year his scenario, although set in its greater part in the outdoors had several indoor shots. However, most to be admired was the way in which he handled his production both from composition and directorial standpoint. There were only three people in his cast with the girl assuming the major role. His sense of dramatic values, and especially his fine feeling for the proper tempo brought forth unstinted praise from the judges." American Cinematographer, Dec. 1934, 365
---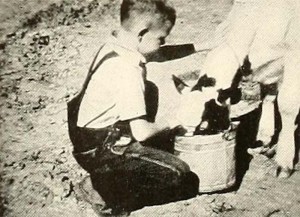 Date produced: 1940
Filmmaker(s):
Description:
"On the Farm, made by Mr. and Mrs. Ray Garner for the Harmon Foundation, is an example of visual education at its best. By the use of two charming, healthy little American children as the chief characters, it enlists sympathy before it attempts to instruct. And it never strays from the fundamental concept which, to all evidence, was in the minds of its makers: namely that, to teach children by visual aids, one must appeal to their sense of fun. Charm, here, is not outlawed simply because it is not informative. Divided into two parts, Morning and Afternoon, and illustrated with unpretentious titles, such as This is how the animals help, which are chalked in white letters on a blackboard, On the Farm tells of a common workday, in terms of what two farm children can do to assist their parents. From the sequence in which the tousled farm lad puts his head out of the window to see what kind of a daybreak it is. to the time when the sun goes down behind the silo, almost every kind of farm activity is shown. Other children in city classrooms are going to see themselves in the scenes and will want to learn more about a way of life in which they can feel so much at home." Movie Makers, Dec. 1940, 600-601.
---
Total Pages: 2