---
---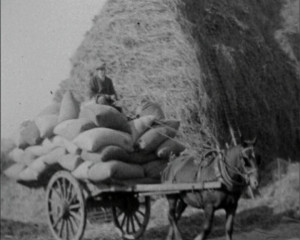 Date produced: 1925
Filmmaker(s):
---
Date produced: 1939
Filmmaker(s):
Description:
"Filmed in 1939 by the town doctor, Cologne is a personalized portrait of a farming community that merited only a single sentence in the WPA's 1938 guidebook to Minnesota: "COLOGNE (945 alt., 355 pop.) is a German community named for the ancient city on the Rhine." Dr. Raymond Dowidat and his wife, Esther, arrived in 1937 for his first practice after internship, and the impulse for the film seems to have arisen from their desire to document Cologne before they moved on to his next position in Minneapolis." filmpreservation.org
---
Date produced: 1927
Filmmaker(s):
Description:
"Clyde Hammond, of 65 Murdock Street, Youngstown, Ohio, won an honorable mention in the 16 millimeter division for his study of country life, 'The Dragon Fly.'Mr. Hammond worked out a strong atmospheric study of a selfish country boy, home from college, and his hard-working farmer father."Photoplay, Jun. 1928, 137
---
Date produced: 1937
Filmmaker(s):
Description:
"It has a story with titles in verse telling how the farm woman compared herself with the Duchess of Windsor and decides she prefers Pa to the Duke and her own simple tasks to the life of a Duchess." American Cinematographer, Feb. 1940, 87.
---
Date produced: 1955
Filmmaker(s):
Description:
"Excellent handling of camera and lights. A nice story telling family film starring Maxine (who has appeared in several other prize winning films) and her new baby." PSA Journal, Dec. 1955, 37.
---
Date produced: 1949
Filmmaker(s):
Description:
"Film about the Woodley's at their place in the country." Library and Archives Canada.
---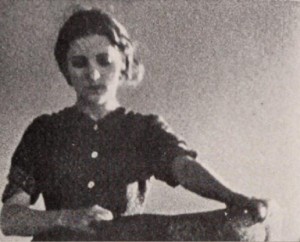 Date produced: 1933
Filmmaker(s):
Description:
"In New Horizon, Cinematographer Clardy presented the life of a farm girl at a moment of crisis. One reel, almost without titles, tells the story of her efforts to marry the man she loves in spite of her father's opposition which keeps her chained to the farm." American Cinematographer, Feb. 1935, 78.

"Clardy was the winner last year of the gold medal for scenario and photography. Last year Clardy's picture was based on a western theme, while this year his scenario, although set in its greater part in the outdoors had several indoor shots. However, most to be admired was the way in which he handled his production both from composition and directorial standpoint. There were only three people in his cast with the girl assuming the major role. His sense of dramatic values, and especially his fine feeling for the proper tempo brought forth unstinted praise from the judges." American Cinematographer, Dec. 1934, 365
---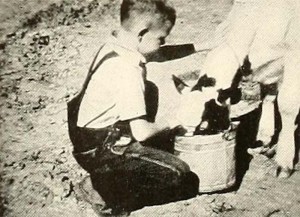 Date produced: 1940
Filmmaker(s):
Description:
"On the Farm, made by Mr. and Mrs. Ray Garner for the Harmon Foundation, is an example of visual education at its best. By the use of two charming, healthy little American children as the chief characters, it enlists sympathy before it attempts to instruct. And it never strays from the fundamental concept which, to all evidence, was in the minds of its makers: namely that, to teach children by visual aids, one must appeal to their sense of fun. Charm, here, is not outlawed simply because it is not informative. Divided into two parts, Morning and Afternoon, and illustrated with unpretentious titles, such as This is how the animals help, which are chalked in white letters on a blackboard, On the Farm tells of a common workday, in terms of what two farm children can do to assist their parents. From the sequence in which the tousled farm lad puts his head out of the window to see what kind of a daybreak it is. to the time when the sun goes down behind the silo, almost every kind of farm activity is shown. Other children in city classrooms are going to see themselves in the scenes and will want to learn more about a way of life in which they can feel so much at home." Movie Makers, Dec. 1940, 600-601.
---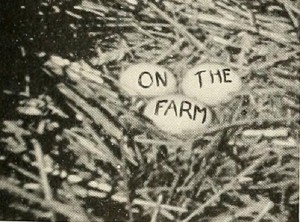 Date produced: 1940
Filmmaker(s):
Description:
"Sunlight and morning noises, the rich, sweet smell of clover, the hot grain fields at midday and windmills drawing water from the deep earth — these are part of the common life of an Ohio farm that two young girls, Marjean and Mary Elizabeth Headapohl, have put into their film, On the Farm. It is a record as American in feeling as Walderts Pond, even though unconsciously so. Innumerable closeups show the generousness of the earth in Ohio, whether in flowers around the house or in the grain and vegetables of the fields. Day after day, the imponderable clouds drift by. Peas are shelled for dinner; the cows are brought in from the pasture by the collie dog; the farm hands return to the barn after a day of harvesting wheat. There is little more shown, in substance, and presently the film ends. But it leaves one with a conviction that this simple way of life in America cannot easily be changed, and that, as long as people of good hearts make records such as this, we cannot wholly forget that the Republic was founded on the plough." Movie Maker, Dec. 1940, 603-604.
---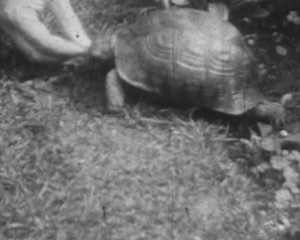 Date produced: 1930
Filmmaker(s):
Description:
"Amateur filmmaker, cinema historian and railway engineer H.A.V. Bulleid documents a day in the life of the Bulleid family at Wood House on Hadley Common in Hertfordshire. In the morning, Marjorie Bulleid walks on the common with her two youngest boys and the family dogs, as trains pass by on the nearby Great Northern Railway Line. Returning home, the dogs continue playing in the backyard, where the family cook hand feeds a large cat. Later that morning, O.V.S. (Oliver) Bulleid takes the family on a leisurely drive through the highways and byways of Hertfordshire, returning home for afternoon tea in the backyard. After tea, the family play with their pets - dogs, cats and a turtle - and pose for photographs" (EAFA Database).
---
Total Pages: 2