---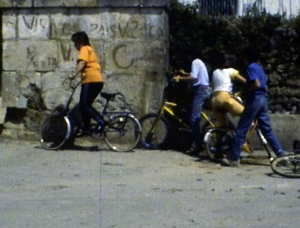 Date produced: 1983
Filmmaker(s):
Description:
Documental corto sobre el pueblo de Villa de Corres. El filme comienza con varios paisajes de los alrededores y planos de montañas y el río. A continuación se muestra el pueblo, aparecen casas, el río, calles y algunas partes características como el Castillo, el hospital, la iglesia de San Esteban, el bebedero, la fuente , la plaza, etc. También aparecen algunas personas mayores y niños por las calles. Se comenta que es un pueblo con una población de 30 habitantes pero que es uno de los pueblos más longevos de la provincia de Álava.

Short documentary about a town called Villa de Corres. The film begins with several landscapes of the surroundings and shots of the mountains and the river. Then the film shows the town, houses, the river, streets, and some landmarks like the Castle, the hospital, the San Esteban church, the drink fountain, the fountain, the square, etc. Some older persons and children are also seen. It is said that the town only has a population of 30 persons, but that it is one of the longest-living towns in the Alava province.
---
Date produced: 1949
Filmmaker(s):
Description:
"Film about the Woodley's at their place in the country." Library and Archives Canada.
---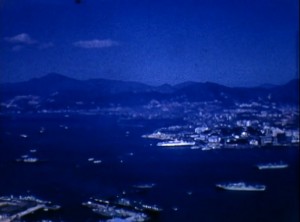 Date produced: 1961
Filmmaker(s):
Description:
"Hansen travels to Hong Kong following his original visit to China in 1937. Initially, he spends much of his time roaming the commercial districts, giving a sense of tourism side of Hong Kong. Immediately following, he spends several minutes focusing on the skyline and captures footage of locations on the outskirts of the city. Hansen then spends the rest of the evening eating at a local cuisine and attending a show. For the remainder of his trip, Hansen shifts his attention from Hong Kong's tourist areas to the residential districts, fishing docks, and rural farming." UC San Diego Library.
---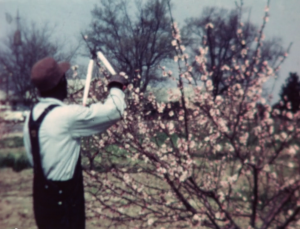 Date produced: 1967
Filmmaker(s):
Description:
"The life cycle of the peach -- from peach blossom to peach pie" (Holmes, 2018).
---
Date produced: 1937
Filmmaker(s):
Description:
"It has a story with titles in verse telling how the farm woman compared herself with the Duchess of Windsor and decides she prefers Pa to the Duke and her own simple tasks to the life of a Duchess." American Cinematographer, Feb. 1940, 87.
---
Date produced: 1939
Filmmaker(s):
Description:
"Filmed in 1939 by the town doctor, Cologne is a personalized portrait of a farming community that merited only a single sentence in the WPA's 1938 guidebook to Minnesota: "COLOGNE (945 alt., 355 pop.) is a German community named for the ancient city on the Rhine." Dr. Raymond Dowidat and his wife, Esther, arrived in 1937 for his first practice after internship, and the impulse for the film seems to have arisen from their desire to document Cologne before they moved on to his next position in Minneapolis." filmpreservation.org
---
Date produced: 1955
Filmmaker(s):
Description:
"Excellent handling of camera and lights. A nice story telling family film starring Maxine (who has appeared in several other prize winning films) and her new baby." PSA Journal, Dec. 1955, 37.
---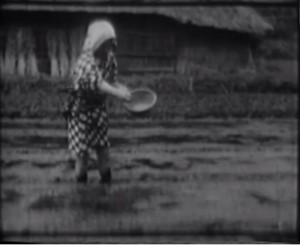 Date produced: 1933
Filmmaker(s):
Description:
"Documentary: On the life of rural rice farm families in Japan." National Archives.
---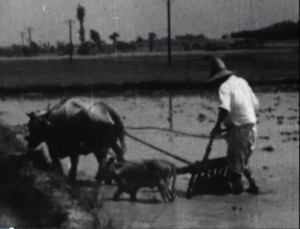 Date produced: 1932
Filmmaker(s):
Description:
"Documentary: On peasant farm life in Korea, the rice crop and family labor." National Archives.

"'Rice,' a three reel subject in the educational class entered by F. C. Ells of Yokohama, Japan, demonstrated a fine appreciation of production and photographic values as well as how to combine it so as to make entertainment. Many were of the opinion that this picture, if it were in 35mm, would be worthy of professional theatre presentation." American Cinematographer, Dec. 1933, 321.
---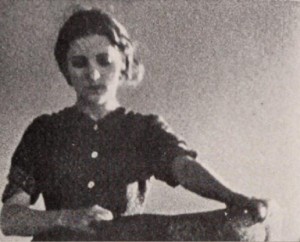 Date produced: 1933
Filmmaker(s):
Description:
"In New Horizon, Cinematographer Clardy presented the life of a farm girl at a moment of crisis. One reel, almost without titles, tells the story of her efforts to marry the man she loves in spite of her father's opposition which keeps her chained to the farm." American Cinematographer, Feb. 1935, 78.

"Clardy was the winner last year of the gold medal for scenario and photography. Last year Clardy's picture was based on a western theme, while this year his scenario, although set in its greater part in the outdoors had several indoor shots. However, most to be admired was the way in which he handled his production both from composition and directorial standpoint. There were only three people in his cast with the girl assuming the major role. His sense of dramatic values, and especially his fine feeling for the proper tempo brought forth unstinted praise from the judges." American Cinematographer, Dec. 1934, 365
---
Total Pages: 2