---
---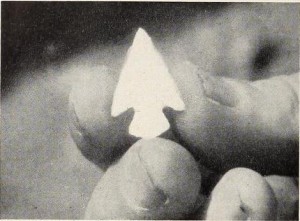 Date produced: 1947
Filmmaker(s):
Description:
"Adventure on the Colorado, by Al Morton, comprises 1,600 feet of film and (at twenty four frames a second) forty eight minutes of screen time. In it, six men in two boats travel down the Colorado River from Moab, in southeastern Utah, to Lee's Ferry, in northern Arizona. Taking fifteen days, the trip covered some 300 miles, forty of which were through cataracts already claiming twenty nine lives. These are the bare and simple facts of the case. But these facts cannot begin to tell the story of Mr. Mortons epic adventure. And mind you, we are not concerned here with the breath taking dangers of the trip itself — although these alone were awesome and challenging. We are concerned only with Mr. Morton's filming adventures and the bright, indomitable story of them as recorded so stirringly in his film. That story is one of inflexible resolve against all compromise, even in the face of well nigh impossible circumstance. At one point in the picture, Mr. Morton shows us a rugged and precipitous approach to the river known as "Hole in the Rock." It was through this narrow passage that, years ago, a little band of Mormons, sent to colonize the San Juan country, brought their wagons and their belongings. In laces where the chasm had narrowed so sharply as to block the cavalcade, they dismantled the wagons and packed them through on their backs. For they had set out to cross the river — and cross it they did. Mr. Morton's filming resolve must have been of that same high order — almost religious in its intensity. As the down-river journey grew ever more arduous, you waited with sympathetic understanding for those not quite perfect scenes which the incredible conditions must surely dictate. You were ready to make allowances, to accept the imperfect as relative perfection --under the circumstances. Not so with Mr. Morion. There was no compromise with quality in the Morton picture plan. He set out to film the river, and film it he did. Adventure on, the Colorado is a moving and splendid epic, recording both a gallant adventure and a glowing achievement." Movie Makers, Dec. 1947, 513.
---
Date produced: 1930
Filmmaker(s):
Description:
"Along Utah Trails shows Utah scenery, including Hayden's Peak and Mirror Lake." University of Utah Marriott Library.
---
Date produced: 1960
Filmmaker(s):
Description:
"Color film featuring historic buildings in central and southern Utah. Most of the film is about Brigham Young's house in St. George, Utah. Film shows inside and outside features of the house." Church History Library.
---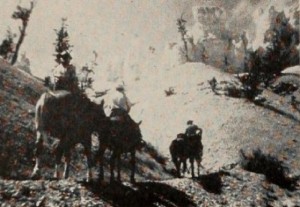 Date produced: 1947
Filmmaker(s):
Description:
"In a land that abounds in colorful formations, Frank Gunnell's discerning camera has recorded in appealing detail the less usual, as well as the familiar, views of Bryce Canyon. This thorough coverage of a popular national park is enhanced by pleasant scenes of a pack trip, closeups of the darting antics of a chipmunk and a "running gag" of the hungry cameraman, whose equipment .cases carry edibles with film and filters. Bryce Canyon Trails provides the audience with a wholly entertaining tour of this famous and awesome natural wonder. Mr. Gunnell, as always, presents breath taking camera work in his integrated and admirable reproduction of a vast canvas." Movie Makers, Dec. 1947, 514.
---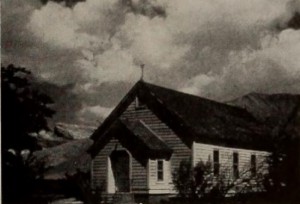 Date produced: 1953
Filmmaker(s):
Description:
"In Caineville, Glen H. Turner has now turned his camera on a Western ghost town, and with moments of sheer movie magic, he has brought it to life again. The slow turning by the wind of the leaves of an abandoned school book, and the slow pan to initials carved on a schoolhouse desk, evoke as if he were alive the youngster who carved them. In another scene, done with consummate smoothness, Mr. Turner shows an abandoned street on which a schoolboy, with books over his shoulder, slowly materializes into solid form — and then dissolves again into thin air. Surrounding Caineville always are the brooding mountains and the ever-encroaching river which implacably seeks to destroy the last vestiges of the crumbling village. Caineville is a triumph of imaginative creation over static material." Movie Makers, Dec. 1953, 320.
---
Date produced: 1955
Filmmaker(s):
Description:
"Footage of scenic areas of Southern Utah with narration. Included are the 'Canyons of Fire,' wild flowers, hiking trails and the 'Fairy's Landing' at Bryce Canyon; Zion Canyon, the 'Great White Throne,' the 'Mountain of Mystery,' the 'Angel's Landing' and the Mt. Carmel highway at Zion National Park; and Navaho Lake at Cedar Breaks." University of Utah Marriott Library.
---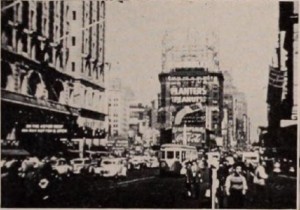 Date produced: 1940
Filmmaker(s):
Description:
"Harley H. Bixler, a technician, has been inspired with the might of America, and he has interpreted it according to his lights. In Cavalcade of America, taking our entire country as his canvas, he has painted in, with striking chromatic images, the physical and industrial high lights of our heritage. Here are the sinews of strength, awaiting only the activating force of human endeavor to turn them to the path of power. Here are the mills and the mines, the oil and the electricity, the farms and the factories without equal in our modern world. Mr. Bixler interprets his fine pictorial document with a narrative that is usually vivid but sometimes matter of fact and accompanies the whole with recorded music. Cavalcade of America is a striking study of a tremendous subject." Movie Makers, Dec. 1940, 602.
---
Date produced: 1960
Filmmaker(s):
Description:
"1 View of small plane at an airport. 2 View of dinghy in a harbor at the Great Salt Lake. 3 Views of shoreline and boat moving through the Great Salt Lake. 4 Views of the west coast of Central America, dolphins leading the boat, fishing, Santa Cruz, local inhabitants, cliff diving and a vacation resort." University of Utah Marriott Library.
---
Date produced: 1930
Filmmaker(s):
Description:
"A Day In the Country shows Utah, including Mt. Timpanogos from the east, with views of Anderson and his wife." University of Utah Marriott Library.
---
Date produced: 1939
Filmmaker(s):
Description:
"This color film was shown at Duncan MacD. Little's 11th annual International show of amateur motion pictures. The rising sun greets the golden fairyland of Bryce. Tunnels cut through the rocks, car passing through. Shot after shot of beautiful scenery with lovely sky and cloud affects. People climbing. Camp life shows the rugged simplicity of the daily routine of outdoor life. Grand Canyon nature's mightiest spectacle. Sunset. The magic of stop-motion compresses time and hastens drifting clouds. Night draws a veil over flaming canyon and wonderland" Educational Film Guide, 1945 Edition, 412.
---
Total Pages: 4