---
---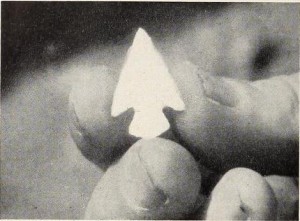 Date produced: 1947
Filmmaker(s):
Description:
"Adventure on the Colorado, by Al Morton, comprises 1,600 feet of film and (at twenty four frames a second) forty eight minutes of screen time. In it, six men in two boats travel down the Colorado River from Moab, in southeastern Utah, to Lee's Ferry, in northern Arizona. Taking fifteen days, the trip covered some 300 miles, forty of which were through cataracts already claiming twenty nine lives. These are the bare and simple facts of the case. But these facts cannot begin to tell the story of Mr. Mortons epic adventure. And mind you, we are not concerned here with the breath taking dangers of the trip itself — although these alone were awesome and challenging. We are concerned only with Mr. Morton's filming adventures and the bright, indomitable story of them as recorded so stirringly in his film. That story is one of inflexible resolve against all compromise, even in the face of well nigh impossible circumstance. At one point in the picture, Mr. Morton shows us a rugged and precipitous approach to the river known as "Hole in the Rock." It was through this narrow passage that, years ago, a little band of Mormons, sent to colonize the San Juan country, brought their wagons and their belongings. In laces where the chasm had narrowed so sharply as to block the cavalcade, they dismantled the wagons and packed them through on their backs. For they had set out to cross the river — and cross it they did. Mr. Morton's filming resolve must have been of that same high order — almost religious in its intensity. As the down-river journey grew ever more arduous, you waited with sympathetic understanding for those not quite perfect scenes which the incredible conditions must surely dictate. You were ready to make allowances, to accept the imperfect as relative perfection --under the circumstances. Not so with Mr. Morion. There was no compromise with quality in the Morton picture plan. He set out to film the river, and film it he did. Adventure on, the Colorado is a moving and splendid epic, recording both a gallant adventure and a glowing achievement." Movie Makers, Dec. 1947, 513.
---
Date produced:
Filmmaker(s):
Description:
"Shows an expedition up Mount Grenville at the head of Bute Inlet" British Columbia Archives.
This film was produced in the late 1930s.
---
Date produced: 1926
Filmmaker(s):
Description:
"A 1926 hunting trip in the East Kootenay region. The hunting party comprises Allan H. De Wolf, Claire and Elmore Staples, Bob Grimes, and Barney and Ralph Clifford, with Mr. and Mrs. Paul Stevens as guide and cook respectively, and 'Cheerful Joe' as Wrangler. The film shows the party on the trail with pack horses, in camp, and hunting bear, deer, elk and mountain goat. Specific locations include Elk Creek, Premier Lake, White River and Whiteswan Lake. There are good sequences on the packing of a pack horse and the skinning of big game. De Wolf's companions on this trip were his partners in the Western Explorations mine at Silverton" British Columbia Archives.
---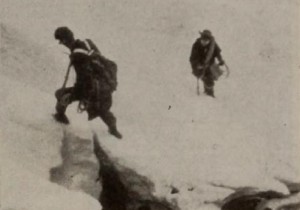 Date produced: 1953
Filmmaker(s):
Description:
"With the recent scaling of Mt. Everest, it is appropriate that a mountain-climbing film should be entered — and should win — in this year's Ten Best contest. Jerry More's Canadian High Adventure is such a picture. Obviously, Mr. More is a competent climber himself, as well as being a good movie maker, for the film presents an amazing variety of camera angles which make one question where the cameraman must have been to take them. For example, some scenes show the climbers crossing a crevasse from underneath, leaving you with the single assumption that the cameraman climbed down into the crevasse to shoot them. Excellent photography, competent editing and a friendly, well-written narrative all combine to make Canadian High Adventure an outstanding mountain-climbing study." Movie Makers, Dec. 1953, 320, 332.
---
Date produced: 1932
Filmmaker(s):
---
Date produced: 1939
Filmmaker(s):
Description:
"Shows Don and Phyllis Munday on a backpacking expedition into the Bella Coola Valley, then climbing Mount Saugstad" British Columbia Archives.
---
Date produced: 1934
Filmmaker(s):
Description:
"Chester Dale was aboard a boat somewhere on the Nile when a native elephant hunt happened along. He made a remarkable camera record of the exciting chase" The Baltimore Sun, June 17, 1934, 44.
---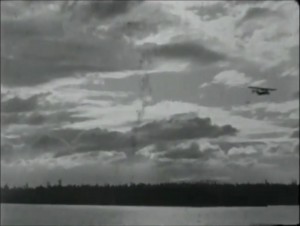 Date produced: 1933
Filmmaker(s):
Description:
"Members of the BC Mountaineering Club fly from Jericho Beach, Vancouver, in a Sikorsky S-38 amphibian (Canadian Airways, registration CF-ASO), and land on Garibaldi Lake. Most of the footage depicts the members climbing Mount Garibaldi and resting at the summit. Returning to the lake, they board the amphibian and fly back to Jericho Beach" British Columbia Archives.
---
Date produced: 1955
Filmmaker(s):
---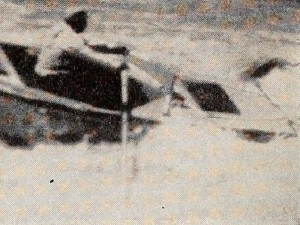 Date produced: 1952
Filmmaker(s):
Description:
"In Grand Adventure Louise Fetzner presents a lively record of a daring run through the wild rapids of the Colorado River, as it courses the Grand Canyon from Lee's Ferry to Lake Mead. While thrilling scenes of the intrepid boats and boatmen provide the film's drama, Mrs. Fetzner has not overlooked human interest sequences on the small daily activities of these hardy adventurers. Generally good in photography and editing, the film falls off in pace somewhat in its latter portions. And perhaps the frequent inserts of a title-map of the Colorado are more hindrance than help in what is essentially an action picture." Movie Makers, Dec. 1952, 340.
---
Total Pages: 2