---
Date produced: 1937
Filmmaker(s):
---
Date produced: 1950
Filmmaker(s):
Description:
"In the Certificate Awards group, Ralph E. Gray, a consistent winner in national film competitions and recently honored with the title of Leading Amateur Movie Maker of the nation by the Movie Makers Club of Oklahoma and associated cine clubs, has turned in another of his superb filming jobs in 'Glamorous Guatemala.' A highlight is the excellent titling job, a department of movie making in which Gray excels. Gray opens his picture with scenes of modern day Guatemala, then gradually leads us into more remote areas of the country where he shows the native Guatemalan at work and at play, harvesting coffee, weaving, and trucking his wares to market, or indulging the religious ceremonials and market day festivities, which comprise his chief diversions. Gray filmed his picture using a Cine Special and Kodachrome film." American Cinematographer, April 1950, 134-135.
---
Date produced: 1935
Filmmaker(s):
Description:
"Burnford's picture was not only good from the documentary angle, but was very well photographed. It showed the lumbering industry in England starting with the felling of trees and then through the mills and then to the things built of wood, showing the most dramatic incidents." American Cinematographer, Feb. 1937, 73.
---
Date produced: 1932
Filmmaker(s):
Description:
"'Ry-Lock,' a most unusual subject produced by E. G. Thompson, of Oakland, California. Apparently, Mr. Thompson is either connected with a lock manufactory, or in a position to know a great deal about this work through friends or relatives in the business. At any rate, he combined cinephotography and lockmaking to produce an usually interesting film of considerable pictorial merit. He took the making of a lock as his subject, and followed its evolution from the raw materials and blueprint through all of the processes of manufacture and assembly, up to the finished product, inserted in a door and ready for use." American Cinematographer, Feb. 1934, 415.
---
Date produced: 1933
Filmmaker(s):
Description:
"To make clear the entire course of sanitary milk production, from pasture to home table, the State of Illinois Department of Public Health, in Springfield, Ill., is using a two reel, 16mm. film entitled Milk, Its Production and Pasteurization. Produced by Dr. A. C. Baxter, ACL, assistant director of public health, the film presents in interesting and informative sequences the modern technique of dairy farming and the relation of the department to it." Movie Makers, June 1934, 262.
---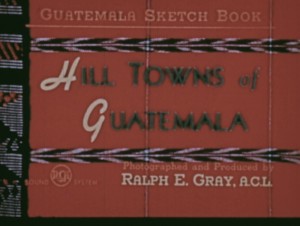 Date produced: 1942
Filmmaker(s):
Description:
"A narrated travelogue addressed to viewers in the U.S. shows life in several small towns surrounding Lake Atitlan, Guatemala. Shows rope making from sisal hemp and traditional textile weaving. Concludes with a visits to the outdoor markets in Santiago Atitlan and Chichicastenango" Indiana University Libraries Moving Image Archive.
---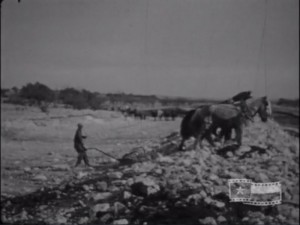 Date produced: 1928
Filmmaker(s):
Description:
"Produced in the late 1920s, this amateur film documents the construction of the Santa Fe Railway extension connecting San Angelo and Sonora. In 1928, the Atchison, Topeka and Santa Fe Railway Company (Santa Fe) purchased the Kansas City, Mexico and Orient Railway Company of Texas (Orient of Texas). In so doing, they also acquired the company's system of track lines, 465 miles of which were in Texas. As a subsidiary of Santa Fe, Orient of Texas then began construction on a pair of extension lines: one spanning the 72 miles from Paisano to Presidio and another the 65 miles from San Angelo to Sonora. This amateur film captures early construction on the second, with a small crew using work horses to clear the route and build bridges. The San Angelo-Sonora line was completed on July 1, 1930. Santa Fe abandoned the line in 1976" Texas Archive of the Moving Image.
---
Date produced: 1965
Filmmaker(s):
Description:
"Film documents autoworkers making cars. It features fast driving shots in downtown Toronto. The cast includes Robert Moutrie and Edna Jarrell as husband and wife and Neil Upshall as the salesman. American Motors (Canada) Limited and McDowell Motors Limited were thanked" Archives of Ontario.
---
Date produced: 1965
Filmmaker(s):
Description:
"Film shows examples of men working, but things go wrong" Archives of Ontario.
---
Date produced: 1942
Filmmaker(s):
Description:
"Girl Guides from Queen Margaret's School collect scrap metal and other materials for the war effort" British Columbia Archives.
This film may also be known as Queen Margaret School Salvage Drive, World War Two.
---
Total Pages: 4