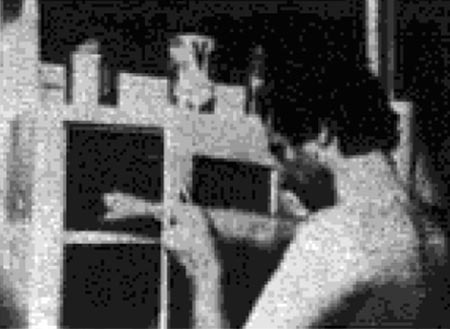 Identifier:
412949 (Source: http://www.worldcat.org/oclc/412949)
Date produced: 1967
Filmmaker(s):
Languages:
English
Duration:
00:22:00
Format:
16mm
Colour:
B&W
Sound:
Sound
Awards/Recognition:
PSA Gold Medal Award 1967
PSA Ten Best 1967
PSA MPD Scenario Award sponsored by Northern California Council of Amateur Movie Clubs 1967
PSA MPD Humorous Film Award sponsored by Charles J. Ross 1967
Description:
"The Applicant is a straightforward bit of cinema fare written and filmed by students at the New York University. The film deals with a sort of down-and-outer who appears to need a job in the worst way. So he looks in the want ads and finds a few businesses seeking applicants. He applies. Is he successful? Well, let's just say he gets something, but not exactly what you expect. The film relies to a great extent upon the acting of the central characters, and is not exactly a situation story, a genre often the easiest for amateurs to do. The lead character is well established, and the prospective employer does his job to perfection. The development of the plot, and the pacing are surely the outstanding aspects of this film which won for it not only the Gold Medal for the most outstanding film in the Festival, but also an automatic Ten Best rating, the MPD Scenario Award for the best Story film and a tie for the MPD Humorous film Award" PSA Journal, Aug. 1967, 35-36.
Resources:
Produced by students at New York University, New York City, N.Y.

There is a brief BFI entry on the film.
Locations:
New York City, NY (Filming)
Subjects:
Genre:
Repository:
Auckland University of Technology Library
Screenings:
June 1969 at the Melbourne International Film Festival: Melbourne, VIC
---