---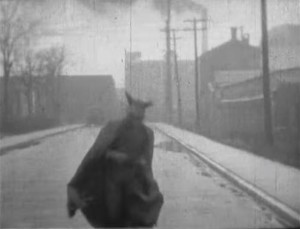 Date produced: 1933
Filmmaker(s):
Description:
Hell Bound Train "depicts the devil as the train's engineer both driving his locomotive toward hell and tempting the sinner-passengers that occupy various cars on the train. The film is divided into episodes each one representing a different kind of sin or sinner and set in a corresponding car of the train" Tepperman, 233-234.
---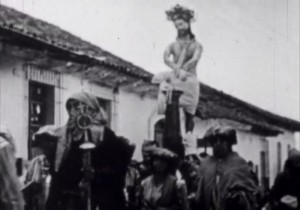 Date produced: 1942
Filmmaker(s):
Description:
""Wooden Face of Totonicapan" is a [1942] color film covering the art of making wooden masks in Totonicapan, Guatemala. The film was made under the auspices of the "Good Neighbor" film project, run by the Office of the Co-Ordinator of Inter-American Affairs in New York as part of the WWII war effort. It was produced by Ralph E. Gray." Periscope Film.
---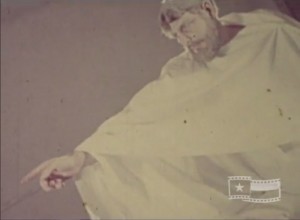 Date produced:
Filmmaker(s):
Description:
"This experimental film, made by Kenneth Anthony in the late 1960s, records the story of Adam and Eve. It opens with chimpanzees and recreates Michaelangelo's The Creation of Man. The production follows the traditional telling of the Biblical creation story. Eve accepts an apple, gives it to Adam, and God rebukes the two humans. The rest of the film is a collection of shots: a protest march, a swimsuit competition in a beauty pageant, a demolition derby, a Foreign Legion ceremony, indications of space exploration, and a photography exhibit, among others. These shots may not have been filmed by Anthony and may have been stock footage as they appear to include words in French. According to Anthony, the film was meant to be projected on multiple screens. It seems likely that the story of Adam and Eve would have been on a main screen with the shots from the latter half of the film projected onto accompanying screen or screens" Texas Archive of the Moving Image.
---
Date produced: 1963
Filmmaker(s):
Description:
"This amateur film attempts to portray conflict within a religious sect where blind adherence to a selfish demanding leader is compared to the freedom offered by progressive contemporary society" Library and Archives Canada.
---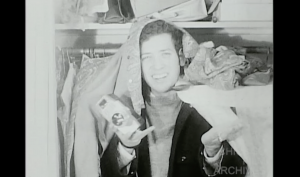 Date produced: 1970
Filmmaker(s):
Description:
"This collaborative student film follows a confused young man throughout his day, as he navigates various environments (church, neighborhood streets, parties, etc), never seeming to fit in. Beatles songs featured prominently throughout." Chicago Film Archives
---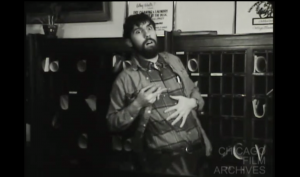 Date produced: 1971
Filmmaker(s):
Description:
"A University of Chicago student film production and "Young Chicago Filmmakers Festival" award winner in 1971, Holden Franz Aust's "In The Divine Plan" pits Nietzsche against Jesus in an ultimate ideological battle. Christian moralism meets Nihilism." Chicago Film Archives
---
Date produced: 1939
---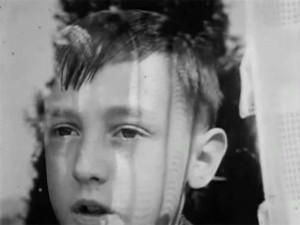 Date produced: 1939
Filmmaker(s):
Description:
"In a few days of doldrums before being called for training in the Army Signal Corps, David S. Bradley, presiding genius of Bradley Productions, scenarized, cast, costumed, filmed and directed a screen version of Sredni Vashtar, a short story by Saki. running 800 feet of 16mm. monochrome, the picture is the eighth in the series to be produced by this unusual amateur unit of Winnetka, Ill. having been directly preceded by Peer Gynt and Oliver Twist. It will be Mr. Bradley's last production until after the war. Working with him on Sredni Vashtar was John Jameson, assistant director, with the small cast played by Mrs. Herbert Hyde, Lucielle Powell, Lois Northrop and Reny Kidd, all Bradley Production veterans", Movie Makers, Apr. 1943,158.
---
Date produced: 1967
Filmmaker(s):
Description:
"Hosanna is a semi-abstract film tied to a religious theme. Color, lighting, and unusual angles are responsible for its success" PSA Journal, Aug. 1967, 37.
---
Date produced: 1966
Filmmaker(s):
Description:
"Soli Deo Gloria illustrates the matter-of-fact life led by the inhabitants of a small farming village in Lower Saxony (West Germany) and centers, as their lives do, on the village church that dates back to the 14th Century. Inside are sculptured works of art, and it is these treasures that the film seeks to bring to the attention of the outside world, as well as the importance the church plays in the life of the local peasants" PSA Journal, Sept. 1966, 34.
---
Total Pages: 4