---
Date produced: 1950
Filmmaker(s):
Description:
"In the Certificate Awards group, Ralph E. Gray, a consistent winner in national film competitions and recently honored with the title of Leading Amateur Movie Maker of the nation by the Movie Makers Club of Oklahoma and associated cine clubs, has turned in another of his superb filming jobs in 'Glamorous Guatemala.' A highlight is the excellent titling job, a department of movie making in which Gray excels. Gray opens his picture with scenes of modern day Guatemala, then gradually leads us into more remote areas of the country where he shows the native Guatemalan at work and at play, harvesting coffee, weaving, and trucking his wares to market, or indulging the religious ceremonials and market day festivities, which comprise his chief diversions. Gray filmed his picture using a Cine Special and Kodachrome film." American Cinematographer, April 1950, 134-135.
---
Date produced: 1962
Filmmaker(s):
Description:
Edited film "chronicling an airstream caravan through Central America (Mexico, Guatemala, El Salvador, Panama, Costa Rica). Film includes many views of scenic landscapes, mountain roads, cities and villages, ruins (Kabah, Uxmal, Dzibichaltun, Chichen Itza) and historic landmarks and airstream trailers tavelling or in recreational vechicle parks. In Guatemala they visit the villages Solola and Panajachel near Lake Atitlan and and town of Antigua. Scenes also include marketplaces, churches and chuch-life, a woman weaving, local crafts, washing clothing at public fountains" Human Studies Film Archives, Smithsonian Museum.
---
Date produced: 1932
Filmmaker(s):
Description:
"Vincente Mills, of Manila, Philippines, for his entry in the American Cinematographer 1933 competition will make a religious picture built around the practice in his country which takes place during Holy Thursday and Good Friday each year. As this practice is fast disappearing, according to Mills, it will also act as a fine historic record." American Cinematographer, Sept. 1933, 191.
---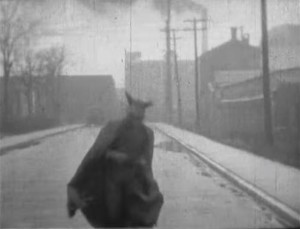 Date produced: 1933
Filmmaker(s):
Description:
Hell Bound Train "depicts the devil as the train's engineer both driving his locomotive toward hell and tempting the sinner-passengers that occupy various cars on the train. The film is divided into episodes each one representing a different kind of sin or sinner and set in a corresponding car of the train" Tepperman, 233-234.
---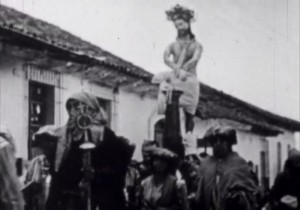 Date produced: 1942
Filmmaker(s):
Description:
""Wooden Face of Totonicapan" is a [1942] color film covering the art of making wooden masks in Totonicapan, Guatemala. The film was made under the auspices of the "Good Neighbor" film project, run by the Office of the Co-Ordinator of Inter-American Affairs in New York as part of the WWII war effort. It was produced by Ralph E. Gray." Periscope Film.
---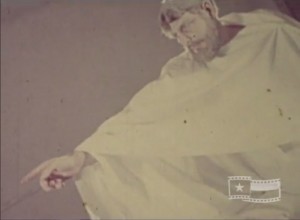 Date produced:
Filmmaker(s):
Description:
"This experimental film, made by Kenneth Anthony in the late 1960s, records the story of Adam and Eve. It opens with chimpanzees and recreates Michaelangelo's The Creation of Man. The production follows the traditional telling of the Biblical creation story. Eve accepts an apple, gives it to Adam, and God rebukes the two humans. The rest of the film is a collection of shots: a protest march, a swimsuit competition in a beauty pageant, a demolition derby, a Foreign Legion ceremony, indications of space exploration, and a photography exhibit, among others. These shots may not have been filmed by Anthony and may have been stock footage as they appear to include words in French. According to Anthony, the film was meant to be projected on multiple screens. It seems likely that the story of Adam and Eve would have been on a main screen with the shots from the latter half of the film projected onto accompanying screen or screens" Texas Archive of the Moving Image.
---
Date produced: 1963
Filmmaker(s):
Description:
"This amateur film attempts to portray conflict within a religious sect where blind adherence to a selfish demanding leader is compared to the freedom offered by progressive contemporary society" Library and Archives Canada.
---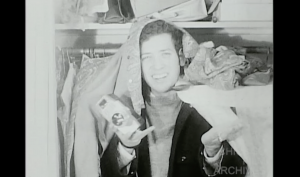 Date produced: 1970
Filmmaker(s):
Description:
"This collaborative student film follows a confused young man throughout his day, as he navigates various environments (church, neighborhood streets, parties, etc), never seeming to fit in. Beatles songs featured prominently throughout." Chicago Film Archives
---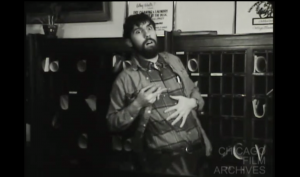 Date produced: 1971
Filmmaker(s):
Description:
"A University of Chicago student film production and "Young Chicago Filmmakers Festival" award winner in 1971, Holden Franz Aust's "In The Divine Plan" pits Nietzsche against Jesus in an ultimate ideological battle. Christian moralism meets Nihilism." Chicago Film Archives
---
Date produced: 1939
---
Total Pages: 4