---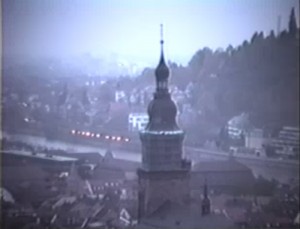 Date produced: 1992
Filmmaker(s):
Description:
"In October 1992, Connecticut Folksinger Donald Sineti visited Heidelberg, Germany, with global whale advocate Dr. Robbins Barstow, to sing for whales in a German-American cultural exchange program. Enjoy song concerts in castles, campus, city streets, and countryside." Archive.org
---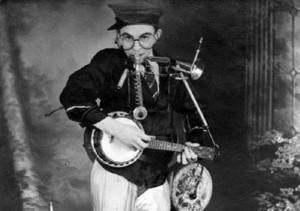 Date produced: 1985
Filmmaker(s):
Description:
"Subtitled 'A Journey Through the Scrapbook and the Memories of Sid Laverents,' Saga is an oddball epic of amateur filmmaking — an oral history of one man's 20th century illustrated with family photos, various drawings and clippings and 16mm footage. Laverents recounts his past as if enthusiastically telling a tall tale to a child: Digressions and exaggerations pile on until they accrue into moments of acutely honest reflection on personal relations and historical events." LA Weekly.
---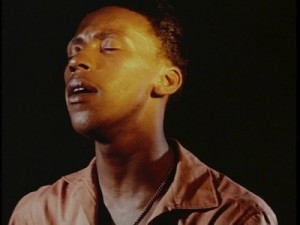 Date produced: 1965
Filmmaker(s):
Description:
"Nightsong is a dramatic story of a colored night club singer, Willie Wright, trying to make the big time and, most of all "to get people to like me." One evening while singing, his eyes rest on the face of a beautiful young white girl and his infatuation with her becomes unmistakable as the story unfolds. The film is 99% visual with a sound track that places great emphasis on the various moods of the young singer" PSA Journal, Sept. 1965, 50.
---
Date produced: 1964
Filmmaker(s):
Description:
"The One Man Band shows the filmer, Sid Laverents, playing about six instruments all at once, not to mention an old auto horn squeezed in between his knees that would compete well with Spike Jones, He explains what he is up to as a one man band, then plays two or three selections. A lively and entertaining film" PSA Journal, Sept. 1964, 51.
---
Date produced: 1963
Filmmaker(s):
Description:
"From the era of jazz to the big swing bands, show business has meant life and music. The voices of Sophie Tucker, Al Jolson and Bing Crosby bring nostalgic memories as they sing those grand old songs. Clever, pantomime, night scenes of New York, familiar faces, along with the arrangements of Benny Goodman, Glen Miller and others, make the audience chuckle as they tap their toes and swing their shoulders, being caught up in the rhythm and excitement of "Show Biz" PSA Journal, Oct. 1963, 42.
---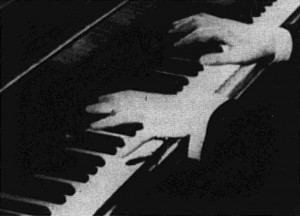 Date produced: 1959
Filmmaker(s):
Description:
"This is a short story about a musician, a pianist who has enjoyed the pleasure and popularity of concerts in many cities of Europe. And then came the war! Even in the thick of battle, when his fingers must play a different keyboard, music does not leave his mind. The picture closes with the last concert, simple, but forceful in its emotional impact" PSA Journal, Nov. 1959, 48.
---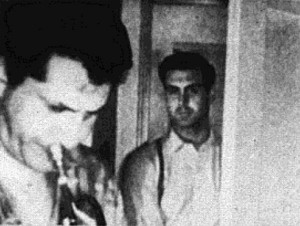 Date produced: 1954
Filmmaker(s):
Description:
"The Horn, which hepeats should not confuse with Dorothy Baker's epic Young Man With a Horn, is nevertheless a yarn about a jazz trumpeter—and, like Miss Baker's Rick Martin, one whose life ends in death after he loses his stuff. It is a swift, savage, tender and tragic tale which Dominic Mumolo (himself a professional musician) tells here. And to its telling he has brought with amazing proficiency every resource—imagery, acting, music, speech and pace—of high motion picture drama. Herb Willis plays the part of the manic and despairing trumpeter as if to the manner born. His miming makes this difficult and decisive role wholly believable, while his voice (used not as narration, but in a musing, stream-of-consciousness flashback) is by turns tender, pathetic, searing and passionate. Musical phrases, prepared especially for the picture by Frank Worth, add immeasurably to the film's power. The Horn is a stirring and trenchant study in human emotions. If you dislike having your heartbeat aroused, you'd better avoid it. But if not...then The Horn is a movie made for you" PSA Journal, Jan. 1955, 49.
---