---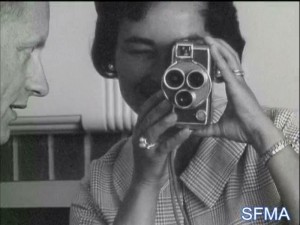 Date produced: 1960
Filmmaker(s):
Description:
"Welcome San Francisco Movie Makers opens with a montage of classic San Francisco sights, setting the backdrop for the first meeting of the San Francisco Movie Makers Club. After an introduction of the club's members and its activities, filmmaker Dr. Frank S. Zach, along with his wife Helga, proceeds to demonstrate the proper use of 8mm and 16mm cameras and film sound recording techniques. Shot, scripted, edited, hand titled and over dubbed with music by Dr. Zach, this film seeks to encourage, teach, and recruit image makers." centerforhomemovies.org
---
Date produced: 1956
Description:
"Film is a documentary on how to perform certain special effects in motion picture film. Film shows Toronto Movie Club members creating a double exposure, a humorous illusion, animation; shooting with a mirror and reversing motion" Archives of Ontario.
---
Date produced: 1938
Description:
"The Golden West, as this amateur movie was titled by its maker. whose identifty is lost, tours America's Riviera," as the film rather grandiosely labels the Los Angeles region.... It focuses on public places and seldom the filmmaker's family members, who are onscreen largely to illustrate local customs...." (Scott Simmon) During a ride on a blimp, the filmmaker shoots aerial footage of Los Angeles and area, including some of the local film studios. Other sequences include a visit with B-movie actor George O'Brien, on set at RKO, and a Shriners Parade at the Los Angeles Memorial Colosseum, where floodlights illuminate floats representing various Hollywood studios.

The filmmaker is not credited. In archivist Lynne Kirste's commentary for the excerpt in Treasures 5, he is described as an unidentified amateur filmmaker from Pennsylvania.
---
Date produced: 1955
---
Date produced: 1954
Description:
"A short film about movie-going punctuality" Imperial Oil - Film Collection.
---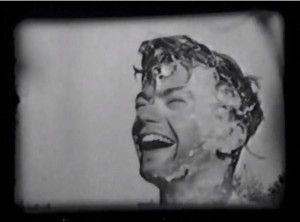 Date produced: 1947
Filmmaker(s):
Description:
"Members of the National Film Society of Canada (Vancouver Branch) parody the early experimental works of American avant-garde filmmaker Maya Deren [to whom the film is dedicated]." (BC Archives)

The film is subtitled: "A conflict between two philosophies of time and space."

The film was shot in an area of sand dunes on Sea Island in Richmond, BC, near the location of Vancouver International Airport.
---
Date produced: 1955
Filmmaker(s):
Description:
"A record of the Toronto Film Society's visit to George Eastman House in Rochester, New York. Includes re-filmed excerpts from some of the classic films screened for the society members during their visit" British Columbia Archives.
---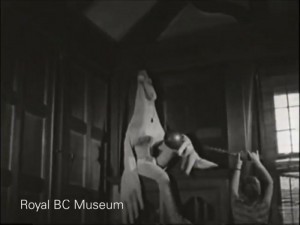 Date produced: 1947
Filmmaker(s):
Description:
"Produced as a gift to Dorothy Burritt's husband, filmmaker Oscar Burritt (who was working in Toronto at the time), this is an offbeat study of life at their Vancouver apartment -- suite 2, 1960 Robson Street. The camera explores the apartment and the household memorabilia, and Dorothy is seen sitting for a portrait by painter Peter Bortkus. Later some friends drop by for a screening of Sacha Guitry's film Pearls of the Crown, followed by a party. Among the guests are Moira Armour, film editor Maureen Balfe, UBC student Stanley Fox, photographer Peter Varley, and an unnamed figure wearing a bird costume. Most of the people shown would have been involved with the National Film Society of Canada (Vancouver Branch). Suite Two won honourable mention (amateur category) at the first Canadian Film Awards in 1949." (BC Archives)

The film was restored in 1986 by the British Columbia Archives.
---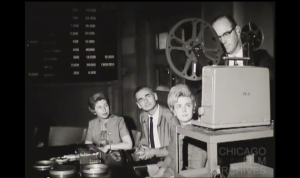 Date produced: 1963
Filmmaker(s):
Description:
"A silent documentary that follows a group from Central Cinematographers as they view, discuss and shoot films. The process of filmmking becomes transparent as the actors are seen alongside the equipment that lights and films them as well as the large number of people that are needed to prepare for a scene." Chicago Film Archives
---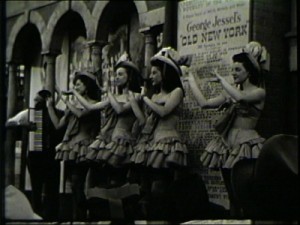 Date produced: 1939
Filmmaker(s):
Description:
"A clever, artfully-shot, and carefully-edited amateur film of the 1939 New York World's Fair." oldfilm.org
---
Total Pages: 6