---
---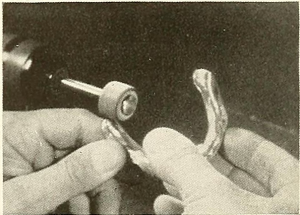 Date produced: 1941
Filmmaker(s):
Description:
"The term, "perfect," is not one to be given lightly, but The Ackley Lower Impression Technic, a dental study, earns such comment, because there is no other word that fits. Harry Coleman, the producer, here shows a complete mastery of the camera. The film, of greatest interest to dental technicians, carries brief, double exposed titles that make each progressive step thoroughly clear to those versed in the phraseology. The titles appear at the proper time, superimposed upon the scene but out of the field of action, thus serving as a visual commentary. To anybody who is interested in dental filming, this movie might well serve as a model of a technical film, for it features extreme closeups, work in areas of the mouth difficult to film and a lighting technique indicative of real study and much experience. The exposure, especially important in showing the slight variations of color in parts of the mouth, is unusually accurate. Rarely does one see so satisfying an accomplishment in films of this specialized type." Movie Makers, Dec. 1941, 564.
---
Date produced: 1969
Filmmaker(s):
---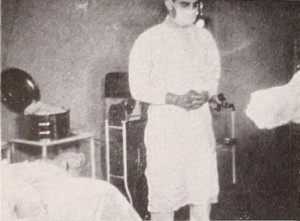 Date produced: 1943
Filmmaker(s):
Description:
"Dr. Robert Mallory, III, offers another of his brilliant surgical movies. This very able filmer, who has brought his hobby to the service of his profession, studies the course of a childbirth in which grave complications are found. The operation is recorded very intelligently, and to the enforced continuity that the event itself makes necessary are brought closeups and varying camera positions, wherever these are possible. The value of this type of cinematography to surgeons who work alone in small communities is incalculable. When it exists at all, it is highly serviceable; when it is as well done as Dr. Mallory has done it, it is a very direct contribution to the art of healing. Dr. Mallory, in this film, makes a very clarifying use of a model, to show the misplacement of the child and some of the delivery technique, thus giving information that the camera could not otherwise have presented." Movie Makers, Dec. 1943, 477.
---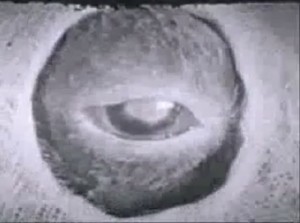 Date produced: 1935
Filmmaker(s):
Description:
"Keratoplasty, by Henry M. Lester, ACL, is a beautifully perfect record of the operation of a corneal transplant for leucomateous eyes, filmed entirely in Kodachrome. The operation is performed by Dr. Ramon Castroviejo, a rabbit being the subject. Aside from the fact that this clearly executed film records an important and extraordinarily difficult operation in this field, it is notable for its brilliant photographic technique in handling the ultra closeup. In much of the footage, the eye itself practically fills the frame and, in this limited field of action, Mr. Lester has successfully shown every delicate bit of operative technique that is involved in this extremely sensitive surgical procedure. The area is so lighted that no shadows are cast to obscure detail, and the amazing rendition' of the delicate bit of transplanted tissue, the suturing and the various solutions employed, all in full color, is a genuine tribute to Mr. Lester's mastery of the Kodachrome process." Movie Makers, Dec. 1935, 550.
---
Date produced: 1933
Filmmaker(s):
Description:
"Night Call, made by Elizabeth Sansom, ACL, and Kenneth V. Bloomer, ACL, is noteworthy for its attention to exact detail in the portrayal of an event in the daily (and nightly) routine in the lives of two physicians who receive a "hurry call" to perform an appendicitis operation. Miss Sansom, in the course of the story, films an operation sequence that seems letter perfect, both from the point of view of the operation itself and of the lighting, closeup and photographic technique employed." Movie Makers, Dec. 1933, 523.
---
Date produced: 1930
Filmmaker(s):
Description:
"Operation On The Brain, 300 ft., 16mm., made by Ernest Page and William Palmer, is a splendid record of a surgical operation. The film's most prominent quality is its fine definition. Correct exposure and careful lighting produced a clean cut and understandable scientific record. Closeups, made with a telephoto lens, were correctly interspersed with the longer shots to emphasize the important details. Variation in camera position is as important in films of operations as in other types of subject matter. Continuous closeups, often used in films of this nature, may be as unsatisfactory as would be continuous medium shots. Although not planned from the viewpoint of instruction, this picture is probably as satisfactory a surgical record as is possible to make under amateur conditions." Movie Makers, Dec. 1930, 759.
---
Date produced: 1932
Filmmaker(s):
Description:
"Surgical Preparation for Maxillary Denture is particularly detailed. Beginning with a study of the models, including some animation, it then shows the administration of the anesthetic to the patient, the extraction of the teeth, the preparation of the denture and the final discharge of the patient." Movie Makers, Sept. 1933, 337.
---
Date produced: 1933
Filmmaker(s):
Description:
"This picture was made with indoor lighting and showed a very consistent photography." American Cinematographer, Dec. 1934, 377.
---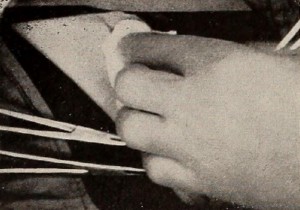 Date produced: 1946
Filmmaker(s):
Description:
"Extreme clarity and freedom from the shadows frequently encountered in medical films mark the technical details of the surgery shown in Dr. Vincent Vermooten's Repair of an Indirect Inguinal Hernia. Dr. Vermooten was, from the beginning, acutely conscious of the problems involved in bringing the proper light sources to bear upon a complex operation in which every bit of motion possesses great significance. To make certain of a steady and complete lighting scheme, he constructed a special platform above the operating table. Floodlights, closely bunched about the platform, left no possibility of inadequately lighted areas. The result is a record of an operation, masterfully pointed up by lighting, which should prove invaluable for instructional purposes." Movie Makers, Dec. 1946, 488.
---
Date produced: 1933
Filmmaker(s):
Description:
"In view of the increasing use of substandard motion pictures for practical purposes by scientific and professional men and women, it is to be expected that among the ten best would appear a surgical film. Philip A. O'Connor, of Rochester, N. Y., filmed A Reparative Operation for a Congenital Defect, which was performed by Dr. William L. Wolfson, of Brooklyn, N. Y., and this film is included by Movie Makers in this annual listing because of two chief reasons. This very delicate operation required a large degree of manipulation by the surgeon, without the use of instruments, which adds to the danger of the operator's obscuring the field of vision and, consequently, to the difficulty of securing a clear motion picture record of his work. In spite of this handicap, the admirable cooperative effort between surgeon and photographer enabled Mr. O'Connor to present an exceptionally visible study of Dr. Wolfson's technique. In the second place, the film gave a complete record of the entire operation, from start to finish, including the preliminary anesthesia. Whatever hazards may have existed photographically were so easily hurdled by Mr. O'Connor that the person viewing the film is almost unconscious of the fact that it is a film. Needless to say, the technical photographic details of exposure, focus and lighting were of the highest order." Movie Makers, Dec. 1933, 500.
---
Total Pages: 2