---
---
Date produced: 1942
Description:
"documentario"/documentary
---
Date produced: 1936
Filmmaker(s):
Description:
"a soggetto"/fiction
---
Date produced: 1934
Filmmaker(s):
Description:
"a soggetto"/fiction
---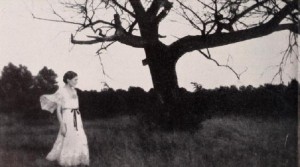 Date produced: 1932
Filmmaker(s):
Description:
"In his one reel film, Girl with a Dress, Clyde Hammond, ACL, has made an appealing and remarkably successful attempt to portray a drama of the spirit rather than of action. Through long weeks of bitter economy a girl accumulates enough money for a new dress. It arrives from the mail order house just in time for a summer's picnic with her friends and, happy in prospect, she wears it proudly. Then, because in it she is more charming than they, her friends will not like it, make mocking fun of her and she leaves them in tears. Stumbling home, she is caught in a shower and the dress is ruined. A simple enough tale, but in its very simplicity and sincerity lie the strength of downright tragedy. It was planned and directed with imagination and played, in its leading role, with definite and sensitive skill." Movie Makers, Dec. 1932, 562.
---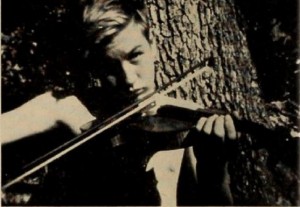 Date produced: 1949
Filmmaker(s):
Description:
"The familiar plight of a boy who disappears just before his music lesson is the simple springboard launching The Great Man Hunt. The subsequent adventures of the older brother and a reluctant pal who search for the errant youngster build into a chase sequence (on the teen age level) that is soundly representative of basic movie techniques. In developing this theme, Donald Volkman set himself many a difficult exposure problem — notably in shots of the boys aboard a trolley car and in wooded areas with sunlight slanting through tall trees. His solution of these problems is satisfying in every case. Further, Mr. Volkman's cross cutting in the chase sequences indicates intelligent study of professional masters of this technique. A swift climax is presented amusingly as the music teacher apprehends the boy who, wearing only a pair of swimming trunks, tucks a violin under his chin and proceeds to play his lesson at the edge of a lake." Movie Makers, Dec. 1949, 455.
---
Date produced: 1920
Filmmaker(s):
Description:
"Girls playing in the garden and posing for the camera. One young girl plays with a toy steam train as a dog wanders about." (NWFA Online Database)
---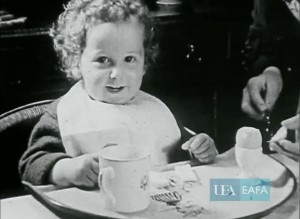 Date produced: 1934
Filmmaker(s):
Description:
"In the Home Movie field, Lawrenson submitted a fine document of a day with his little 2-year-old daughter. The main portion is given over to a day at the seashore. But he gives reasons for everything he does even to going home. He shows a storm coming up and after the family has arrived safely at home, the little looks out of the window while the raindrops patter on the windowpane." American Cinematographer, Jan. 1936, 24.
---
Date produced: 1931
Filmmaker(s):
Description:
"Hearts Of The Golden West, 1200 ft., 16mm., filmed and directed by Theodore Huff and enacted entirely by youngsters under thirteen, is a delightful and whimsical burlesque of the Griffith melodrama of the days when titles were long and plots of villainy and intrigue laid in the great open places swept grandly to a moral conclusion in which "true hearts were united." In those days, producers did not hesitate to use a cyclorama or to place painted canvas scenery on an outdoor location. Mr. Huff revives all of the old technique, even to the dance hall set, with its inevitable balcony, and the fight to the finish at the edge of the cliff. Under his direction, the children act their parts with complete seriousness and, in some cases, with mimetic ability that would have given their prototypes pause." Movie Makers, Dec. 1931, 658.
---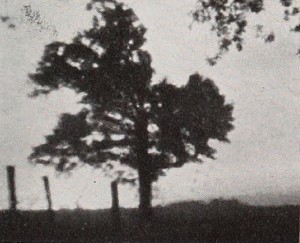 Date produced: 1943
Filmmaker(s):
Description:
"Holiday with the Heavers is one of those rare films that display sincere artistic sensitivity that is manifestly not the product of technical skill nor the "slick" application of the rules of composition and film planning. It is a picture that promises that its maker — Dr. W. Lynwood Heaver — with more cinematic experience, might produce the finest type of amateur motion picture. Holiday with the Heavers is not a record of a family jaunt, as its title would imply. Rather, it is a scenic study of fall, enlivened by the presence of a three year old who investigates a park and explores the autumn leaves. Included in the film are beautiful and eerie shots of the late fall, effective silhouettes and charming closeups of the small actor." Movie Makers, Dec. 1943, 478.
---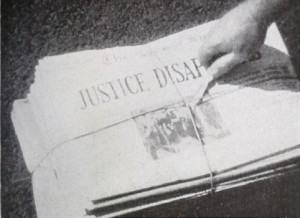 Date produced: 1944
Filmmaker(s):
Description:
"The 1944 Hiram Percy Maxim Memorial Award film, In His Own Judgement, is the distinguished expression of the mature thought of a generous, broad and rich mind. With all the individualism of Henry Thoreau, whose philosophy the picture exemplifies, Joseph J. Harley has lifted up his eyes unto the hills and to the lonely places of nature and has brought from them a finely sincere, dramatic story that declares his own credo of man's healing.The tale is simple. A jurist, on the verge of a nervous collapse, disappears and finds refuge from terror and confusion in a lonely wooded retreat. Almost identified, after some years, by two young girls who meet him by chance, he tells them the tale of "a missing judge" in retrospective sequences. Although nearly convinced that he is the long sought man, they decline to earn the reward offered for news of him and leave him in peace. In cinematography, direction, action, dramatic construction and realization of beauty, Mr. Harley's film is of high quality. The tense horror of the overworked jurist in the crowded city is followed by the rest which he finds in solitude. The words of the Psalms comfort him and bring him "peace at the last." They are exquisitely read in a special recording. Mr. Harley was greatly aided in his two long years of labor on the picture by the fine and sincere work of his brother in law, Charles Hooker, who assumed the role of the judge with authority and restraint. The whole film is beautifully integrated by phonograph with the music of Dvorak's violoncello concerto in B minor, Liszt's Les Preludes, Goldmark's Rustic Wedding Symphony, Brahms's Tragic Symphony, Sibelius's Karelia Suite and one of the Slavonic dances of Dvorak. These provide the sole musical contribution. Mr. Harley, an engineering executive for a large corporation, has put into this remarkable film a breadth of culture acquired in two continents, the authority of a man who has looked at life and has come to conclusions about it and the creative fire and disciplined achievement of a real artist." Movie Makers, Dec. 1944, 476-477.
---
Total Pages: 6