---
---
Date produced:
Filmmaker(s):
Description:
"...a record of his trip to Australia." (Sharcott)
---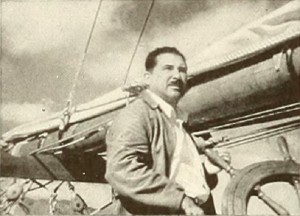 Date produced: 1940
Filmmaker(s):
Description:
"When the schooner yacht Enchantress put out from San Pedro for a five weeks' marlin fishing cruise in the Gulf of Lower California, fortunately James H. McCarthy was on board with camera, Kodachrome and a filming plan. The result was Before the Wind, as happy a movie yarn of a pleasure cruise as we have ever seen. A spirit of jollity and a general good time pervade this chronicle, which is adequately strung on the thread of a series of entries in the ship's log of the Enchantress. This casual continuity is entirely sufficient, for each episode is beautifully sequenced, and the whole film reflects a consistent happy go lucky holiday spirit. Exquisite shots of the schooner in translucent California Gulf waters, numerous studies of ship life, handsomely lighted interior views in cabins and engine room are all technical accomplishments in this picture. The sequences of marlin fishing and of clam digging on the Mexican shore are gems of good film planning and good cutting. The movie is presented with an intelligently planned musical accompaniment that really fits the film, but it is the natural handling of sequences of people on a carefree sea vacation that makes this picture superb entertainment." Movie Makers, Dec. 1940, 577.
---
Date produced: 1938
Filmmaker(s):
Description:
"B&W: views of Arrow Lakes scenery from a sternwheeler; arrival; the "Minto" at dock. Two men travelling by packhorse in the Lardeau. The steam tug "Beaton". Sequence on gold mining in the Cariboo, with footage of a hydraulic mining operation. COLOUR: Vancouver; Lions Gate Bridge and Stanley Park approach; city skyline. Trip on the steamship S.S. "Catala": views at sea; approaching settlement; people meeting the boat; log boom and sawmill adjacent to the dock. Alert Bay: views of village, store, homes, etc.; Indian children at play; schoolgirls in red sweaters [from St. Michael's Indian Residential School]; steamboat arriving; many shots of totem poles, graveyard, etc. Fishing fleet in harbour, preparing nets, and heading out to sea. Fishboat crew hauling in net full of thrashing salmon, and brailing them onto boat. Other fishboats setting their nets, hauling in salmon. Fishboat crew unloading salmon onto conveyor; shots of cannery wharf, female cannery workers. Savary Island: family vacation scenes; lodge; children at play; adults playing golf on beach at low tide; departing on a boat trip." (BC Archives)
---
Date produced: 1931
Filmmaker(s):
Description:
"By Sea To Florida, 400 ft., 16mm., made by Porter Varney of Bradenton, Fla., is a film record of a sea trip which derives its importance from the fact that the photography and choice of viewpoint are consistently exceptional. Parts of the ship, such as the rigging and cordage, the portholes, the lifeboat davits, etc., were used with rare artistry as aids to composition and effect. An expert use of filters produced exceptionally pleasing and truthful black and white rendition of the sea and the movement and sway of the ship. Continuity was effectually obtained by a shifting of the camera viewpoint, emphasizing the harbor, the high seas and the arrival in Florida. A startling climax to the film was given by a series of shots of an approaching hurricane captured by Mr. Varney 's intrepid camera." Movie Makers, Dec. 1931, 685.
---
Date produced: 1930
Filmmaker(s):
Description:
"Carl Weagant's sea epic, The Cruise Of The Carlsark, 3000 ft., 16mm., is a complete film record of the voyage of the ketch, Carlsark, across the Atlantic. Three Cornell men began the adventurous trip at Ithaca, N. Y., sailing through the Erie Canal system into the St. Lawrence and thence out into the Atlantic. Crossing the ocean in the little yawl, they cruised through the Mediterranean and returned home, stopping at the Canaries. The film record of the trip, made by Mr. Weagant, who was skipper as well as cameraman, is almost as important an advent in the annals of amateur movie making as the trip itself is in yachting circles. Excellent in exposure throughout, the picture contains few of the errors that would have been excusable. The continuity follows the chart of the voyage but the reels of sea scenes in the midst of the film can be considered as a separate subject. These scenes, telling the every day life aboard the ketch and the exciting incidents on the trip, are as interesting and as well photographed as any amateur made sea pictures that have come to the attention of League headquarters." Movie Makers, Dec. 1930, 759.
---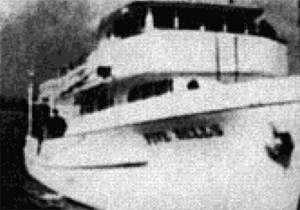 Date produced: 1958
Filmmaker(s):
Description:
"A documentary of Dr. Fernando F. Guerrieri's cruise on "The Five Bells" from Los Angeles to Salina Cruz, Mexico with intermediate shore stops. There are scenes from some of the sleepy villages. The main interest is life aboard the yacht, cleaning, mending, fishing, eating, and all the other things and events one might expect on a yacht in southern waters. The picture creates a feeling of relaxation and restful purpose, with some deep sea fishing" PSA Journal, Nov. 1958, 46.
---
Date produced: 1960
Filmmaker(s):
Description:
"1 View of small plane at an airport. 2 View of dinghy in a harbor at the Great Salt Lake. 3 Views of shoreline and boat moving through the Great Salt Lake. 4 Views of the west coast of Central America, dolphins leading the boat, fishing, Santa Cruz, local inhabitants, cliff diving and a vacation resort." University of Utah Marriott Library.
---
Date produced: 1933
Filmmaker(s):
Description:
"A competent example of a well-planned film of a holiday for two." BFI National Archive.
---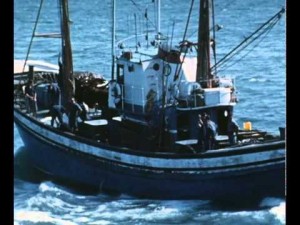 Date produced: 1962
Filmmaker(s):
Description:
La película realiza un recorrido desde Bermeo hasta Gernika. Se trata de un viaje que va desde el puerto pesquero de Bermeo, hasta el Árbol de Gernika, a lo largo de la actual Reserva de Urdaibai.

The film depicts a route travel from Bermeo to Guernica. It's a trip that goes from the fishing port in Bermeo, to the Guernica Tree, crossing through the Urdaibai Reserve.
---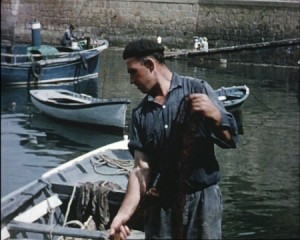 Date produced: 1959
Filmmaker(s):
Description:
Cortometraje documental sobre la costa vizcaína que hace un recorrido desde la playa de Ereaga hasta el Cabo Matxitxako. En la película se pueden ver imágenes del Puerto de Bilbao y de las playas de Ereaga, Arrigunaga, Azkorri y Sopelana. También se aprecian las localidades vizcaínas de Barrika, Plencia, Gorliz, Armintza, Bakio y San Juan de Gaztelugatxe.

Documentary short about the Biscayne Bay that depicts a tour from the Ereaga beach to Cape Matxitxako. The film shows images of the Bilbao Port and the beaches in Ereaga, Arrigunaga, Azkorri and Sopelana. Local Biscayne places are also seen: Barrika, Plencia, Gorliz, Armintza, Bakio and San Juan de Gaztelugatxe.

---
Total Pages: 3