---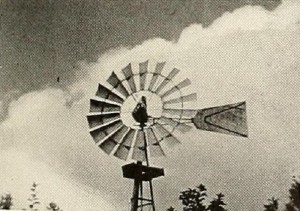 Date produced: 1940
Filmmaker(s):
Description:
"Simplicity and directness mark How to Use Filters, made by Kenneth F. Space for the Harmon Foundation. A teaching film must be free from overburdening theory. Mr. Space knows when to forget the deep dark secrets of theory and when to speak out about the actual, practical facts. His film was well filmed, and the subject matter was chosen to present the case clearly and in an interesting fashion. The user of a movie camera will learn more about filters from seeing this film than he can gain from reading many pages on the subject. It tells just what to expect from various filters and stresses the results obtained from their use more than it does the reasons why they work. Mr. Space's movie is one of the few educational films which are simple enough to be effective." Movie Makers, Dec. 1940, 604.
---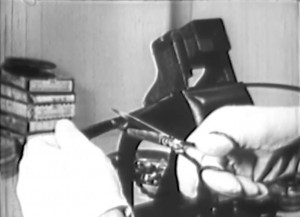 Date produced: 1939
Filmmaker(s):
Description:
"Film Editing, an exposition of this topic, is a single subject in the series, You Can Make Good Movies, produced by the Harmon Foundation of New York and photographed by Kenneth F. Space. This film presents the successful use of a medium to explain its own working and is divided into two parts — first, the mechanical operations involved in editing and splicing and, second, the methods used to present simple cinematic ideas through cutting. The clear and well ordered presentation of this subject is noteworthy. The first part of the film is characterized by a number of excellent, unusually large closeups showing the operations of scraping the film, applying cement, splicing, etc. In one or two of these closeups, however, the significant action was partially obscured, as in the case of closeups showing the application of cement to a splice, where the cork at the end of the brush got in the way. In general, however, the presentation was very clear and well photographed. Other methods than those shown could have been employed to produce the same results, but, in an instructional film of this nature, it is taken for granted that only one method can be presented without confusion." Movie Makers, Dec. 1939, 636.
---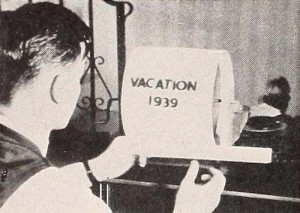 Date produced: 1939
Description:
"When movie makers turn to movie making itself as the subject of a picture, sometimes they are a little self conscious and heavy handed — more particularly if the approach is humorous. This fault, the Dallas (Texas) Cine Club has successfully avoided in Out to Win, an opus that displays the adventures of a new convert to filming. The hero of the tale observes that everybody has a movie camera and that he is out of things. So his trombone and the equipment of other hobbies go to the "hock shop" to finance the purchase of a new cine camera. His wife isn't particularly sympathetic to movie making, and here the real humor enters, for Mrs. Movie Maker is not antagonistic; she is just oblivious to the real importance of movies. She walks in on her husband when he is developing titles, she tramps through film clips when he is editing; but, when the movie maker receives an incredible sum for a newsreel scoop (well handled airplane wreck sequence) and, in consequence, gets a check that enables the pair to buy a new car, Mrs. Movie Maker's attitude changes. In the last scene, she is proudly using a camera. The actors are excellent: they do not overplay their roles, and so the film is really funny." Movie Makers, Dec. 1939, 634-635.
---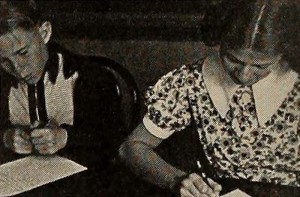 Date produced: 1938
Filmmaker(s):
Description:
"First Film and When the Cat's Away, a double header entry, which takes honors jointly because of the strong relationship between the two, is the production of the Cinema Club of Lowell Junior High School, at Long Beach. Calif., and of the club's faculty adviser, Helen Rees Clifford. First Film, largely the work of Miss Clifford, summarizes the Junior High School group's experiences in producing When the Cat's Away, which is entirely the achievement of the youngsters. Together, the two films present a clear and concise picture of the initial production of a film by a junior high school movie club, from scenario writing and movie planning to the completed opus, ready for its premiere. So, in these two reels, one sees how the job of teaching movie making technique to youngsters, of ages from eleven to fourteen, can be handled efficiently and happily, and one learns how clear and coherent a little picture can be produced as a starter. Few high school photoplay clubs have begun so well and with so little lost motion. Very few high school first films are as clear and competent as When the Cat's Away." Movie Makers, Dec. 1938, 618.
---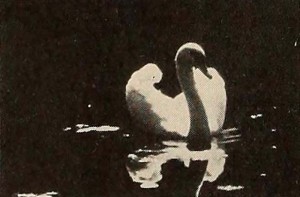 Date produced: 1938
Filmmaker(s):
Description:
"A milestone in the pedagogy of personal movie making, How to Use Your Camera, produced by the Harmon Foundation and photographed by Kenneth F. Space of that organization's staff, is a simple and straightforward exposition of the fundamentals of camera operation. This picture, reel one in a forthcoming series of releases to be entitled You Can Make Good Movies, is marked by attractive and technically superior photography. The remarkable restraint exercised in planning and directing the picture is its outstanding virtue because, although the principles of camera manipulation covered are elementary and brief, they are crystal clear. It would have been easy to have covered too much ground in a one reel film of a technical procedure, and, in restricting the scope of the picture, the producer showed astonishing understanding of both the movie medium and of the technique of teaching movie making. The photography is beautiful, the sequencing and editing exquisite gems, in themselves examples of good technique, and the titling is excellent. Movie Makers will be impatient to see the companion reels in the series, and the Harmon Foundation deserves acclaim for its pioneering work." Movie Makers, Dec. 1938, 618.
---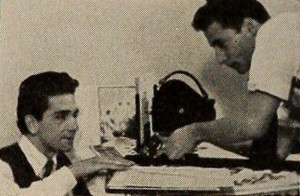 Date produced: 1938
Filmmaker(s):
Description:
"Produced for the Besbee Products Corporation, by Charles J. Carbonaro, Entitled to Success is something new in the amateur movie industry. It represents the use of movies to advertise a movie product; in this case it is the Besbee Universal Title Maker. In this film, Mr. Carbonaro maintains his usual high standard of photographic excellence, and he has introduced a number of ingenious technical tricks. The story is a delightfully and naturally handled tale of a new movie maker who acquires a titler and sets out to investigate its possibilities with the aid of his wife and a friend who is also an amateur filmer. The fresh, contagious enthusiasm of the real movie fan is effectively portrayed by the well directed cast, and anybody who has had the experience of buying a new cine accessory will not fail to chuckle sympathetically with the hero's intense delight as the story unfolds. The picture is beautifully planned and expertly edited and, best of all, it has the little touches that grow only from sincerity of purpose and understanding of the art of the cinema." Movie Makers, Dec. 1938, 617-618.
---
Date produced: 1935
Filmmaker(s):
Description:
"The relatively short photoplay, Choosing a Scenario, has been awarded Honorable Mention because it is a smooth and superficially brilliant example of comedy film story making. Originally produced as one of the entries in a group filming contest conducted by the Cinema Club of San Francisco, the picture took first award in that contest for its director, William Palmer. ACL, its cameraman, K. G. Stephens. ACL, and its lone actor, J. Oliver Tucker, ACL. Although comparatively slight in significance, it offers fine photography, intelligent cutting, effective angles and deft acting in telling a clever story with lively tempo." Movie Makers, Dec. 1935, 551.
---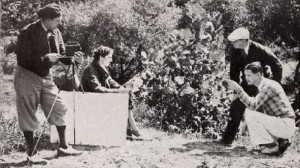 Date produced: 1934
Filmmaker(s):
Description:
"Hooked, an 8mm. comedy by the Grand Rapids Movie Makers, was intended as a straight drama of the trout streams. It has ended, however, as a delightful farce of a movie club trying desperately to complete such a picture — and is probably the better because of this mid production metamorphosis. For, although the first and original section of the picture is wholly charming and well photographed, it is in the latter section that the film picks up spirit, sparkle and definite dramatic power. It is in this part that the producers have conceived and executed a number of cinematic coups, climaxing them with a stunning multiple exposure sequence probably never before equalled or even approached in this medium. Walter Mills, ACL, L. Thorny, ACL, M. P. Gamber and Wendell Patton, of the Grand Rapids club, continue and enhance, with this film, their rightful reputation as most able advocates of 8mm." Movie Makers, Dec. 1934. 534.
---
Total Pages: 5