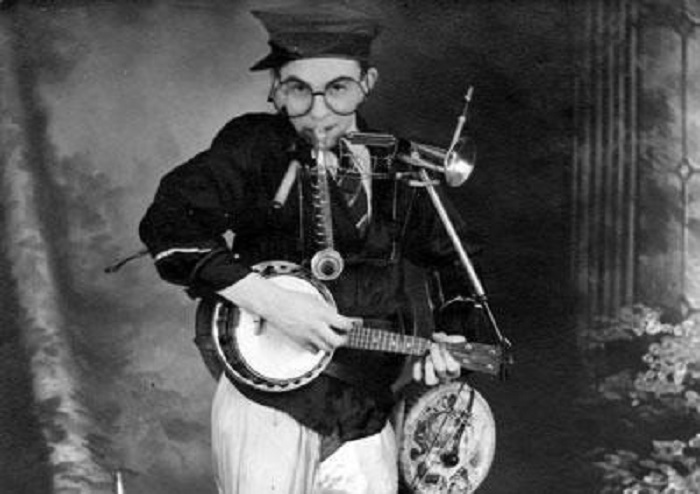 Date produced: 1985
Filmmaker(s):
Country of Production:
United States
Languages:
English
Duration:
01:46:00
Format:
16mm
Colour:
Colour
Sound Notes:
Magnetic
Awards/Recognition:
UCLA Film & Television Archive list of titled amateur films
Description:
"Subtitled 'A Journey Through the Scrapbook and the Memories of Sid Laverents,' Saga is an oddball epic of amateur filmmaking — an oral history of one man's 20th century illustrated with family photos, various drawings and clippings and 16mm footage. Laverents recounts his past as if enthusiastically telling a tall tale to a child: Digressions and exaggerations pile on until they accrue into moments of acutely honest reflection on personal relations and historical events." LA Weekly.
Resources:
The Sid Saga is made up of four parts that combine to complete a feature length film. Part 1 was completed in 1985, Part 2 in 1987, Part 3 in 1989, and Part 4 in 2003. Some versions of the feature film contain only the first three parts, which combine to run for 90 minutes.

See on IMDb, with section summaries: The Sid Saga Part 1, The Sid Saga Part 2, and The Sid Saga Part 3.

Articles on The Sid Saga: "The Sid Saga," by Richard Harland Smith via TCM.com; and "The Sid Saga (Parts 1-3, 1985-1989)," by Ross Lipman via UCLA Film & Television Archive.

The film is a part of the Sid Laverents Collection held by the UCLA Film & Television Archive.
Subjects:
Genre:
Form:
Repository:
Sid Laverents Collection, UCLA Film & Television Archive
Screenings:
Viewing Notes:
"Constructed chronologically and kicked off by a framing device in which friends of the family ask about a particularly beguiling scrapbook, Laverents guides the viewer through his early years as a busker, his vaudeville tenure, the breakup of his first marriage and union with his second wife Stella, his sidebar as a Fuller Brush salesman, his wartime service in Calcutta, the infidelity that destroyed his second marriage, his 1949 meeting of third wife Adelaide (costar of many of his 16mm short subjects), and his subsequent hobby of amateur filmmaking (illustrated with copious clips). An update in 1989 fills the viewer in on Adelaide's death and sets up the saga's shot-on-video coda, the whole package comprised of an invigorating combination of animation, still photography, and pre-digital photographic trickery. The film's postscript finds a widowed Laverents assuaging his loneliness by fixing up his home, losing a hundred pounds, and submitting to a facelift in a bid to attract a life companion. The Sid Saga concludes with the filmmaker bonding with a Scandinavian woman 17 years his junior and enjoying his cinematic acclaim while expressing his wish to live to be a hundred." From "The Sid Saga" via TCM.com.
---