---
---
Date produced: 1934
Filmmaker(s):
Description:
"A record of a summer trip with humorous twists." American Cinematographer, Feb. 1936, 73.
---
Date produced: 1954
Filmmaker(s):
Description:
"Joyous Noel by Gilbert B. Jansen Jr. is the sort of color motion picture record of an American family's Christmas that so many home-loving cameramen dream of producing - but seldom do. Undoubtedly the producer and all members of his family will treasure this film immediately. Not a great work, Joyous Noel is nevertheless an unusually good Christmas film in which all of the preparations and celebrations found in graceful family living are depicted through the activities of a young couple and their two children. Well lighted scenes, technically proficient camera work, pleasant acting by all concerned, and a background of Christmas carol music all contribute to make this a thoroughly pleasant production" PSA Journal, Jan. 1955, 50.
---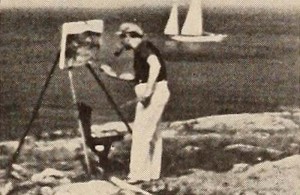 Date produced: 1938
Filmmaker(s):
Description:
"New England Holiday is the kind of travel film any movie maker should be proud to produce. Replete with human interest and a warm feeling of good fun, this two reel record is distinguished by a wealth of splendid compositions and natural camera treatment. Albert F. Watts has lavished on such typically New England subjects as Gloucester harbor, the fishing fleet or a clam bake the sensitive feeling of an artist for line and mass and the alert understanding of cinematics of a genuine movie maker. Smoothly integrated sequences have been edited with unerring suavity and liveliness, comprising a whole which is both vital and lovely to look at. The production is fundamentally weakened only by a selection of title wordings considerably less spirited and effective than the films which they accompany." Movie Makers, Dec. 1938, 620.
---
Date produced: 1938
Filmmaker(s):
---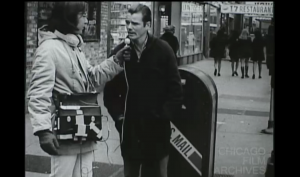 Date produced: 1971
Filmmaker(s):
Description:
"RATAMATA is a portrait of the diverse opinions of Chicagoans (ranging from high school students to habitual mayoral candidate Lars Daly) as they reflect on the general state of affairs in America, the war in Vietnam, social and racial conflict, freedom and personal liberty, happiness, and social justice." Chicago Film Archives
---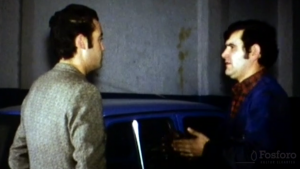 Date produced:
Filmmaker(s):
Description:
En Noche Buena, un hombre lleva su automóvil a un mecánico para que sea arreglando mientras el camina por una ciudad. Mientras el mecánico trabaja en el vehículo, recibe una llamada telefónica que lo distrae, y después da el coche al hombre, diciéndole que está arreglado. Mientras el hombre está ya en el camino, el mecánico recuerda haberse distraído y no haber apretado los tornillos de la rótula del automóvil, lo cual pone en peligro la vida del conductor. El mecánico intenta contactarlo desesperadamente a través de la policía de caminos mientras imagina que si muere, él será considerado culpable. El conductor eventualmente pierde el control del vehículo y queda varado en un camino solitario, desde donde contacta al mecánico quien agradece a Dios que nada terrible haya pasado. El filme termina con imágenes de luces navideñas en la ciudad y un letrero que muestra la rótula.

On Christmas Eve, a man takes his car to a mechanic to get it fixed while he walks around a city. When the mechanic is fixing the car, he gets distracted by a phone call, then he gives the car to the man and tells him it is fixed. While the man is already on the road, the mechanic remembers getting distracted and not tightening the screws of the car's ball joint, which endangers the passenger's life, so he tries to contact him desperately through the road police and imagining him claiming that his death was his fault. Eventually the man loses control of his car and gets stranded in a lonely road, he contacts the mechanic who thanks God that nothing terrible happened. The film ends with images of Christmas lights in the city and a sign showing the ball joint.
---
Date produced: 1937
Filmmaker(s):
Description:
"'Santa Visits Elaine,' 16mm. in color, by John E. Pohl of Cicero, Ill., was the winner in the home movies class. The picture is finely done. It greets you with an unusually strong title when it flashes upon you on the screen. No filters are used. There are few characters in the story—as a matter of fact Elaine and her mother carry the greater burden of the cast. To be sure, Santa is in the limelight long enough to do a little tree and interior decorating. Elaine looks a trifle large to accept as gospel truth all the conversation sometimes handed to children about the comings and goings of Santa Claus, but the young lady does or is caused to do one good deed which may indicate one of two things: either she is going to do her utmost to entertain Santa while he is visiting that house or else she has a line on the habits of the male person who is in her mind slated to do the hanging. She very prominently places a bottle of beer and a large glass right where the visitor cannot miss it. Does he miss it? No, he does not. In spite of the obstacle presented by the phoney mustaches he gets around them." American Cinematographer, Jan. 1939, 17.
---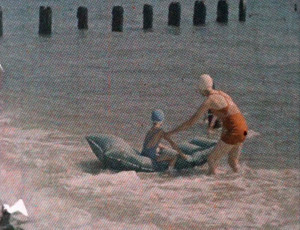 Date produced: 1934
Filmmaker(s):
Description:
"Nineteen thirties holiday film of the Harrison family at a number of Suffolk coastal holiday hotspots; including Southwold, Lowestoft, the Broads (Beccles), and Thorpeness. This reel, with scenes in both Dufaycolor and black and white, shows the family having a jolly old time bathing, picnicking at their beach hut, horse riding, and sailing. Intertitles include "Susan on the li-lo" and "tea with the mater" (BFI.org.uk)
---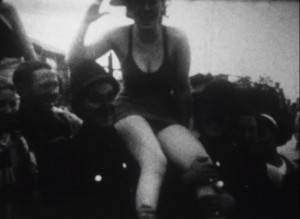 Date produced: 1937
Filmmaker(s):
Description:
"The excitement of a 1937 holiday starts with the packing of Arthur J. Dawson's initialled suitcase and the train ride from Saltash to Hemsby in Norfolk. Station staff wait to help passengers transfer their luggage to the wooden chalets of Hemsby Holiday Camp. Organised entertainments include following behind a carload of musicians including accordionist, exercising in swimsuits on the beach, silly sports and getting messy with flour and water." (BFI database)
---
Total Pages: 2