---
---
Date produced: 1925
Filmmaker(s):
Description:
"Footage of the Behrens family on holiday in Sandsend; June 1925. Includes various scenes of the family on the beach - Two men are seen wading through the sea, carrying a man and a boy to dry land. A large rowing boat is seen anchored in the background. - Three little girls stand on top of a sand castle, trying desperately to keep their feet dry, while a young boy shovels sand around them in an attempt to keep the in coming tide at bay. - A group of women are seen standing on a breezy hillside, dressed in outdoor clothing, carrying rucksacks and walking sticks. The film also features a brief shot of a London North Eastern Railway (L.N.E.R.) steam train departing from a platform" (NWFA Online Database).
---
Date produced: 1937
Filmmaker(s):
Description:
"'Santa Visits Elaine,' 16mm. in color, by John E. Pohl of Cicero, Ill., was the winner in the home movies class. The picture is finely done. It greets you with an unusually strong title when it flashes upon you on the screen. No filters are used. There are few characters in the story—as a matter of fact Elaine and her mother carry the greater burden of the cast. To be sure, Santa is in the limelight long enough to do a little tree and interior decorating. Elaine looks a trifle large to accept as gospel truth all the conversation sometimes handed to children about the comings and goings of Santa Claus, but the young lady does or is caused to do one good deed which may indicate one of two things: either she is going to do her utmost to entertain Santa while he is visiting that house or else she has a line on the habits of the male person who is in her mind slated to do the hanging. She very prominently places a bottle of beer and a large glass right where the visitor cannot miss it. Does he miss it? No, he does not. In spite of the obstacle presented by the phoney mustaches he gets around them." American Cinematographer, Jan. 1939, 17.
---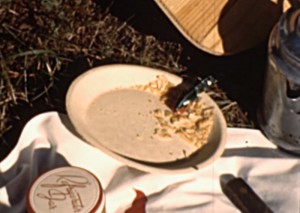 Date produced: 1949
Description:
A group of families takes separate vacations – the husbands go fishing, while the wives and children choose to hold a picnic. Both vacationing groups encounter obstacles that disrupt their plans.
---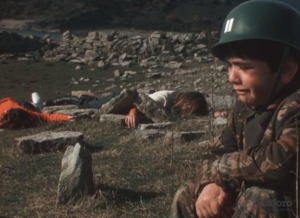 Date produced:
Filmmaker(s):
Description:
Un pequeño niño llamado Sergio hace una lista de regalos que desea, en la que incluye un traje de soldado, una metralleta y otras armas. Después Sergio tiene un sueño en el que es un soldado explorando el campo y divirtiéndose con sus armas; el sueño se transforma en pesadilla cuando ve a su familia muerta y cubierta de sangre. Sergio llora y besa a sus familiares muertos para después tirar su metralleta de juguete cubierta de sangre. Después despierta asustado y destruye su lista de deseos.

A little boy named Sergio makes a wish list of gifts that include a soldier suit, a machine gun and other weapons. He then has a dream of himself as a soldier exploring the country and having fun with his guns; the dream turns into a nightmare when he sees his family dead and covered in blood. He cries and kisses the dead members of his family and finally he throws away his toy machine gun covered in blood. Sergio wakes up scared and destroys his wish list.
---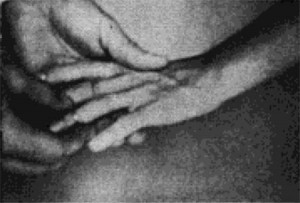 Date produced: 1958
Filmmaker(s):
Description:
"In a few short minutes Edward M. Crane has presented a cycle of life through the close-up of hands. Boy meets girl, repeated visits, flowers, embrace, ring, wedding, honeymoon, bills, a fast trip to the hospital, and then a little hand. It is short, smooth, and it tells the story" PSA Journal, Nov. 1958, 46.
---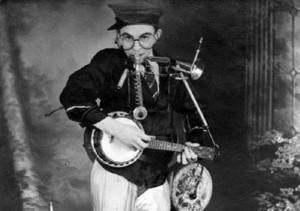 Date produced: 1985
Filmmaker(s):
Description:
"Subtitled 'A Journey Through the Scrapbook and the Memories of Sid Laverents,' Saga is an oddball epic of amateur filmmaking — an oral history of one man's 20th century illustrated with family photos, various drawings and clippings and 16mm footage. Laverents recounts his past as if enthusiastically telling a tall tale to a child: Digressions and exaggerations pile on until they accrue into moments of acutely honest reflection on personal relations and historical events." LA Weekly.
---
Date produced: 1931
Filmmaker(s):
Description:
'Ayako prays at the grave of her brother. Returning home, she helps Seizo - her late brother's young friend - to release his kite caught in the trees; an interlude that restores memories of the departed. Rural life and customs and the special delights of childhood are skilfully conveyed' (EAFA Database).
---
Date produced: 1925
Filmmaker(s):
Description:
"Various scenes of the Behrens family on holiday in Skerries in the summer of 1925. Includes nice footage of a group of toddlers and babies playing with bouncy balls, in a cliff top garden overlooking the sea. One of the children is seen pushing a very ornate push chair backwards and forwards across the grass - lots of toys litter the ground around them. Further scenes include some children in bathing costumes and caps, paddling along the waters edge; a family group sitting on a rocky shore smiling at the camera and a couple of adults swimming in the sea and drying themselves on the beach" (NWFA Online Database).
---
Date produced: 1935
Filmmaker(s):
Description:
"'Slum Clearance' was in 8mm. It was a record of the tearing down of tenement houses of the old type and showing them replaced with modern apartment buildings. Mighty interesting characters were shown, occupants of the slum tenements, children, etc. A very colorful sequence was built up in the early part of the picture. The latter part of the film is given over to the new homes and to suburban homes where the more fortunate of the slum dwellers moved. A fine document and an interesting picture." American Cinematographer, Feb. 1937, 73.
---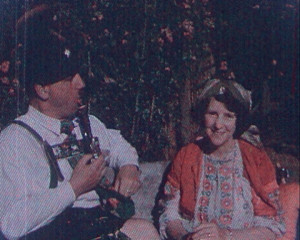 Date produced: 1939
Filmmaker(s):
Description:
"Series of short films of gardens, landscapes and dogs. Footage includes the gardens at the Alliott house in Amersham and country locations near Amersham." (EAFA Database)
---
Total Pages: 19