---
---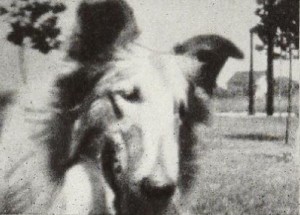 Date produced: 1945
Filmmaker(s):
Description:
"Children and pets are generally lovable and always interesting; but filming them is not a simple task, as many amateurs have found out. Raymond J. Berger, in Lassie Stays Home, accomplishes it with a sure touch and an ease that will be the envy of his fellow filmers. The excellently planned story tells of a lost child who is found by Lassie, the loyal canine family member, after the baby's somewhat older sister hunts her frantically. No adult appears in any of the footage; and remarkably enough, one does not sense the directing mother, just out of camera range. The whole movie goes forward as if the children and Lassie were entirely alone, with the camera miles away. Here is 8mm at its best and here is a film that every amateur would be proud to have made." Movie Makers, Dec. 1945, 494.
---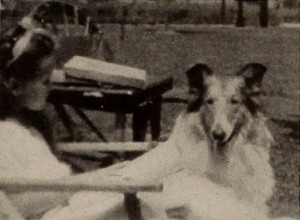 Date produced: 1946
Filmmaker(s):
Description:
"In a relatively short period of filming, Raymond J. Berger has mastered a type of photoplay which a great many persons have expressed a desire to make, the story film featuring a child and a pet. His script, a simple and unpretentious recounting of how an invalid child wills herself to walk again, to go to the aid of her injured dog, proves an ideal vehicle for Mr. Berger's young daughter and her handsome collie, Lassie. This 8mm. Kodachrome picture, scored with re-recorded music, is noteworthy for its excellent framing and splendid closeups. Particularly engaging is the sequence, after the accident, showing the mutual recovery of the two stars. Young Miss Berger, considering the limited histrionic ability of a natural child, plays her role with grace and assurance; her crying scenes and the ingenuous frolics with Lassie are unusually credible and well performed. Mr. Berger deserves credit for his planning and fulfillment of a screen play that revolves around two such charming personalities." Movie Makers, Dec. 1946, 486.
---
Date produced: 1939
Filmmaker(s):
Description:
"A family film with intertitles made for the Amateur Cinema League. The film follows the adventures of Herbert Miller, Jr., with his parents, his dog Chips, and his toys, including a pedal car and a teddy bear. Other segments show a ski trip to Mount Hood and a Miller's Paint store." Archives West.
---
Date produced: 1933
Filmmaker(s):
Description:
"Under the classification of Home Movie, Van Dee Sickler of Los Angeles was awarded the $50.00 prize for his picture 'Mishcief,' a 16 mm subject in 200 feet. The continuity is evolved around his wife, a Scotch terrier, a cat and a bird. The continuity, titles and photography of this picture were very good." American Cinematographer, Dec. 1934, 376.
---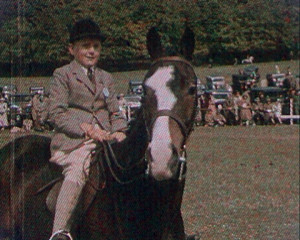 Date produced: 1935
Filmmaker(s):
Description:
"The film includes shots of the departure of the riders in the early morning mist; the Master of Fox Hounds, Stanley Barratt, leading foxhounds by foot over a wooden bridge; riders and hounds patrolling a covert at Juniper Hill; the training of young hounds after a kill; horses and hounds assembling after the cubbing hunt. Scenes … include the meet in the early morning mist; the hounds by the wooden bridge; the location of the kill. A small crowd watches as a fox that has gone to ground is dug out; after the kill the fox's body is thrown in the air for the hounds and a rider trains the young hounds. The films reference the same location, crowd (including two dogs, which are not foxhounds) and the same rider training the young hounds. Dufaycolor film of scenes from the Great Missenden Show of 1935. Shots include footage of some of the competitors in a junior show jumping event and the presentation of the prizes afterwards" (EAFA Database).
---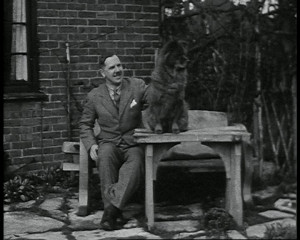 Date produced: 1939
Filmmaker(s):
Description:
"Film of the Chow Chow dogs owned, and possibly bred, by Eustace and Eunice Alliott in the mid/ late-1930s. Shot primarily in the gardens of the Alliott house in Amersham" (EAFA Database).
---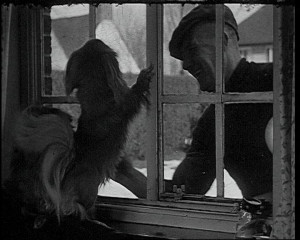 Date produced: 1939
Filmmaker(s):
Description:
"Film of two Pekinese dogs at home and in the country, detailing their development as they age. Set in the garden and the home of Laurie and Stuart Day, as well as in surrounding countryside, the film makes use of seasonal changes to record the ageing of two Pekinese dogs" (EAFA Database).
---
Date produced: 1967
Filmmaker(s):
Description:
"Problems in the Pounding Surf is an animated cartoon of a little dog's antics in the ocean. Entered in a previous film competition, judges in that event stated "A truly fabulous animation film, extremely competent timing and use of line with good overall humor." So our judges were not alone in their praise of this workmanship. What our judges did not know and won't know until they read these words here is that the maker of this film, Dale Ramsey, is only 15 years old" PSA Journal, Aug. 1967, 37-38.
---
Date produced: 1963
Description:
"A boy and his dog - the love, companionship and understanding between these two develop a deep bond. When the bond is broken, it is as though a part of life is gone. The fruitless search, the unanswered prayers take the spark out of a lively little boy. Even an appealing puppy substitute does not fill the gap for him, but does compensate a heartbroken little girl who has to give up the dog she has "found" and returned to his delight master" PSA Journal, Oct. 1963, 39.
---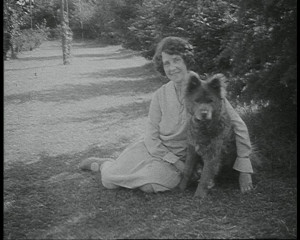 Date produced: 1930
Filmmaker(s):
Description:
A short film showing Eunice and Eustace enjoying their garden with their dogs.
---
Total Pages: 3