---
---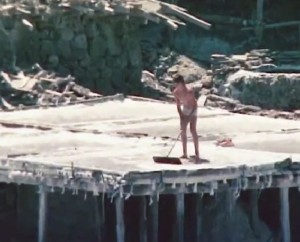 Date produced: 1987
Filmmaker(s):
Description:
El filme muestra las Salinas de Añana en la provincia de Álava, una mágica visión de terrazas de madera bañadas del blanco de la sal, lugar del que se obtiene el material con métodos transmitidos de generación en generación. Fueron los romanos quienes comenzaron a explotar las minas de forma metódica, hace más de 2000 años. Los salineros de Añana, hombres y mujeres, jóvenes y ancianos, trabajan en sus terrazas blancas de mayo a septiembre para obtener una abundante cosecha de sal.
Texto de Miguel Ángel Quintana

The film depicts the Salt Valley of Añana in the province of Álava, a magical vision of wooden decks bathed in white salt and the place where it is obtained through methods taught from generation to generation. It was the romans who began to exploit the mines in a methodical way, over 2000 years ago. The salt workers of Añana, men and women, young and elderly, work in their white decks from May to September, to obtain an abundant salt harvest.
Text by Miguel Ángel Quintana.
---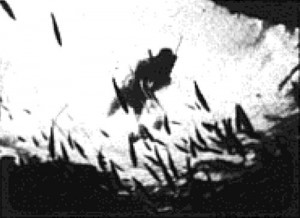 Date produced: 1969
Filmmaker(s):
Description:
"Andros Blue Holes had to be in color to show us that the Blue Holes are really blue. J. Benjamin of Toronto takes us on 18 minutes of the most fascinating underwater filming ever attempted. The beauty and mystery of the Blue Holes far outweigh the dangers involved in exploring them. Very entertaining and very educational" PSA Journal, Nov. 1969, 57.
---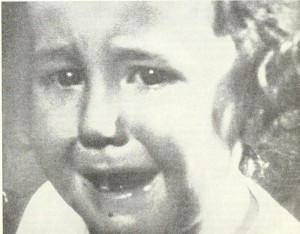 Date produced: 1936
Filmmaker(s):
Description:
"Another Happy Day" was the winner in the home movie classification, the prize going to T. Lawrenson of Dundee, Scotland. Mr. Lawrenson is a member of the Institute of Amateur Cinematographers of London. Also is he a veteran of the American Cinematographer's contests, having been one of the three major prize winners of 1935. Also is the chief actor in the home movie a veteran, a child who now has reached seemingly the mature age of four years, and who of course was but two when he made his debut on the home movie stage in 'Happy Day.' He is a black-eyed, camera-unconscious and personable youngster, who proceeds on his lawful occasions in complete indifference to a live lens." American Cinematographer, Jan. 1938, 27.
---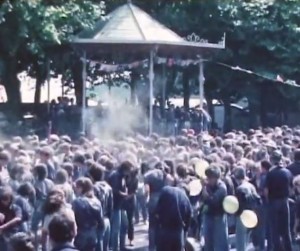 Date produced: 1984
Filmmaker(s):
Description:
Documental sobre la Fiesta del Ganso en Lekeitio. Dentro de las fiestas y tradiciones de Euskalherria, el Antzar Eguna de Lekeitio destaca por su gran poder de convocatoria. Las cuadrillas de mozos acompañados de charagas que amenizan el acto, conducen a la popa de sus botes al líder de cada grupo hasta el ganso, que amarrado por sus patas cabeza abajo, cuelga de una soga que cruza el puerto. Mediante tirones de esta soga, los mozos agarrados al cuello de los gansos, son izados una y otra vez hasta arrancar la cabeza del animal o caer al agua agotados. Esta singular e insólita fiesta ha despertado gran polémica entre sus detractores y seguidores. Actualmente los gansos que se emplean están muertos o son de plástico.
Texto de Miguel Ángel Quintana

Documentary about the Goose Celebration in Lekeitio. Among the celebrations and traditionsof Euskalherria, the Antzar Eguna of Lekeitio is one of the most attractive events. The troops go accompanied by musicians, and they lead the group leader towards their boats' stern until reaching a goose that is tied upside down by its legs, hanging from a rope that crosses the port. By pulling the rope, the participants hang on to the gooses neck, and are raised over and over again until they tear the goose's head or they fall to the water exhausted. This singular and unusual celebration has produced controversy between followers and detractors. Currently the gooses employed are either dead or made of plastic.
Text by Miguel Ángel Quintana.
---
Date produced: 1937
Description:
"documentario scientifico-touristico"/scientific-touristic documentary
---
Date produced: 1942
Description:
"doc. didattico"/educational documentary
---
Date produced: 1971
Filmmaker(s):
Description:
"Apple Sculpture by Frank L. Kreznar of Milwaukee, Wis. No Literal description of this film is possible more than the title itself. This surprising hobby is beautifully presented in this 8-minute 16mm film that was awarded a Ten Best Medal" PSA Journal, Nov. 1971, 41
---
Date produced: 1935
Description:
"documentario cronistico"/documentary chronicle
---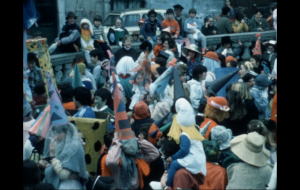 Date produced: 1983
Filmmaker(s):
Description:
Umeen desfilea aratusteetan.

Un desfile de disfraces infantiles en una fiesta popular celebrada una vez al año en Lekeitio.

A children's costumes parade in a popular annual celebration in Lekeitio.
---
Date produced: 1939
---
Total Pages: 58