---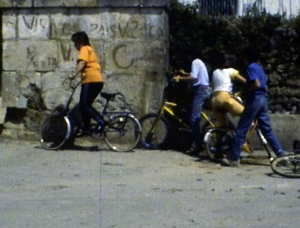 Date produced: 1983
Filmmaker(s):
Description:
Documental corto sobre el pueblo de Villa de Corres. El filme comienza con varios paisajes de los alrededores y planos de montañas y el río. A continuación se muestra el pueblo, aparecen casas, el río, calles y algunas partes características como el Castillo, el hospital, la iglesia de San Esteban, el bebedero, la fuente , la plaza, etc. También aparecen algunas personas mayores y niños por las calles. Se comenta que es un pueblo con una población de 30 habitantes pero que es uno de los pueblos más longevos de la provincia de Álava.

Short documentary about a town called Villa de Corres. The film begins with several landscapes of the surroundings and shots of the mountains and the river. Then the film shows the town, houses, the river, streets, and some landmarks like the Castle, the hospital, the San Esteban church, the drink fountain, the fountain, the square, etc. Some older persons and children are also seen. It is said that the town only has a population of 30 persons, but that it is one of the longest-living towns in the Alava province.
---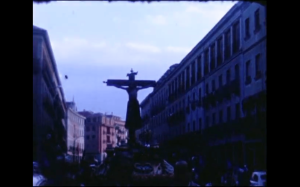 Date produced: 1969
Filmmaker(s):
Description:
Documental sobre la Semana Santa en una ciudad de Castilla, donde la paz contrasta con la violencia de otras partes del mundo.

Documentary about the Holy Week in a city of Castilla, where peace contrasts with the violence lived in other parts of the world.
---
Date produced: 1988
Filmmaker(s):
---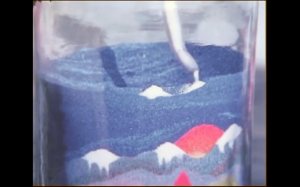 Date produced: 1985
Filmmaker(s):
Description:
En este documental se muestra el proceso de elaboración de una curiosa pieza de artesanía: una botella de cristal rellena de arena de distintos colores, formando así motivos figurativos y geométricos.

This documentary shows the process of making a curious craft piece: a crystal bottle filled by sand of diverse colors that forms new figure and geometrical patterns.
---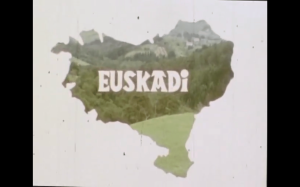 Date produced: 1978
Filmmaker(s):
Description:
Documental sobre la política y ciudadanía euskalduna durante los años 70. El autor hace un recorrido por diferentes acontecimientos inscritos en los procesos de lucha y represión que tuvieron lugar durante el franquismo y primeros años de democracia.

Documentary about the Basque politics and citizens during the 70's. The filmmaker goes through different events inscribed in the struggle processes and the repression that took place during Franco's dictatorship and the first years of democracy.
---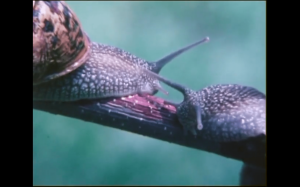 Date produced: 1984
Filmmaker(s):
Description:
Documental sobre el ciclo de vida del caracol.

Documentary about the life cycle of the snail.
---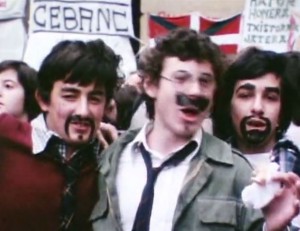 Date produced: 1978
Filmmaker(s):
Description:
Feria de Santo Tomás en San Sebastian.

Saint Thomas Fair in San Sebastian.
---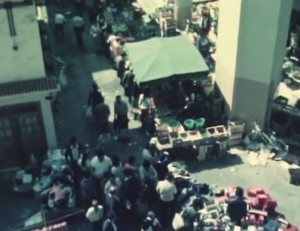 Date produced: 1982
Filmmaker(s):
Description:
Todos los miércoles en Villafranca de Ordizia se celebra una singular feria que, en muchos aspectos, marca la tendencia de los precios y estimación de los productos del campo, ganado, etc.

Every Wednesday in Villafranca de Ordizia, there's a singular fair that, in many ways, marks the trend for prices and estimation of country goods and cattle.
---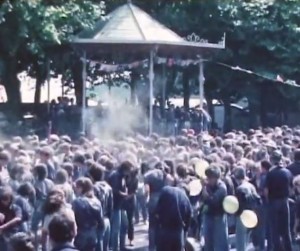 Date produced: 1984
Filmmaker(s):
Description:
Documental sobre la Fiesta del Ganso en Lekeitio. Dentro de las fiestas y tradiciones de Euskalherria, el Antzar Eguna de Lekeitio destaca por su gran poder de convocatoria. Las cuadrillas de mozos acompañados de charagas que amenizan el acto, conducen a la popa de sus botes al líder de cada grupo hasta el ganso, que amarrado por sus patas cabeza abajo, cuelga de una soga que cruza el puerto. Mediante tirones de esta soga, los mozos agarrados al cuello de los gansos, son izados una y otra vez hasta arrancar la cabeza del animal o caer al agua agotados. Esta singular e insólita fiesta ha despertado gran polémica entre sus detractores y seguidores. Actualmente los gansos que se emplean están muertos o son de plástico.
Texto de Miguel Ángel Quintana

Documentary about the Goose Celebration in Lekeitio. Among the celebrations and traditionsof Euskalherria, the Antzar Eguna of Lekeitio is one of the most attractive events. The troops go accompanied by musicians, and they lead the group leader towards their boats' stern until reaching a goose that is tied upside down by its legs, hanging from a rope that crosses the port. By pulling the rope, the participants hang on to the gooses neck, and are raised over and over again until they tear the goose's head or they fall to the water exhausted. This singular and unusual celebration has produced controversy between followers and detractors. Currently the gooses employed are either dead or made of plastic.
Text by Miguel Ángel Quintana.
---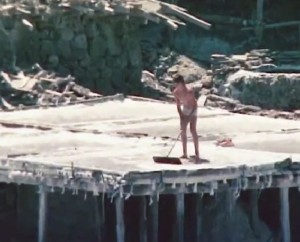 Date produced: 1987
Filmmaker(s):
Description:
El filme muestra las Salinas de Añana en la provincia de Álava, una mágica visión de terrazas de madera bañadas del blanco de la sal, lugar del que se obtiene el material con métodos transmitidos de generación en generación. Fueron los romanos quienes comenzaron a explotar las minas de forma metódica, hace más de 2000 años. Los salineros de Añana, hombres y mujeres, jóvenes y ancianos, trabajan en sus terrazas blancas de mayo a septiembre para obtener una abundante cosecha de sal.
Texto de Miguel Ángel Quintana

The film depicts the Salt Valley of Añana in the province of Álava, a magical vision of wooden decks bathed in white salt and the place where it is obtained through methods taught from generation to generation. It was the romans who began to exploit the mines in a methodical way, over 2000 years ago. The salt workers of Añana, men and women, young and elderly, work in their white decks from May to September, to obtain an abundant salt harvest.
Text by Miguel Ángel Quintana.
---
Total Pages: 50