---
---
Date produced: 1949
Filmmaker(s):
Description:
"A new illustrated lecture filmed on an amusing trip by bicycle through the isolated, unspoiled southwestern corner of Colorado." Pacific Union Recorder, Dec. 12, 1949, 4.
---
Date produced: 1969
Filmmaker(s):
Description:
"An entertaining documentary of the narrow-­gauge train ride from Durango to Silverton, Colorado. Spectacular aerial views add to the impact." Oldfilm.org
---
Date produced: 1951
Filmmaker(s):
Description:
"Waters Of Lodore - Unlike most letter carriers who go for a hike on their vaction, letter-carrier Morton and a party of friends set out on a boating adventure down the Colorado river during his 1950 summer vacation. Morton recorded the adventure from start to finish, and edited the footage into an absorbing documentary having many thrilling moments. Although the picture is a little slow getting started -the preparation and get-away sequences being somewhat overly- lenghty -the picture, once the boats get underway, is packed with interest and not a few thrills. It must have been a monumental job making movies on such an arduous journey, for it was often a tough enough job just to keep the boats afloat. Staging the boat action in the rougher waters required infinite patience and camera skill, but Morton has been rewarded with some excellent shots of his fellow-boatmen navigating the dangerous rapids. Morton shot the picture on 16mm Kodachrome at 24 f.p.s., hoping later to combine the narration on a sound print. At present, the narration is recorded on wire and synchronized with the picture." American Cinematographer, May 1952, 224.
---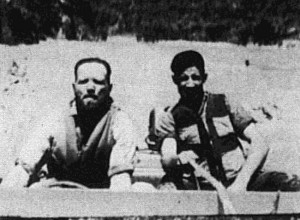 Date produced: 1957
Filmmaker(s):
Description:
"Al Morton's "Wild Water and Bouncing Boats" takes us through Desolation and Gray Canyons on the Green River which flows into the great Colorado River. The Green River starts in northern Utah and joins the Colorado south of Arches Monument in Utah. The picture takes us down the Colorado as far as the Hoover Dam. The country abounds in desert and canyon scenery—to say it is spectacular is a display of modesty. There are canoes and other hand-powered craft on the turbulent rapids with upsets and the struggle to gain an island rock and the shore. There are craft equipped with outboard motors to drive it through turbulent waters and rapids. This film is packed with thrills for those who like rough water" PSA Journal, Nov. 1957, 33.
---
Date produced: 1957
Filmmaker(s):
Description:
"Winged Hickory on the high snow-covered slopes in the area of Aspen, Colorado (not far from Denver) is a nostalgic piece of winter ski sports by Theodore H. Sarchin. Aspen is a famous old, deserted silver mining town that has been rejuvenated by ski enthusiasts taking advantage of the excellent slopes and weather conditions. The ski lift is the longest in the world. It requires 40 minutes to ride its full length, in two sections, to an elevation of 11,300 feet. There are beginner and novice trails and challenging slopes for the experienced skier. There are vistas of the towering snow-covered mountains as well as activities in camp. During one of the Gala Days, Mr. Sarchin photographed some unusually expert skiers, such as one on tall stilts, and four men on two long skis, sort of like four men on a horse. The beauty and grace of the skiers, speeding along with the snow feathering out behind, make the rugged beauty of the terrain an outstanding picture. The background music is well chosen and Mr. Sarchin's narration is adequate" PSA Journal, Nov. 1957, 53.
---
Total Pages: 2