---
---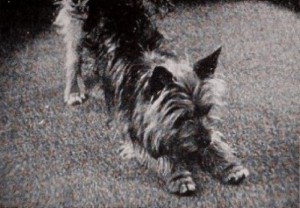 Date produced: 1948
Filmmaker(s):
Description:
"A young girl and an Australian terrier named Frisco are the ingredients of Calling Frisco, a sound on film story in which the speech is mostly from the dog's point of view. The film flows smoothly through typical scenes of a day's activities of eating and going to market and playing, ending in a dramatic climax in which Frisco protects his young mistress by warning off an intruder. Imaginative viewpoints and pleasant interior lighting are employed throughout. The dog's simple tricks are well pictured without being obtrusive, while the scene in which a bouncing ball lands in a goldfish tank, with its accompanying sound track, has the creative fantasy of Disney. Cyril Stevens has made a jolly film. " Movie Makers, Dec. 1948, 493.
---
Date produced: 1952
Filmmaker(s):
Description:
A Camper and His Canoe was filmed at Camp Kawagama, the youth summer camp ran by the filmmaker and his wife.
---
Date produced: 1952
Filmmaker(s):
Description:
"Film about canoeing, featuring members of the Charles Devenish Woodley family." Library and Archives Canada.
---
Date produced: 1935
Filmmaker(s):
Description:
"Children Grow Up, photographed by Charles J. Carbonaro, ACL, and produced by The Religious Motion Picture Foundation, is one of the best examples of effectively handling amateur actors in a story telling film yet made. This three reel film was avowedly produced to point a moral in parent and child relationships and, as such, may be classed as social propaganda, a function in which it succeeds admirably. Yet the story it tells seems genuine and is of general audience interest. The film is carefully cut so that the action is logical and smoothly paced. Mr. Carbonaro is particularly to be congratulated for his handling of the difficult technique of parallel action, which occurs as the development of the children of two separate families takes place. Both streams of interest merge into one in a well planned, dramatic climax. The story is told entirely with the aid of amateur actors. Interior shots are in the majority and, for these, no special sets were built, the furnishings of the ordinary home being used. The lighting and exposure under these conditions are excellent throughout." Movie Makers, Dec. 1935, 534.
---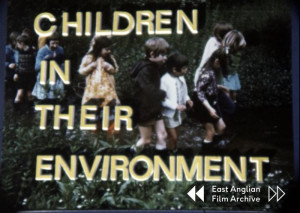 Date produced: 1978
Filmmaker(s):
Description:
A documentary film demonstrating how learning and education in the classroom can be supported by an engagement with the local community and natural history.
---
Date produced: 1938
Filmmaker(s):
Description:
"Documentary: Depicts lives of children in the Belgian Congo and French Cameroon." National Archives.
---
Date produced: 1959
Filmmaker(s):
Description:
"Excellent documentary of the care and treatment of (cerebral palsy) spastic children. The very thought of the subject may bring us sharply to the realization of our good fortune. The picture handles the subject with fine touches of human interest and may cause us to feel thankful that there are those who will devote their time and energies to this work. It must be tremendously rewarding to see the children learn to walk and do things under their own power and control. A truly enlightening picture" PSA Journal, Nov. 1959, 48.
---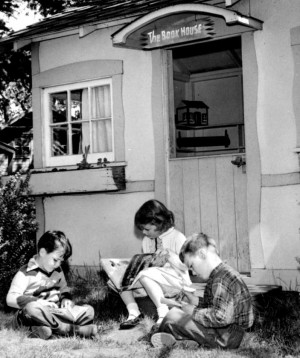 Date produced: 1945
Filmmaker(s):
Description:
"During the 1940s, Mrs. Gertrude McGill ran the Children's Garden Library in the garden of her home at 1170 Tattersall Drive in Victoria. Open to children aged 4 to 12, this program aimed to improve reading habits and instill citizenship. It is seen as the beginning of cooperative preschools on Vancouver Island.

"Amateur film. Part 1 shows a day's activities at the Children's Garden Library, including games, calisthenics, playground equipment, dancing, and reading and storytelling at the "Book House". Part 2 shows the children participating in May 24 celebrations at Beacon Hill Park, which includes a May Queen pageant, maypole dancing, and activities honouring the "Queen of Health", the "Queen of Music", the "Queen of Drama", the "Queen of Race Friendship" and the "Queen of Art". A mothers' study group, and the toymakers' group, are also shown." (BC Archives)
---
Date produced: 1934
Filmmaker(s):
Description:
"Bringing Kodacolor indoors was the task E. M. Barnard, ACL, set for himself in Christmas 1933, and the result is a 400 foot reel of very charming Christmas studies. One of the few attempts at a complete personal story in color, this picture presents a well photographed and adequately planned film of the youngsters' enjoyment of the holiday. Exposure for interior Kodacolor seems to be no problem to Mr. Barnard, for the majority of his scenes have perfect color rendition as well as very effective and interesting lighting. Some of the studies of his small daughter have an appealing loveliness that is impossible to get in black and white, for they present the very delicate flesh tones with perfect faith as well as the colors of costumes and incidental Christmas background. This film marks a new step in personal indoor filming and leads the way to more extensive use of the color medium by artificial light." Movie Makers, Dec. 1934, 546.
---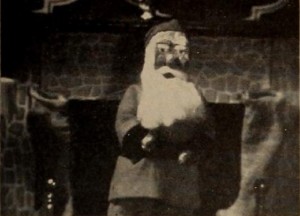 Date produced: 1949
Filmmaker(s):
Description:
"Taking the familiar 'Twas the Night Before Christmas as a theme, Bert Seckendorf and Vic Watson have put together an appealing children's holiday film combining live action with animation. The live action interludes show a father reading the poem to his young son on Christmas Eve, with the familiar lines superimposed at the base of the scene. These connectives then fade out to miniature sets in which animated figures re-enact the well known story of St. Nick. The film suffers from some underexposure and uneven animation in places, but it offers a very pleasant holiday item." Movie Makers, Dec. 1949, 455,468.
---
Total Pages: 15