---
---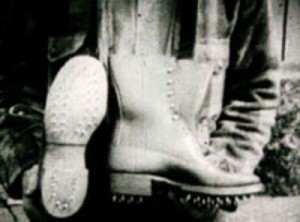 Date produced: 1930
Filmmaker(s):
Description:
"Depicts the year-round activities of the Machias Lumber Company on the Machias River in Washington County, Maine. Includes scenes of winter logging in the forest with hand tools and horses, as well as the spring log drive, with loggers using peaveys to break up log jams on icy rivers as the logs are moved from the forest to the mill. Includes footage of lumber loaded onto schooners in Machias for transport to New York and schooner being towed to sea by sardine boat." oldfilm.org
---
Date produced: 1960
Filmmaker(s):
Description:
"Edited film by Floyd Henry Wells, a retired salesman and a member of the Wally Byam Caravan Club of Airstream trailers, chronicling travel through New Zealand including scenic views, urban scenes, beaches, Puhoi Hotel, Lyltelton and Diamond Harbors, marina, fishing, Wairakei Geyser Valley, geysers, Tehokowhitu-atu archway, Maori Reserve and indigenous peoples, and motor camping (Rainbow Springs Motor Camp)," Human Studies Film Archives, Smithsonian Museum.
---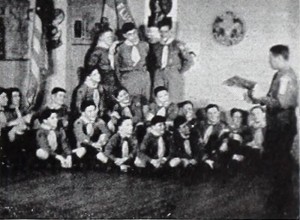 Date produced: 1945
Description:
"With its first, full dress training film for Scoutmasters, the Visual Education Service of the Boy Scouts of America embarks, in The Patrol Method, on a new pedagogical path. Instead of presenting the perfect method for emulation, the movie records what happens when Scoutmasters and patrol leaders, with more enthusiasm than shrewdness, do things in ways that invite difficulty. The wiser course is pointed out tactfully, but indirectly, in the film. Here is an unusual employment of the movie medium, but the United States Army and Navy found that it worked in war training. The film is intended for use with a printed outline, and verbal conferences will follow its showings. Directly designed to accomplish a specific teaching task, The Patrol Method does it admirably." Movie Makers, Dec. 1945, 498.
---
Date produced: 1933
Filmmaker(s):
Description:
A Catalonian film by Mr. John Salvans about camping in the Pyrenees.
---
Date produced: 1931
Filmmaker(s):
Description:
"All of the players in this picture were boys in a summer camp who upon discovering that one of their members has a movie camera decide to make a motion picture. Like all youth they decide to imitate and based their story on Tarzan. The producers of this worked up a splendid bit of comedy, interjected a fine piece of melodrama with an Alger Jr. finish that rounded it out into a production that many of the judges felt would have been worthy of showing in any theatre. The acting, direction, story and handling as a whole was considered equal to many a professional comedy." American Cinematographer, Dec. 1932, 7.
---
Date produced:
Filmmaker(s):
Description:
This film was produced at some time in the 1950s.
---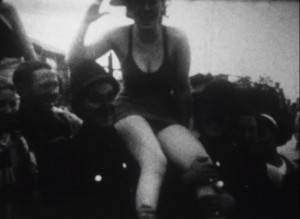 Date produced: 1937
Filmmaker(s):
Description:
"The excitement of a 1937 holiday starts with the packing of Arthur J. Dawson's initialled suitcase and the train ride from Saltash to Hemsby in Norfolk. Station staff wait to help passengers transfer their luggage to the wooden chalets of Hemsby Holiday Camp. Organised entertainments include following behind a carload of musicians including accordionist, exercising in swimsuits on the beach, silly sports and getting messy with flour and water." (BFI database)
---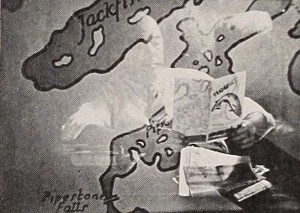 Date produced: 1939
Filmmaker(s):
Description:
"No better example of human interest in a vacation film will be seen for a long time to come than was exhibited in Two Perfect Weeks, made by Walter F. Hinkle. Strangely enough, there was practically no material of actually catching fish, yet the film gives one the impression that the party consisted of all genuine fishermen and that no more dyed in the wool sportsmen could be found than these happy vacationists. Starting with a clever introduction, the film moves rapidly along into camp. Here, a most handsome array of interest packed close shots serves to tell the story of tired business men at play, until the entire audience is ready to sit down and enjoy a meal of freshly cooked fish. The film ends in a novel way. To signalize the return to civilization, each member of the party is seen shaving off the beard that grew during the two weeks at camp. Although each of the group is introduced by means of a different type of activity, the picturization is at no time slow or dull. The secret lay in the fact that there was no "monkey business" in front of the camera, but rather a good collection of intimate views of the persons going about their various tasks. The color titles are well executed." Movie Makers, Dec. 1939, 632-633.
---
Date produced: 1936
Filmmaker(s):
Description:
"In Two Weeks, W. W. Champion has contrived that rare and refreshing thing — a personal record picture implicit with general human interest. Telling the story of a fortnight's pack trip with friends through Yosemite, the film gets off to a flying start with a delightfully detailed sequence of camp preparations. With complete naturalness, we are made acquainted with each of the vacation party. When, in good time, they set off down the trail, we feel quite sure that these people will prove of more interest than the locales that they will visit. Mr. Champion does not disappoint us, as he continues with an adroitly spun pattern of personalities and places. Crisp, steady and effectively angled, the photography of the film, in both monochrome and color, is of able assistance to the imaginative treatment." Movie Makers, Dec. 1936, 542.
---
Date produced: 1978
Filmmaker(s):
Description:
Excursión a los montes de Urbia y Aralar. El filme muestra un paisaje maravilloso por los senderos del parque natural de Aralar y una acampada en las praderas de hierba verde de Urbia, una ruta clásica entre montañeros que incluye el paso por localidades emblemáticas.

An excursion to the Urbia and Aralar mounts. The film depicts a wonderful landscape through the paths of the Aralar natural park, and a camping trip through the green prairies of Urbia, a classic route for mountaineers that includes passing through emblematic places.
---
Total Pages: 3