---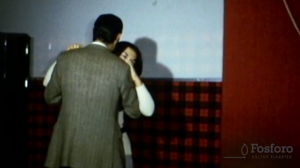 Date produced:
Filmmaker(s):
Description:
El filme muestra a una mujer esperando en su casa, tocando música, leyendo y acordando por el teléfono verse con alguien. Ella ve a una amiga y le dice que su novio, un hombre llamado Javier, está fuera de la ciudad por negocios. Primero van a una feria y después a un bar llamado El Pez Rojo, donde escuchan a una banda en vivo y toman algunos tragos, eventualmente ven que Javier está ahí bailando con otra mujer. Se van y Javier se queda bailando, después aparecen diversas imágenes de letreros de clubes nocturnos. Después se ve Javier manejando por la mañana con la otra mujer y deteniéndose a fumar un cigarro mientras es visto por su novia y su amiga. Mientras la pareja discute, la amiga de la primera mujer golpea a Javier en la cabeza con un arma. Después el filme corta a una escena de la primera mujer despertando y abriendo la puerta a sus amigas, mismas que reclaman haberla esperado demasiado, a lo que responde que se quedó atrapada por una historia que estaba leyendo, implicando que todo había sido producto de su imaginación.

The film shows a woman waiting in her house, playing music, reading and agreeing to see someone over the phone. She meets with a friend and tells her that her boyfriend, a man named Javier, is out of town on business. They first go to the fair and then to a bar called El Pez Rojo [The Red Fish] where they listen to a live band and have drinks, eventually they see that Javier is there dancing with another woman. They leave and Javier keeps dancing, then a series of images of several night clubs signs appear. Javier is then seen driving in the morning with the woman and stopping to smoke a cigar, where he is seen by his girlfriend and her friend. While the couple fights, the friend of the first woman hits Javier in the head with a gun. Then we see the woman waking up and opening the door to her friends who claim that she has kept them waiting for too long, and she says she got caught up in the story of the book she was reading, implying it was all a product of her imagination.
---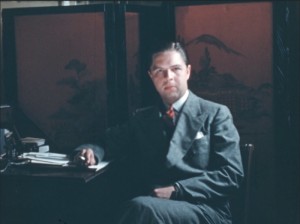 Date produced: 1940
Filmmaker(s):
Description:
A woman is tempted with thoughts of another man after her husband disappoints her on their anniversary. Will she follow through with the act, or will she remain faithful to her husband?
---
Date produced: 1966
Description:
"The Wayward Mink. It is hard to believe, but the plot in this film is exactly the same as in The Boomerang, made by filmers in Montreal. Were it a simple, everyday plot, the coincidence would not be so remarkable, but these two filming groups are over 3000 miles apart. In the Mink as in the Boomerang, a wayward wife accepts a gift from her lover, only this time it is a mink stole instead of Boomerang's necklace. Again, the wife wonders how she can get her husband to "find" it and, she hopes, present it to her. And, to top it all off, what eventually happens to the wayward mink also happens to the necklace. Though the plots are identical, the treatments are entirely different" PSA Journal, Sept. 1966, 36.
---
Date produced: 1966
Description:
"Once a Gentleman. When businessman Jones starts home he notes a damsel in distress on the street and offers to fix her flat tire. After a few drinks-in-her apartment later, he receives a letter demanding $1000 or his wife will be told of what is going on. But the blackmailer didn't count on Jones' deductive powers to find out just what has been going on. The film also won the MPD Club Film Award" PSA Journal, Sept. 1966, 35.
---
Date produced: 1966
Description:
"The Knife is a deft little story film concerning a jealous husband who suspects a local artist of making time with his wife. Grabbing the artist's knife, he stabs the artist in the back, but the result is not at all what he, nor the audience, expects" PSA Journal, Sept. 1966, 35.
---
Date produced: 1966
Filmmaker(s):
Description:
"Boomerang is an excellent example of 8mm filming at its best. The plot of this story film concerns a valuable necklace given to a married woman by her secret lover, and how she tries to get her husband to "find" it after she has tried to plant it in a most unusual manner" PSA Journal, Sept. 1966, 34.
---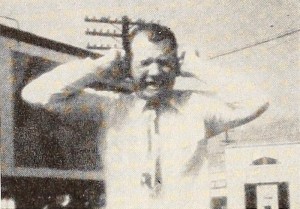 Date produced: 1951
Filmmaker(s):
Description:
"Believing that he has been betrayed by his wife, the slightly Milquetoast lead character of Near Miss tries all imaginable methods of committing suicide — but without success. In presenting this simple saga of frustration, Barry W. Dance exhibits effective camera viewpoints, uniform exposures, convincing acting and a progression from one scene into the next which is done with precision and pace. Above all he preserves good taste in his plot episodes — a gracious accomplishment all too often slurred over in the strain for comic effect. Near Miss is a pleasant and entertaining farce." Movie Makers, Dec. 1952, 340.
---
Date produced: 1952
Filmmaker(s):
Description:
"Featuring a philandering wife, an illicit lover and a trusting husband, Olvido (Oblivion) proves once again, in the course of its sharply paced sequences, that the wages of sin is death. In it, the taut situations (which will lead at the last to murder and suicide) are so expertly directed and suavely acted that they develop always within the bounds of credibility. This achievement is especially noteworthy in an amateur photoplay of this melodramatic type. For others, attempting work in the same medium, have lapsed all too often into either the ridiculous or the farcical. Producers Oscar J. Bonello and Roberto Robertie, both officers of the Cine Club Argentino, in Buenos Aires, have used black and white film wisely, since its stark contrasts under low-key lighting are more effective than would be those of color. The Spanish sound track, employed sparingly and with dramatic force, is in keeping with the high standards of the rest of the picture." Movie Makers, Dec. 1952, 339.
---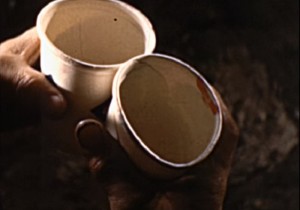 Date produced: 1951
Description:
"Under the able direction of Kenneth E. Carrier, ACL, a production unit of the Grand Rapids Amateur Movie Club has produced an engrossing film drama based on a short-short story from a Billy Rose column. Two Paper Cups begins as if it would tell the familiar tale of a bored husband plotting the murder of his wife for the love of that "other woman." But a double switch at the plot's end saves the life of the married woman and, with irony but without need, takes the life of the husband. Top notch photography, expert staging and lighting, good acting and skillful editing make this photoplay an outstanding example of cooperative filming at its best." Movie Makers, Dec. 1951, 410.
---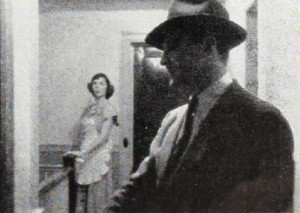 Date produced: 1949
Filmmaker(s):
Description:
"'The Voice of the Key' is a magnificently staged photoplay, beginning with the very professional series of opening titles and featuring remarkable interior photography, considering the limited equipment at the disposal of the filmer. Charles Carbonaro, using photo-floods entirely, has achieved some truly professional illumination in his interior settings, and his camera technique displays an artist's genuine feel for forceful and dramatic story telling with a camera. The story concerns a murder of an unfaithful wife's lover by her husband, and the steps the husband takes to conceal his part in the crime, only to be tripped up by his door key as the incriminating evidence. Carbonaro used a Cine Special Camera and Eastman Super X panchromatic film. The script, which he wrote himself, was adapted from a story published in 'This Week', Sunday supplement magazine of national distribution." American Cinematographer, Apr. 1950, 133.

"Great ambition and a wide knowledge of both amateur and Hollywood camera techniques mark Charles J. Carbonaro's The Voice of the Key. The film is a whodunit, involving many of the human reactions — from love and hate to cynicism, impatience and sudden passion — all of which have to be registered by the actors at Mr. Carbonaro's command. It's a large order, and the film does not quite fill it dramatically. But the good things about The Voice of the Key are very good indeed." Movie Makers, Dec. 1950, 468.
---
Total Pages: 2