---
---
Date produced: 1927
Filmmaker(s):
Description:
"This proved to be an unusual serio-comedy, telling of a restless young husband and how he was cured. It was very well acted by Alfred Fontana as the husband, Margaret Ervin as the vamp, Anne Howe, and Beatrice Traendly as the wife. The directon of Russell T. Ervin Jr. was remarkably good, revealing an unusual facility for telling a story concisely and quickly. Then too, he understood how to cover any histrionic imperfections of his cast. 'And How!' is a suprisingly neat amateur film" Photoplay, June. 1928, 66
---
Date produced: 1966
Filmmaker(s):
Description:
"Boomerang is an excellent example of 8mm filming at its best. The plot of this story film concerns a valuable necklace given to a married woman by her secret lover, and how she tries to get her husband to "find" it after she has tried to plant it in a most unusual manner" PSA Journal, Sept. 1966, 34.
---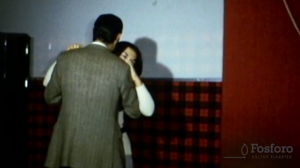 Date produced:
Filmmaker(s):
Description:
El filme muestra a una mujer esperando en su casa, tocando música, leyendo y acordando por el teléfono verse con alguien. Ella ve a una amiga y le dice que su novio, un hombre llamado Javier, está fuera de la ciudad por negocios. Primero van a una feria y después a un bar llamado El Pez Rojo, donde escuchan a una banda en vivo y toman algunos tragos, eventualmente ven que Javier está ahí bailando con otra mujer. Se van y Javier se queda bailando, después aparecen diversas imágenes de letreros de clubes nocturnos. Después se ve Javier manejando por la mañana con la otra mujer y deteniéndose a fumar un cigarro mientras es visto por su novia y su amiga. Mientras la pareja discute, la amiga de la primera mujer golpea a Javier en la cabeza con un arma. Después el filme corta a una escena de la primera mujer despertando y abriendo la puerta a sus amigas, mismas que reclaman haberla esperado demasiado, a lo que responde que se quedó atrapada por una historia que estaba leyendo, implicando que todo había sido producto de su imaginación.

The film shows a woman waiting in her house, playing music, reading and agreeing to see someone over the phone. She meets with a friend and tells her that her boyfriend, a man named Javier, is out of town on business. They first go to the fair and then to a bar called El Pez Rojo [The Red Fish] where they listen to a live band and have drinks, eventually they see that Javier is there dancing with another woman. They leave and Javier keeps dancing, then a series of images of several night clubs signs appear. Javier is then seen driving in the morning with the woman and stopping to smoke a cigar, where he is seen by his girlfriend and her friend. While the couple fights, the friend of the first woman hits Javier in the head with a gun. Then we see the woman waking up and opening the door to her friends who claim that she has kept them waiting for too long, and she says she got caught up in the story of the book she was reading, implying it was all a product of her imagination.
---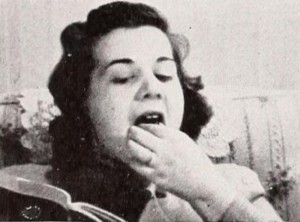 Date produced: 1944
Filmmaker(s):
Description:
"In Glamour vs. Calories, C. J. Carbonaro has again turned to light comedy with a story of a wife who suspects her husband's infidelity because of her mounting avoirdupois. Excellent directorial touches are found in the scenes that would tend to corroborate her misgivings, especially in those of the gossip mongers. Many fine closeups that "plant" the suspicions contribute to the gaiety of the film, such as when the wife stoops to pick up some papers her husband has unsuspectingly dropped, only to have the seam of her dress rip from the strain. The film has interesting camera viewpoints and intelligent use of dissolves and double exposure to point up the plot. A word must be said for Mrs. Carbonaro's fine work as assistant cameraman, made necessary by the fact that her husband played one of the major roles in addition to being producer of the film, and for the high key titles with their amusing sketches. And we might add a salute to the good sportsmanship of the girl who played Mrs. Tubby, who finds a happy ending." Movie Makers, Dec. 1944, 494.
---
Date produced: 1966
Description:
"The Knife is a deft little story film concerning a jealous husband who suspects a local artist of making time with his wife. Grabbing the artist's knife, he stabs the artist in the back, but the result is not at all what he, nor the audience, expects" PSA Journal, Sept. 1966, 35.
---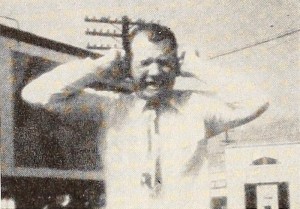 Date produced: 1951
Filmmaker(s):
Description:
"Believing that he has been betrayed by his wife, the slightly Milquetoast lead character of Near Miss tries all imaginable methods of committing suicide — but without success. In presenting this simple saga of frustration, Barry W. Dance exhibits effective camera viewpoints, uniform exposures, convincing acting and a progression from one scene into the next which is done with precision and pace. Above all he preserves good taste in his plot episodes — a gracious accomplishment all too often slurred over in the strain for comic effect. Near Miss is a pleasant and entertaining farce." Movie Makers, Dec. 1952, 340.
---
Date produced: 1952
Filmmaker(s):
Description:
"Featuring a philandering wife, an illicit lover and a trusting husband, Olvido (Oblivion) proves once again, in the course of its sharply paced sequences, that the wages of sin is death. In it, the taut situations (which will lead at the last to murder and suicide) are so expertly directed and suavely acted that they develop always within the bounds of credibility. This achievement is especially noteworthy in an amateur photoplay of this melodramatic type. For others, attempting work in the same medium, have lapsed all too often into either the ridiculous or the farcical. Producers Oscar J. Bonello and Roberto Robertie, both officers of the Cine Club Argentino, in Buenos Aires, have used black and white film wisely, since its stark contrasts under low-key lighting are more effective than would be those of color. The Spanish sound track, employed sparingly and with dramatic force, is in keeping with the high standards of the rest of the picture." Movie Makers, Dec. 1952, 339.
---
Date produced: 1966
Description:
"Once a Gentleman. When businessman Jones starts home he notes a damsel in distress on the street and offers to fix her flat tire. After a few drinks-in-her apartment later, he receives a letter demanding $1000 or his wife will be told of what is going on. But the blackmailer didn't count on Jones' deductive powers to find out just what has been going on. The film also won the MPD Club Film Award" PSA Journal, Sept. 1966, 35.
---
Date produced: 1931
Description:
"The story concerns a girl who, during her husband's absence in the East, takes a lover. The husband returns home unexpectedly, and, in a heated scene, threatens the lover with an automatic. Unfortunately for him this expansive gesture is witnessed by a tramp. The tramp thinks he had better retreat. As he hurries from the scene he hears a shot ring out and returns to find that the lover has been killed. He reports to a policeman, with the result that the husband is arrested, tried, and condemned to death. Dramatic Climax - With feminine perversity the wife now realises that it is her husband who she really loves, and implores her sister's fiancé, a member of the C.I.D., to save her husband, whom she believes innocent. He promises to do his best, and, on fuller investigation, finds a sodden letter near the spot where the murder was committed. On making enquiries he finds that a man has recently been lodging at the address given on the envelope, who had just returned from America, and had disappeared on the day of the murder. When finally arrested the man tells of a private vendetta with the lover and of his determination to be avenged. A witness to the quarrel, he shoots the erstwhile friend just after the quarrel with the husband. The final scenes lend themselves to a thrilling climax. The final shot portrays the face of the murderer as he discharges his gun point blank at the audience" (M.A.L.B. 1931: 6).
---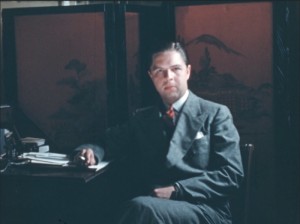 Date produced: 1940
Filmmaker(s):
Description:
A woman is tempted with thoughts of another man after her husband disappoints her on their anniversary. Will she follow through with the act, or will she remain faithful to her husband?
---
Total Pages: 2