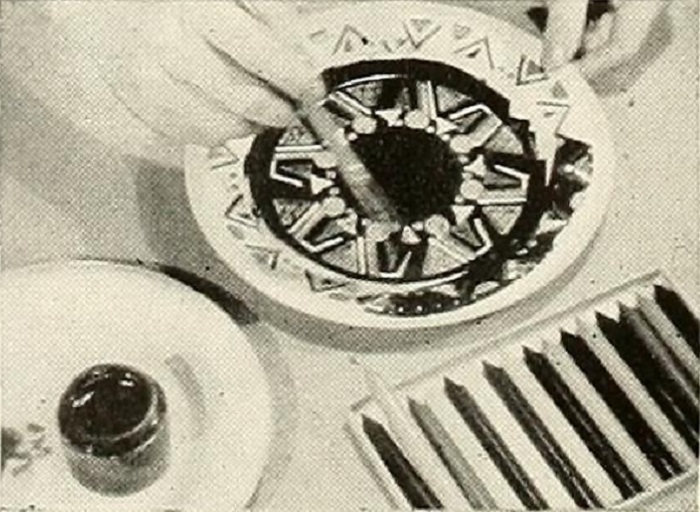 Date produced: 1940
Filmmaker(s):
Languages:
English
Duration:
00:10:00
Length:
400 ft
Format:
16mm
Colour:
Kodachrome
Sound Notes:
Optical
Sound:
Sound on film.
Awards/Recognition:
ACL Ten Best 1940 - Special Class
Description:
"To the fascinating subject of finger painting, Willard Pictures has added its flawless color photography, and the result is Young America Paints. Finger painting is a subject highly suited to movies, in so far as the actual painting is concerned; but, when it comes to showing the results on such an extensive scale as was necessary in this film, a good deal of cinematic ingenuity is needed. Clear, direct presentation marks the entire picture, and the excellent narrative is powerful although unobtrusive. Fresh and interesting angles, together with unconventional lighting methods, serve to give the picture a pace and verve that the subject requires. This movie accomplishes its purpose in a most satisfactory manner, for nobody could see the film without feeling a strong urge to start finger painting for himself. That in itself is the greatest tribute that can be paid to a persuasive type of motion picture." Movie Makers, Dec. 1940, 601.
Resources:
"Young America Paints is a strikingly beautiful Kodachrome study of the Fourth Annual Young America Paints exhibition, held at the American Museum of Natural History in New York City. Views of the exhibition itself are successfully incorporated in action studies, demonstrating different media and their practical application to handicrafts. It is a film that should prove to be a valuable contribution to the work of the teachers who are attempting to give young people a chance to express themselves in terms of beauty." Movie Makers, Dec. 1940, 622.

Produced by Willard Pictures of New York City.
Locations:
Museum of Natural History, New York City, New York (Filming)
Subjects:
Genre:
Form:
Tags:
---
Do you know where this film is? Get in touch with us at amdb@ucalgary.ca.