---
---
Date produced: 1950
Filmmaker(s):
Description:
"Animules are imaginary animals which may be constructed from such common materials as wet paper, paste, wire, string, and paint. A class of junior high students show how to make animules. A base of wet newspaper is tied around a thin piece of wire and paper mache is then added and molded to the desired shape. A coat of paste gives a smooth surface which may then be painted. Odds and ends pasted on for decoration" Library and Archives Canada.
---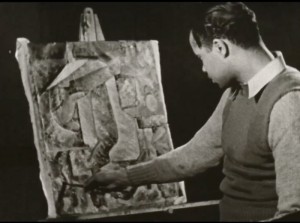 Date produced: 1940
Filmmaker(s):
Description:
"Educational film surveying the instruction of the fine and performing arts at leading African American institutions, including Calhoun, Dillard, Fisk, Hampton, and Howard. The film argues that exposure to theater, music, dance, and the fine arts produces well-rounded students and enriches their lives." National Film Preservation Foundation.
---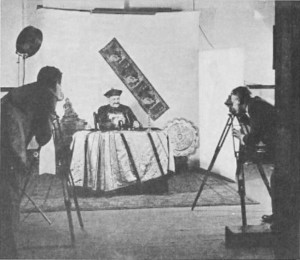 Date produced: 1930
Filmmaker(s):
Description:
Promotes the all-round activities of YMCA work and their relationship to character-building. Kenyon, a one-time YMCA athlete, has "fallen into evil companionship" and become addicted to cocaine. Under the control of Chinese underworld kingpin Chang Yat, he aids in the kidnapping of a white girl. Afterwards, he discovers his old "Y" pin and recalls the role of YMCA athletics in shaping his character. Seized with remorse, he overpowers Chang Yat and helps the girl escape. Later, Kenyon returns to the YMCA. (D.J. Duffy, condensed from "Y.M.C.A. Cinema Club Produces Smart Film," Toronto Daily Star, May 31, 1930, p. 30.)
Film was sponsored or co-produced by the Central Y.M.C.A. of Toronto, and written by the club's secretary, H.G. McKinley.
---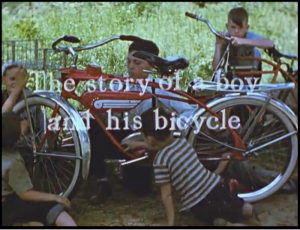 Date produced: 1939
Filmmaker(s):
Description:
"An experimental film about a boy owning a bicycle and learning the proper safety rules on the road." Wisconsin Center for Film and Theater Research
---
Date produced: 1953
Filmmaker(s):
Description:
"Bird colonies of Langara and Cox Islands in the Queen Charlotte Islands." (BC Archives)
---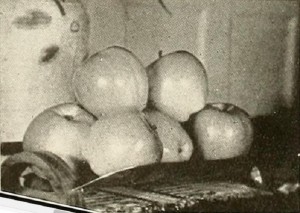 Date produced: 1941
Filmmaker(s):
Description:
"Blossom Forth the Fruit is a straightforward, well made, carefully planned and well exposed instructional film, which tells how to care for apple trees and their fruit in all stages of growth. Its maker, William R. Hutchinson, has a thorough knowledge of apple growing, and he also had the collaboration of specialists from Cornell University and the Farm Bureau. The clear presentation of all the phases of treatment that are necessary to insure the growth of fine fruit is noteworthy. From the technical point of view, microscopic color studies of insects, parasites and blights furnish excellent examples of ultra closeup technique. Methods of spraying and other protective treatment of the fruit are shown in clearly presented detail. Because of its clear presentation and uniformly high technical quality, this film is worthy of the highest commendation." Movie Makers, Dec. 1941, 564-565.
---
Date produced: 1937
Filmmaker(s):
Description:
Educational short film presenting Boulder Dam (now known as Hoover Dam) as an example of a "wealth of the land in the form of energy."
---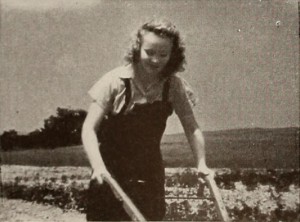 Date produced: 1942
Filmmaker(s):
Description:
"Ross M. Gridley, filmer of By the Garden Steps, is an agricultural teacher who knows that many films used in education are, although they need not be, dull. He writes that he wanted "to prove that it is possible, as well as desirable, to increase interest by adding a touch of drama to instructional films, without losing any of the teaching value from a scientific standpoint." With this very sensible idea, Mr. Gridley tells the tale of three sisters who grow a 4-H Victory Garden. When they have worked away long enough for the audience to realize that a little more footage will be repetitive, the story shifts to a couple of youngsters who are shooting at targets. By means of a toy airplane which is given rough treatment as a Nazi invader and which the girls mistake for a new kind of garden insect, the boys meet the girls. Finally, prize day comes, and the boys add an unexpected tribute to the girls whose tomatoes are honored. In cinematography, in handling subject matter and in the capacity to fit teaching objectives into the methods of movie making, Mr. Gridley has done a sound piece of work. Girls who see the film will catch the idea and will wonder if they, too, should not have a Victory Garden." Movie Makers, Dec. 1942, 507.
---
Date produced: 1940
Filmmaker(s):
Description:
"Portrait of Calhoun School, founded in 1892, and its vocational work among rural African Americans of Lowndes County, Alabama. The film shows the living conditions of the poor and illustrates how the school makes a difference in health education, agriculture, and road construction." The Field Guide to Sponsored Films.
---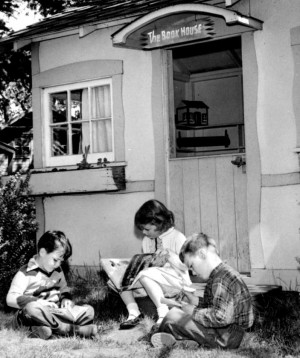 Date produced: 1945
Filmmaker(s):
Description:
"During the 1940s, Mrs. Gertrude McGill ran the Children's Garden Library in the garden of her home at 1170 Tattersall Drive in Victoria. Open to children aged 4 to 12, this program aimed to improve reading habits and instill citizenship. It is seen as the beginning of cooperative preschools on Vancouver Island.

"Amateur film. Part 1 shows a day's activities at the Children's Garden Library, including games, calisthenics, playground equipment, dancing, and reading and storytelling at the "Book House". Part 2 shows the children participating in May 24 celebrations at Beacon Hill Park, which includes a May Queen pageant, maypole dancing, and activities honouring the "Queen of Health", the "Queen of Music", the "Queen of Drama", the "Queen of Race Friendship" and the "Queen of Art". A mothers' study group, and the toymakers' group, are also shown." (BC Archives)
---
Total Pages: 9