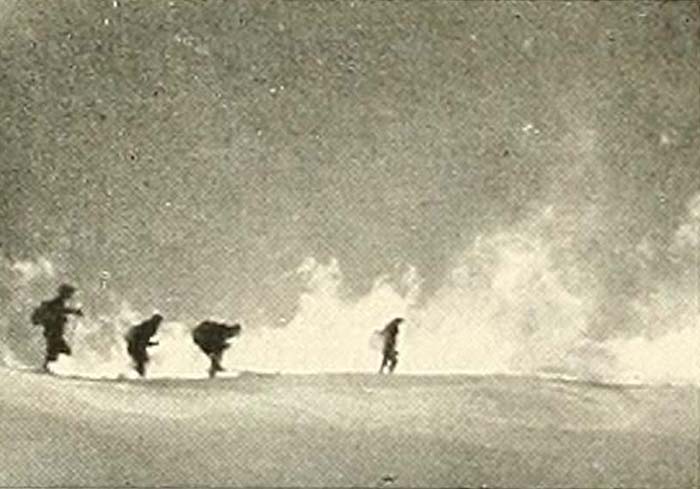 Identifier:
3632 (Source: East Anglian Film Archive )
Date produced: 1935
Filmmaker(s):
Country of Production:
Japan
Languages:
Japanese, English
Duration:
00:14:17
Length:
350 ft
Format:
16mm
Colour:
B&W
Sound Notes:
Silent
Awards/Recognition:
ACL Ten Best 1937 - General Class
American Cinematographer Amateur Movie Makers Contest, 1937 - Photography
International Amateur Movie Show, 1938
Awarded Amateur Cine World Plaque at Institute of Amateur Cinematographers Competition, 1936.
IAC Film Collection, East Anglian Film Archive
Description:
"A down mountain ski run, etched against a filtered sky and set in a world of fantastic snow shapes and incredible beauty, is the theme of Mount Zao, which was filmed on the Japanese mountain of that name. Khoji Tsukamoto has mastered the technique of back lighting the dramatic turns, stems and jumps of a down mountain run so that they are framed against luminous clouds of powdered snow. The ski runners are always preceded by an ubiquitous cameraman who has invariably chosen the most effective angle for each scene of his closely knit sequences. The result is as smooth a picture of skiing as the screen has seen. In sequencing, editing and the nuances of tempo, this film is near the top. And particularly praiseworthy is the way in which the cameraman has involved backgrounds of astonishing natural beauty with foregrounds of interest compelling action." Movie Makers, Dec. 1937, 603, 626.
Resources:
Filmed using a Bell & Howell Series 70 camera, and Eastman film (American Cinematographer, Jan. 1938, 27).

The film won the Amateur Cine World 16mm plaque in 1936.

Accompanying musical compositions selected for a public screening of the film are listed in "Here's Complete Musical Scores for International Prize Winners" (American Cinematographer, Feb. 1938, 79-81).

The film was available in the ACL's Club Film Library. The Nippon Amateur Cine Slide Assocation also donated a new print of Mount Zao with magnetic sound to the Library in 1953 (Movie Makers, Oct. 1953, 277).

IAC Film Library Catalogue (Silent and Sound). Institute of Amateur Cinematographers, 1975.

This film is part of the Institute of Amateur Cinematographers Collection held by the East Anglian Film Archive, UK.
Locations:
Mount Zao, Japan (Filming)
Club Affiliation:
Subjects:
Genre:
Form:
Tags:
Repository:
Institute of Amateur Cinematographers Collection, East Anglian Film Archive
Screenings:
Screened at the International Amateur Movie Show, April 1938: Columbia University, New York, NY
Screened by the Chicago Cinema Club in 1938: Chicago, IL
Screened by the Hartford Cinema Club in 1938: Hartford, CT
Screened by the Mt. Kisco Cinemats in 1938: Mt. Kisco, N.Y.
Screened by the National Capital Cinema Club in 1938: Washington, D.C.
Screened by the Metropolitan Motion Picture Club in 1938: New York City, N.Y.
Screened by the Staten Island Cinema Club in 1938: Staten Island, N.Y.
Screened by the Los Angeles Cinema Club in 1938: Los Angeles, CA
Screened by the Los Angeles 8mm. Club in 1938: Los Angeles, CA
Screened by the Utah Amateur Movie Club in 1939: Salt Lake City, UT
Screened by the Yakima Amateur Movie Club in 1939: Yakima, WA
Screened by the Cine Group of the Schenectady Photographic Society in 1940: Schenectady, N.Y.
Screened by Russel C. Holslag for Macy's Photographic Forum in 1940: New York City, N.Y.
Screened by the Bushwick Cine Club in 1941: Brooklyn, N.Y.
Screened by the Long Beach Cinema Club in 1941: Long Beach, CA
Screened by the Lens and Shutter Club in 1941: Durham, NH
Screened by the Colorado Springs Cinema Club in 1941: Colorado Springs, CO
Screened by the 8-16 Movie Club of Philadelphia in 1943: Philadelphia, PA
Screened by the Brooklyn Amateur Cine Club in 1949: Brooklyn, N.Y.
Screened at the Shonai Documentary Film Tomonokai on January 18, 2009: Tsuruoka, Japan
Reconstructing the 1938 International Amateur Movie Show, TIFF Lightbox, January 26, 2018: Toronto, Ontario
Video Link:
---