---
---
Date produced: 1957
Filmmaker(s):
Description:
"A delightful bit of drama filmed by Kazuo Nakamura again illustrates that one does not have to travel far from his home to film a picture. This was filmed in Japan and one may assume that the maker had the cooperation of a local dramatic group. Mr. Nakamura has shown his skill and accomplishment in the finished product. It is a story within a story. The father tells his young son and daughter about the legend of the arrow which comes from nowhere to fall upon a roof. That home must sacrifice a daughter to some unknown person which in the story is a terrible old tiger. The animal, in the disguise of a man meets his fate at the hands of a god who disappears as mysteriously as he had appeared, while the villagers dance and celebrate their freedom. The children are now fast asleep. Although their native language is heard throughout, the story is easily followed. The costuming and acting are superb in their simplicity." PSA Journal, Nov. 1957, 32.
---
Date produced: 1938
Filmmaker(s):
---
Date produced: 1932
Filmmaker(s):
Description:
"Eastman Kodak Company prize for the finest example of photography in any out-of-door picture whether it wins a cash prize or not was awarded to Tatsuichi Okamoto, Maysuyama, Japan, for 'Early Summer,' 1 reel. This is a different subject than the one which won him second prize." American Cinematographer, Jan. 1933, 25.
---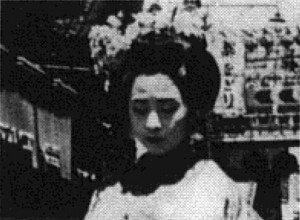 Date produced: 1960
Filmmaker(s):
Description:
"This time Oscar visited Kyoto during cherry blossom time when all of the art activities are centered about the showy blossoms. Our filmer does take the time to do those not easy to get closeups of the children and grownups as they go about their daily chores. We visit the theatre to see the cherry blossom dance, a fitting symbol of Golden Week in Kyoto" PSA Journal, Nov. 1960, 42.
---
Date produced: 1936
Filmmaker(s):
Description:
"'Japan and Its People,' Dr. Roy Gerstenkorn's educational class winner, was a pictured visit to the homes and temples of Japan. Ignoring the cities in his search for the story of the Japan that is not known to the average visitor the doctor penetrated the towns and smaller communities. His picture was awarded a high rating on its photography as well as on his treatment of the subject. After the showing of this picture before the Los Angeles Motion Picture Forum last summer the local school authorities requested and received permission from the doctor to make a duplicate of it for school purposes." American Cinematographer, Jan. 1938, 27-28.
---
Date produced:
Filmmaker(s):
Description:
"Ship sails from Chicago, visits Japan's ports, cities, villages, etc. Views of modern with traditional." UC San Diego Library.
---
Date produced: 1968
Description:
"The Legend of San San Ku was a practically unanimous choice as winner of the top award with its story of a Japanese legend. If the credits were to be removed from the beginning of this film, it would be hard to believe that it was not made in Japan. It was a very ambitious production for a crew of amateurs to undertake, and they came through with flying colors. Here's 20 minutes of Japan that is delightful to experience" PSA Journal, Oct. 1968, 48.
---
Date produced: 1969
Filmmaker(s):
Description:
"Monkey's of the Snow Mountain is a touching film of northern Japan produced by Masatoshi Okochi of Japan. You will never believe how sorry you can feel for a tribe of monkeys in 15 minutes of snow, snow and more snow. The film is in color, mostly white. It took four years to film the seasonal cycle in its fullest. Here we have suffering not only by the subjects of the film but by the film maker as well. In spite of that, you'll enjoy it" PSA Journal, Nov. 1969, 57.
---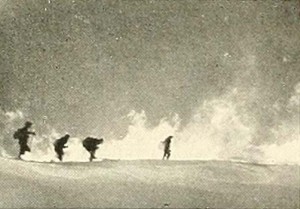 Date produced: 1935
Filmmaker(s):
Description:
"A down mountain ski run, etched against a filtered sky and set in a world of fantastic snow shapes and incredible beauty, is the theme of Mount Zao, which was filmed on the Japanese mountain of that name. Khoji Tsukamoto has mastered the technique of back lighting the dramatic turns, stems and jumps of a down mountain run so that they are framed against luminous clouds of powdered snow. The ski runners are always preceded by an ubiquitous cameraman who has invariably chosen the most effective angle for each scene of his closely knit sequences. The result is as smooth a picture of skiing as the screen has seen. In sequencing, editing and the nuances of tempo, this film is near the top. And particularly praiseworthy is the way in which the cameraman has involved backgrounds of astonishing natural beauty with foregrounds of interest compelling action." Movie Makers, Dec. 1937, 603, 626.
---
Date produced: 1934
Filmmaker(s):
Description:
"Photographed against the variegated background of Japanese life In Southern California, "Nisei Parade" strives to follow the lives of three nisei youths and of a girl, the sister of one of them, who returns to California after attending school in Nippon. The two young men, Ikuo and Sueo Serisawa, have taken their camera and their script into every phase of Japanese life into America. The story is centered on Jiro, one of the three nisei who is employed in one of the many huge produce markets in Southern California, and who is torn between the choice of a career as a photographer necessitating years of study, and his love for Sumi, the girl. It is the story also of George and Shig, the other two youths. The roles are capably portrayed by Tadashi Kamayatsu, Alice Iserl, Peter Takahashi, and James Sujishi. Although taken on 16mm. stock, and although it is a silent, film utilizing Japanese and English titles, "Nisei Parade" won praise for its photographic excellence when shown before various American groups, including MGM." The New World Daily News, March 14, 1935, 1.

"J. R. Derisowa [sic] received honorable mention for his 2000-ft. picture, 'Nisei Parade'. As a general rule it is difficult to maintain interest through five reels of pictures." American Cinematographer, Feb. 1936, 73.
---
Total Pages: 3