---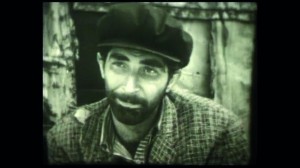 Date produced: 1967
Filmmaker(s):
Description:
"Samim Kocagöz'ün "Teneke" adlı eserinden uyarlanmıştır. İşgüzar bir bekçinin uzun ve yorucu bir kovalamacanın ardından, yoksulluğunun gerçek yüzüyle karşılaşmasının öyküsüdür." Sinematek.tv: http://sinematek.tv/asayis-berkemal-1967-2/ (15 Oct 2019).
"Adapted from Samim Kocagöz's short story, "Teneke." It tells the story of a meddlesome watchman/night guard, who faces the reality of poverty after a long and tiring chase." Sinematek.tv: http://sinematek.tv/asayis-berkemal-1967-2/ (15 Oct 2019).
---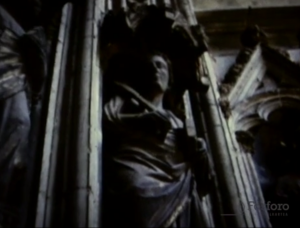 Date produced: 1970
Filmmaker(s):
Description:
El filme utiliza rimas y música para describir la arquitectura gótica de Vitoria, capital de Álva en España.

The film describes through rhymes and music the gothic architecture of Vitoria, capital of Álava in Spain.
---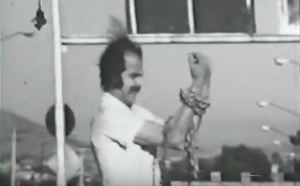 Date produced: 1971
Filmmaker(s):
Description:
"A successful man living in a great metropolis is increasing awareness of the unjust social reality that lives in the absurdity. This immerses him in a uneasiness that sinks into alcoholism and depression. In his wandering through the streets viewer gets to be the unfortunate suicide of another victim of the meaninglessness of life, which will produce a series of dreamlike hallucinations bordering on the madness. In a stroke of consciousness of his misfortune, he does run aimlessly without course. Devastated, to the dawn, with the light of the dawn he sees to be reborn the hope personified in an innocent girl who stretches the hand donating bread" Internet Archive.
---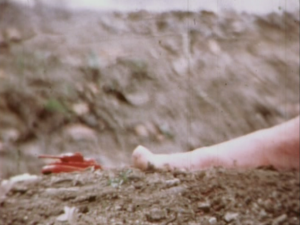 Date produced: 1972
Filmmaker(s):
Description:
" La segunda primera matriz narraba visual y poéticamente una historia de la humanidad, desde el origen hasta la carrera espacial, como una nueva frontera. En una primera sección, entre tomas de nubes, remolinos y oscuridad, hacía referencia al origen de la vida. (...) Después del lanzamiento del cohete y de las imágenes sobre la exploración del espacio, se ve a una mujer desnuda en el campo. La cámara hace un lento tilt down recorriendo su cuerpo. Al pasar por el pubis sigue a una gota de sangre que comienza a deslizarse por la pierna. Cuando llega al suelo aparece un desfile de tanques de guerra en miniatura, rojos, como los que se habían mostrado anteriormente en la película. La película termina con un cartel que dice 'Pero también se puede parir la nada' " (Vázquez Mantecón, 2012).

La segunda primera matriz [The second first womb] told visually and poetically a story about humanity, from its origin to the Space Race, as a new frontier. In a first section, amongst shots of clouds, swirls and darkness, it referred to the origin of life. (...) After the launch of a rocket and images about exploring space, the film shows a woman naked in the country. The camera makes a slow tilt down of her body. When passing by the pubis, the camera follows a drop of blood that slides by the leg. When it reaches the floor, a parade of miniature war tanks appear, red, like the ones previously shown. The film ends with a sign that says 'But you can also give birth to nothing' " (Vázquez Mantecón, 2012).
---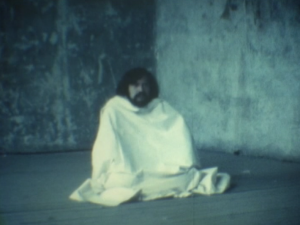 Date produced: 1970
Filmmaker(s):
Description:
"Two Visual Arts students of the San Carlos Academy find themselves embroiled in contradictions, spiritual inclinations and concerns about the political and social conditions of Mexico, which puts them in a quandary about what stance to take in the Student Movement of 1968." Ambulante.
---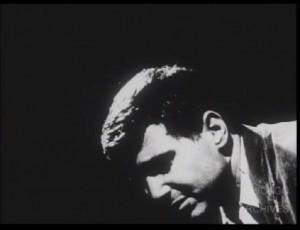 Date produced: 1966
Filmmaker(s):
Description:
"Traces the romantic relationship between a young man and woman (played by Klugman and Judy Harris) who meet in a downtown coffee shop; their nonstop dialogue fluctuates between playful psycho-babble and sincere attempts to relay their innermost feelings." Chicago Film Archives.
---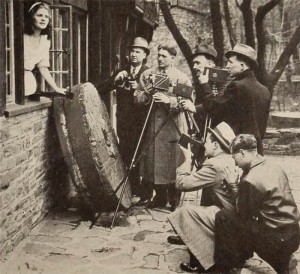 Date produced: 1938
Description:
An amateur club adaptation of Alfred Noyes poem The Highwayman. A "ballad of love and murder" that "emphasizes atmosphere and explores the sympathetic relationship between natural and dramatic elements". The poem "narrates the highwayman's secret meeting with his love Bess, a landlord's daughter, their discovery by a group of soldiers who hold Bess as bait for the highwayman, and her grisly death by musket...Throughout the poem the natural settings play an important role in amplifying its supernatural and dramatic content...Like its use of natural settings, a natural acting style was employed to set this film adaptation apart from its source materials and its rival media. Finally, the film's use of double exposure in order to create the impression of ghostliness in the tragic couple's final reunion marks a particularly cinematic solution to the problem of visual representation" Tepperman, 244-245.
---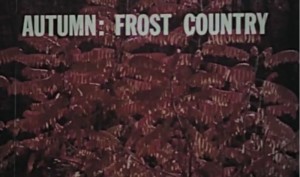 Date produced: 1969
Filmmaker(s):
Description:
"Autumn...Frost Country and Dunes both films made by David Adams of Santa Monica, Calif. rated high in the Class "C" list of winners. Both in color with optical sound. "Autumn...Frost Country" is an 8-minute film of changing leaves narrated with a poem written and recited by Robert Frost. "Dunes" is a 7-minute film depicting the vastness of the desert at Death Valley. The film does an excellent job of conveying the fact that, in spite of the soltitude of the desert, there is plenty of life to be observed there if one has patience," PSA Journal, Mar. 1970, 43.
---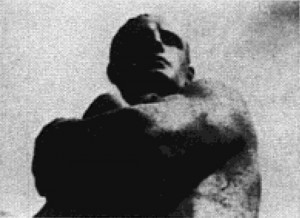 Date produced: 1965
Filmmaker(s):
Description:
"Vigeland on Life is a poetic study of the work of Gustav Vigeland, famous Norwegian sculptor. The narrator reads passages from the poetry of Kahlil Bigran, selecting excerpts from "The Prophet" while on the screen the camera gives us several dozen glimpses of Vigeland's statuary" PSA Journal, Sept. 1965, 50.
---
Date produced: 1959
Filmmaker(s):
Description:
"This time the Lawlers have produced a short-family picture in several parts. Each part is filmed to the interpretation of a poem recited by a very young voice, undoubtedly a member of the Lawler clan. The stories include the Shoemaker, the Bath, the Party, the Counterpane, snow (sleigh riding) and Hiding. A pleasing picture of the children accompanied by the voice of the little girl" PSA Journal, Nov. 1959, 48.
---
Total Pages: 2