---
---
Date produced: 1965
Filmmaker(s):
Description:
"The 104 is a serious, factual recount of the landing of the Pilgrims at Plymouth, Mass., early in the 17th Century in terms of what one sees and finds in the vicinity of Plymouth Rock today. The rock itself is the legendary start of it all, followed by glimpses of wax figures that have been created to resemble some of the monuments and other scenes in the area" PSA Journal, Sept. 1965, 51.
---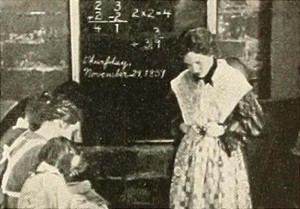 Date produced: 1937
Filmmaker(s):
Description:
"The Birth of St. Mary's, by Robert F. Gowen. is a deeply moving and well nigh incredible accomplishment in amateur film production. Described as a chronicle in retrospect by the church that it pictures, the film moves bravely into the treacherous domain of costume drama and emerges triumphant. To recreate the gracious life of another day, to catch the feeling of its clothes and the flavor of its customs, to stage all of this against settings not only dramatically sound but full of beauty as well — such were but part of the problems of the producer. Perhaps greatest of all was the task of carrying on each step of this work with the willing, but often wilting, help of an entire community, the accomplishment, through infinite patience, of holding this group together for an entire year. Mr. Gowen has done it all superbly well. To this triumph of teamwork he has added sensitive direction, finished acting by his players and genuinely first rank color photography of largely interior setting. A double turntable musical score, carefully selected for historical accuracy, accompanies the production. The Birth of St. Mary's is a loving and lovely testimony, destined to increase steadily in stature as it becomes itself a part of the past." Movie Makers, Dec. 1937, 602-603.
---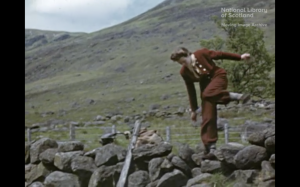 Date produced: 1939
Filmmaker(s):
Description:
A film about the introduction of trousers instead of skirts for women who work for the postal service. Jean Cameron was the postal service woman who requested the trousers, which became known as 'Camerons.'
---
Date produced:
Filmmaker(s):
---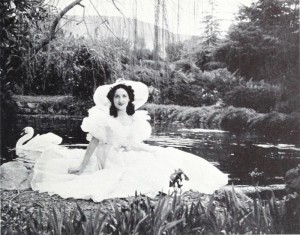 Date produced: 1940
Filmmaker(s):
Description:
"Whatever that intangible thing called atmosphere may be, Harold E. Remier has created it — out of airy nothings, to judge by what he says — in his astounding photoplay, Diary. Here, in all its hues, in all its beauty, in all its tradition of courtesy and profound courage is the America of the late Nineteenth Century, told through the medium of a woman's devotion. A Southern mansion is the first setting, then the frontier. Fortunes rise and fall as the war flames. Costumes and settings of the 1890's are recreated with fidelity. Wagons collapse in the wilderness; stone houses are built; a silver mine is uncovered. And the cost, for this epic achievement, exclusive of the 8mm. film, was the staggering sum of ten dollars! Diary is particularly noteworthy for naturalness of its lighting. However he managed it, Mr. Remier. with two large flood bulbs, somehow succeeded in making each scene appear to be illuminated by the hand lamps and chandeliers visible within it. The moonlight elopement is glamorously effective; and even candlelight is simulated with success. So, in all, the picture is a distinguished achievement — a portrayal, not only of a past century, but of a part of our American heritage." Movie Makers, Dec. 1940, 577.
---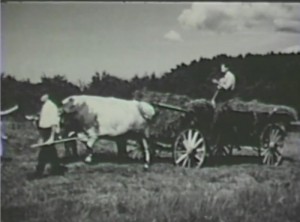 Date produced: 1934
Filmmaker(s):
Description:
"Film depicting the 1755 Expulsion of the Acadians from Grand Pre, Nova Scotia. Silent footage interspersed with written text. Scenes show the Grand Pre Church and various shots of farm life. An actress portrays Evangeline." Nova Scotia Archives.
---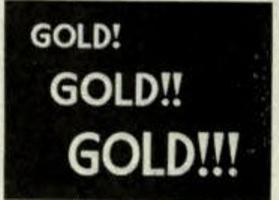 Date produced: 1940
Filmmaker(s):
Description:
"After studying the early history of the West, fifth grade students and their teacher at the University School, Lexington, Ky., donned the costumes of Western pioneers and filmed Gold! Gold!! Gold!!!, the story of an early pioneer who crossed the frontier into California. Lillian E. McNulty was the cameraman" Movie Makers, October, 1941, 470.
---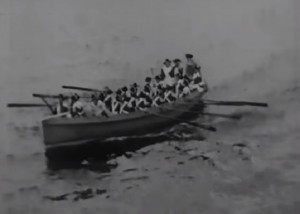 Date produced: 1937
Filmmaker(s):
Description:
"The subject of 'Nation Builders'—the history of Australia—is without doubt the most ambitious ever undertaken by any amateur filmer. The fact that the project was successful is in itself a tribute to Sherlock's skill. Granted that in connection with the 150th anniversary of his nation's founding there were pageants re-enacting historic events and an opportunity for an alter filmster to photograph them: but how many times have not other amateurs scored dismal failures trying the same thing? Filming such a pageant, it is all too easy to capture only the impression of history actually happening. The twentieth century background which must so often have been just beyond the camera-lines was never permitted to intrude upon his eighteenth and nineteenth century action." American Cinematographer, Feb. 1939, 61.
---
Date produced: 1966
Filmmaker(s):
Description:
"Pioneers' Progess begins with the land rush into Oklahoma territory almost a century ago, then shows the result of this stampede and the progress that Oklahoma has enjoyed in the intervening years" PSA Journal, Sept. 1966, 35.
---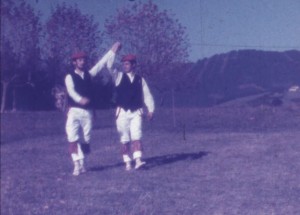 Date produced: 1975
Filmmaker(s):
Description:
La primera parte de la película recoge la historia pasada de Bizkaia y el País Vasco a través de sus pueblos. En cada pueblo se realiza una narración relacionada con la historia de ese lugar y su contexto en relación a Bizkaia.

The first part of this film tells the past story of Biscay and the Basque Country by depicting its towns. Each town has a narration, related to that place's history and to its context relating it to Biscay.

---
Total Pages: 2