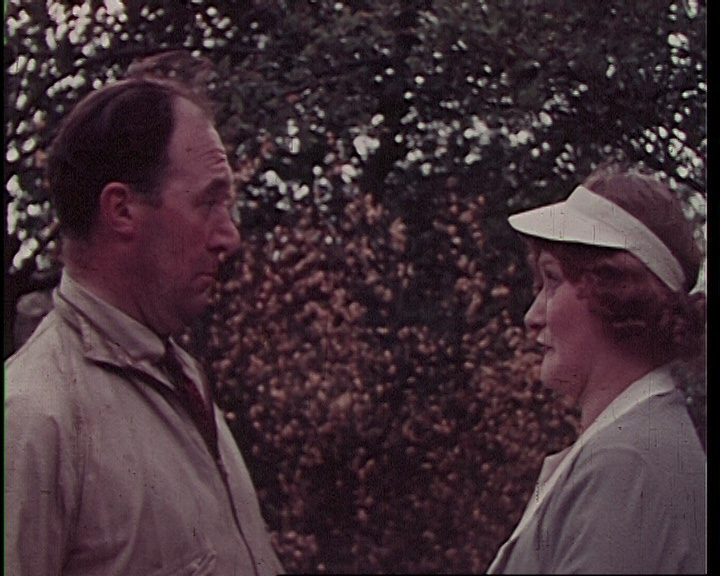 Identifier:
212570 (Source: East Anglian Film Archive)
Date produced: 1938
Filmmaker(s):
Country of Production:
United Kingdom
Languages:
English
Duration:
00:11:59
Length:
300 ft
Format:
16mm
Colour:
Colour
Sound Notes:
Magnetic
Sound:
Music only
Awards/Recognition:
Institute of Amateur Cinematographers International Film Competition, Silver Medal, 1938.
Description:
A short comedy about a couple who are unable to decide on a sporting activity to do together.
Resources:
This film is part of the Institute of Amateur Cinematographers Collection held by the East Anglian Film Archive, Norwich, UK.
Locations:
Stoke-on-Trent, UK (Filming)
Subjects:
Genre:
Form:
Tags:
Repository:
Institute of Amateur Cinematographers Collection, East Anglian Film Archive
Viewing Notes:
"A man practices putting in his garden. His wife, who is looking for something to do, peers over the fence and her eye is caught by people playing tennis on the local tennis courts. She calls her husband over and points out this activity, his gaze meanwhile has focussed on activities on the local golf course. The woman suggests they should go out and head in to change. The woman emerges dressed for tennis while her husband is dressed for golf. She fails to persuade him to play tennis and he heads off to the local course where he joins three other golfers in a game. Reluctantly, the woman goes to the tennis court but has to sit and watch. The man enjoys his game and joins his fellow players in a drink. The woman, who has fallen asleep, wakes up at a deserted court and heads home. The woman falls asleep in the garden after venting her anger on soft furnishings. The man returns and smokes a pipe. The woman wakes up, throws her husband's pipe to the floor and complains at her husband. An argument ensues, which is interrupted when the couple notice that the pet Pekinese dog has picked up the pipe. The maid arrives with tea and the couple settle down. Distracted by the dog, the woman pours tea on her husband's leg. The husband begins to retaliate … the film ends with an intertitle 'Further Outlook Unsettled!" (EAFA Database).
Video Link:
---