---
Date produced: 1965
Filmmaker(s):
Description:
Fantasía en color / A fantasy of color
---
Date produced: 1969
Filmmaker(s):
Description:
Jazzflections is a sound and color blending film by Leon Paquette of Lynn, Mass. It's 2½ minutes of experimenting in how music looks color-wise and shape-wise. It's short enough to be entertaining and yet long enough to let you know how some other guy feels about the sound of music," PSA Journal, Mar. 1970, 44.
---
Date produced: 1949
Filmmaker(s):
Description:
"Film about how to make films." Library and Archives Canada.
---
Date produced: 1955
Filmmaker(s):
Description:
"The film contains twelve short vignettes that incorporate several cinematic techniques to comical effect." Library and Archives Canada.
---
Date produced: 1953
Filmmaker(s):
Description:
"A short amateur film using time-lapse photography of flowers blooming in a studio setting." Library and Archives Canada.
---
Date produced: 1960
Filmmaker(s):
Description:
"Tells the story of 'Little Hunter' hunting a bear using images carved into stone walls near the Colorado River by a Native American tribe." Church History Library.
---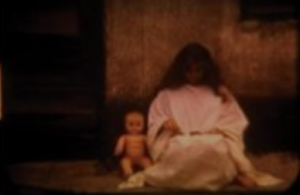 Date produced: 1972
Filmmaker(s):
Description:
"La cinta hacía un recuento de imágenes oníricas, en los que una mujer (Paloma Woolrich) sale de su casa para recorrer diversos espacios que en realidad parecen determinados por su imaginación: desciende los escalones de una calle en una zona peatonal, se muestra aprisionada por una roca gigantesca, aparece catatónica en una azotea con un bebé de plástico, lucha con un hombre contrahecho, apalea a un hombre amarrado, duerme con su pareja y su bebé de plástico en un cementerio, aparece desgreñada en una construcción en ruinas en medio del campo, donde es burdamente pintada por otra mujer" (Vázquez Mantecón, 2012)

"The film made a recount of dreamlike images, in which a woman (Paloma Woolrich, goes out of her house to go through several spaces that actually seem determined by her imagination: she goes down the steps of a street in a pedestrian area, then she is imprisoned by a gigantic rock, she appears catatonic on a roof top with a plastic baby, she struggles with a crooked man, she beats a tied man, she sleeps with her couple and her plastic baby in a graveyard, she appears disheveled in a construction site in ruins in the middle of the country where she is roughly painted by another woman" (Vázquez Mantecón, 2012).
---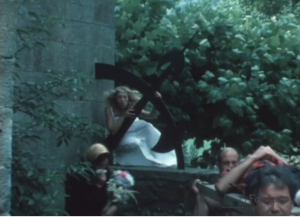 Date produced:
Filmmaker(s):
Description:
El filme comienza con un hombre vagando por el campo. Encuentra a una mujer vestida de blanco y comienzan a besarse, hasta que eventualmente caen sobre el pasto. El hombre lleva a la mujer vestida de blanco a conocer a una mujer mayor que la rechaza y la hace huir. El hombre va en su búsqueda y nota que ella tiene patas de pato, él cae al suelo y muera mientras ella coloca un pequeño costal café cerca de su pecho. La película muestra después a un grupo de hombres cargando su cuerpo hacia su ceremonia fúnebre mientras la mujer mayor llora detrás de la procesión y la mujer de blanco observa escondida en una esquina. Cuando el cuerpo es dejado solo, la mujer de blanco se aproxima para tomar el costal café y desaparece.

The film begins with a man wandering in the country. He finds a woman dressed in white and they begin to kiss, eventually falling on the grass. The man takes the woman dressed in white to meet an older woman who rejects her and makes her leave. He goes looking for the woman in white and sees that she has duck legs, he falls and dies while she places a small brown sack by his chest. The film then shows men carrying his body to his burial while the older woman cries behind the funeral procession and the woman in white watches hiding in a corner. When the body is left alone, the woman in white approaches him and takes the brown sack back and leaves.
---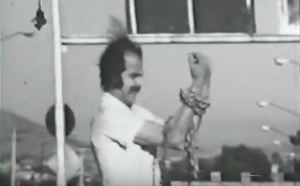 Date produced: 1971
Filmmaker(s):
Description:
"A successful man living in a great metropolis is increasing awareness of the unjust social reality that lives in the absurdity. This immerses him in a uneasiness that sinks into alcoholism and depression. In his wandering through the streets viewer gets to be the unfortunate suicide of another victim of the meaninglessness of life, which will produce a series of dreamlike hallucinations bordering on the madness. In a stroke of consciousness of his misfortune, he does run aimlessly without course. Devastated, to the dawn, with the light of the dawn he sees to be reborn the hope personified in an innocent girl who stretches the hand donating bread" Internet Archive.
---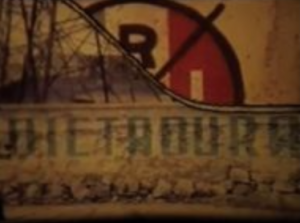 Date produced: 1970
Filmmaker(s):
Description:
"La película realizaba un montaje lúdico al yuxtaponer los mensajes políticos oficiales escritos en las bardas de la ciudad con imágenes o textos que los ironizaban o alteraban su sentido. El título viene de un juego de palabras con el fraseo de las sílabas "Mé-xi-co" / jí-ca-ma", que solían usarse entonces como porra en los partidos de fútbol de la selección nacional" (Vázquez Mantecón, 2012).

"The movie had a playful montage by juxtaposing official political messages written in walls around the city with images or text that ironized them or altered their meaning. The title comes from a word game that played with the phrasing of the syllables "Me-xi-co / ji-ca-ma", a popular chant during the national team soccer games of the time" (Vázquez Mantecón, 2012).
---
Total Pages: 13