---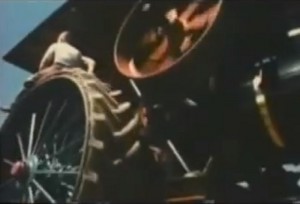 Date produced: 1968
Filmmaker(s):
Description:
"Those sensual machines, steam tractors, reveal a remarkable ability to perform to music." Canadian Filmmakers Distribution Centre.
---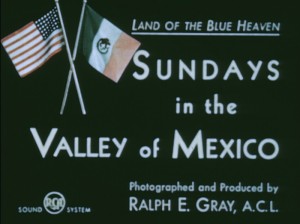 Date produced: 1942
Filmmaker(s):
Description:
"A colorful travelogue of modern, urban life in Mexico City. "Shows scenes typical of modern Mexico, such as the tall buildings and wide boulevards of Mexico City. The canal leading to Xochimilco, with its fruit- and flower-laden boats, is pictured. Then describes a festival held in honor of the Vice President of the United States, Henry Wallace, when he visited Mexico City. It includes a bullfight and a parade of Mexican beauties. Ends with a pageant of old and new Mexican dances" (War Films Bulletin of the Extension Division Indiana University, February, 1943, 19)" Indiana University Libraries Moving Image Archive.
---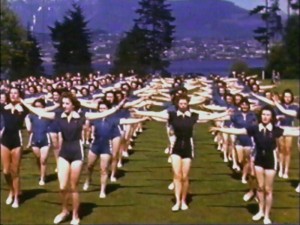 Date produced: 1945
Description:
"Young women at Brockton Point, Stanley Park, put on a display of Pro-Rec activities: massed calisthenics, costumed dancing, drill team (brief shots only), more massed calisthenics. The film concludes with a couple of men's tumbling runs." (BC Archives)

One of the regular displays or demonstrations put on in Vancouver by the Provincial Recreation Program ("Pro-Rec"), a community-oriented physical education program administered by the British Columbia Department of Education. Mrs. Hilda Keatley was the Provincial Supervisor for Women. The program operated in many BC cities and towns during the years 1938-1953. (D.J. Duffy)

The filmmaker has not been identified.
---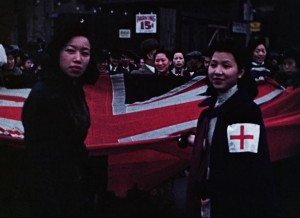 Date produced: 1942
Filmmaker(s):
Description:
The title card reads: an amateur movie reel in kodachrome. Footage includes: S. Hurok Ballet Theater : "La fille mal gardée" (excerpts); Folk Dance Demonstrations by Ukrainians; Chinese Stage Dragon Dance for Red Cross; Eaton's Santa Claus Parade (no date); A Bit of the Toronto Skating Carnival; and An Abrupt Change to Ballet on a Stage in Toronto. Library and Archives Canada
---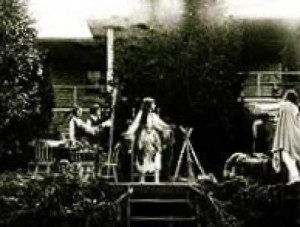 Date produced: 1916
Filmmaker(s):
Description:
A theatrical-dance version of Snow White performed at the Blue Hill Country Club in coastal Maine.
---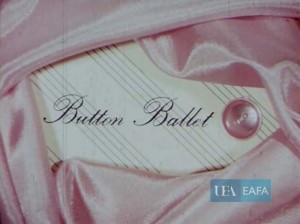 Date produced: 1967
Filmmaker(s):
Description:
"Button Ballet is a nifty little piece of animation. A number of buttons do a ballet set to Brahms music in one of the most masterfully executed animation films ever seen in this competition" PSA Journal, Aug. 1967, 36.
---
Date produced: 1966
Filmmaker(s):
Description:
"The Little Swan is an animated film using paper cut-outs, and is tailored to fit the music of the Swan Lake Ballet. A little girl cuts out the images and watches them dance through the air, only to be trampled under foot when her little brother and his friends get into a scrap over a football" PSA Journal, Sept. 1966, 35.
---
Date produced: 1966
Filmmaker(s):
Description:
"Ballerina is easily the most unusual film to be entered in the Competition in many years. Alise Ziverts the maker, has scratched the images on a piece of opaque 16mm film. Though the technique is not new, her masterful effort of depicting a man and a woman dancer with no more than a sharp needle is little less than amazing. With a screen time of one minute at 16 frames per second, this amounts to approximately 1000 separate drawings Miss Ziverts was required to make on the small frame area" PSA Journal, Sept. 1966, 35.
---
Date produced: 1954
Filmmaker(s):
Description:
"Once Upon a Rose is romantic fantasy of a high and handsome order. In it a young gallant on a walking tour comes upon a lovely pleasance leading, at its far end, to a columned Grecian portico and the statue of a goddess. Starting to dance upon the wide stone steps, he soon hears footballs echoing behind him. The goddess has come to life and, in a series of gay modern dances, she and the boy make tender and romantic love. Then, like the princess in the fairy tale, she is again transfigured into stone—and the young man is left with only a rose to mark her memory. Now...except for brief opening and closing sequences, all of this action takes place in the single setting of the Grecian porch. To be sure, the choreography by Jimmy Inman (who also plays the young gallant) is lively and kinetic. And Mary Jo Bishop is graceful as the girl. But the film's real rhythmic flow is due in its major part to the imagination and skill of the producer, William H. Eddy. It is from his fluid camera that there blossoms this rose-scented romance which never was" PSA Journal, Jan. 1955, 49.
---
Date produced: 1953
Filmmaker(s):
Description:
"Candy Capers is a gay little dance fantasy in animation, using lollypops, wafers and other familiar childhood sweets. It is gay, that is, until the entiance of the villain— a long black sinuous licorice snake. The wafers shiver in horror as one of them is captured by the intruder. Then they organize their attack and rout the enemy. Roy Fulmer jr. has achieved smooth animation of his puppets and accompanies them with a pleasant musical score. The result is a bit of confection that is a delight to the eye and ear." Movie Makers, Dec. 1953, 334.
---
Total Pages: 2