---
---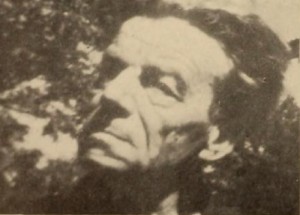 Date produced: 1949
Filmmaker(s):
Description:
"In this dramatization of James Whitcomb Riley's well known poem for children, Andy Potter chose a perfect character for the leading role. It is his fine acting that bolsters the spirit of the story and outweighs the uneven exposure of a few early scenes. Imaginative camera viewpoints and an interesting musical score give pace to what might have been a tritely sentimental production. Suspense is maintained where it is needed, and the settings, both indoors and out, have been chosen with an eye for variety. Quotes from the poet's verses serve as titles. The Raggedy Man is a sensitive portrayal of childhood pathos and drama." Movie Makers, Dec. 1949, 455.
---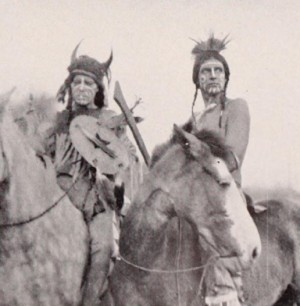 Date produced: 1934
Filmmaker(s):
Description:
"'Red Clouds Rides Again,' the 8mm picture by Dr. Loscher which was given first prize, was based on a poem that dealt with the pioneers crossing the desert. Its main action had to do with a wagon train being attacked by Indians. The manner in which Dr. Loscher handled this sequence would have done credit to a studio production. With only one wagon, three horses and six people at his command, he made it look like a production employing more in the way of properties and talent. His angles, his composition and his cutting are things for every amateur to observe. His story could have easily become hackneyed by poor cutting and editing, but he kept it moving at a fine tempo." American Cinematographer, Jan. 1936, 24.
---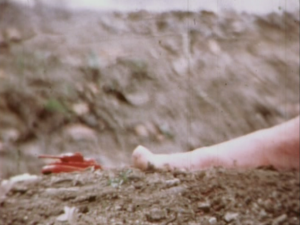 Date produced: 1972
Filmmaker(s):
Description:
" La segunda primera matriz narraba visual y poéticamente una historia de la humanidad, desde el origen hasta la carrera espacial, como una nueva frontera. En una primera sección, entre tomas de nubes, remolinos y oscuridad, hacía referencia al origen de la vida. (...) Después del lanzamiento del cohete y de las imágenes sobre la exploración del espacio, se ve a una mujer desnuda en el campo. La cámara hace un lento tilt down recorriendo su cuerpo. Al pasar por el pubis sigue a una gota de sangre que comienza a deslizarse por la pierna. Cuando llega al suelo aparece un desfile de tanques de guerra en miniatura, rojos, como los que se habían mostrado anteriormente en la película. La película termina con un cartel que dice 'Pero también se puede parir la nada' " (Vázquez Mantecón, 2012).

La segunda primera matriz [The second first womb] told visually and poetically a story about humanity, from its origin to the Space Race, as a new frontier. In a first section, amongst shots of clouds, swirls and darkness, it referred to the origin of life. (...) After the launch of a rocket and images about exploring space, the film shows a woman naked in the country. The camera makes a slow tilt down of her body. When passing by the pubis, the camera follows a drop of blood that slides by the leg. When it reaches the floor, a parade of miniature war tanks appear, red, like the ones previously shown. The film ends with a sign that says 'But you can also give birth to nothing' " (Vázquez Mantecón, 2012).
---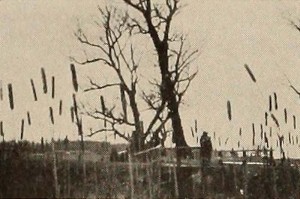 Date produced: 1938
Filmmaker(s):
Description:
"In Trees, whose subtitle describes it as a picture poem, we find what is generally admitted to be the masterpiece of that superb artist of the cinema, the late Ripley W. Bugbee, whose work so delighted his fellow members of the Amateur Cinema League and whose untimely death took from amateur cinematography one of its finest workers. This film is the realization of what Movie Makers has often counseled — setting film to music, instead of the course usually followed in theatrical pictures of setting music to film. The footage is planned to gear in with the musical setting of Joyce Kilmer's popular verse, but, since that setting is brief, other music, excellently chosen, is added to the scoring. The music of the poem is played once orchestrally, then other selections are offered, and the presentation concludes with a baritone voice singing the musical setting through completely. In this last part of the film, there is admirable synchronism, the scenes illustrating the words very accurately. Within the framework of this mechanism, Mr. Bugbee placed some of the loveliest 16mm. Kodachrome footage that has ever been accomplished. The motion is all that of nature, no persons appearing, but that motion has tempo and rhythm, as well as amazing beauty. There are trees in all kinds of movement, and to them are added scenes of clouds, moving water, grasses, flowers and birds. Without the record accompaniment, one would find, in Trees, Kodachrome footage of the highest order; with the musical addition, there is something that, within its limited scope, has never been bettered." Movie Makers, Dec. 1938, 597, 617.
---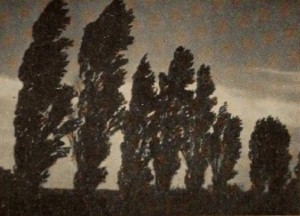 Date produced: 1949
Filmmaker(s):
Description:
"In Trilogy, Timothy M. Lawler, jr., submits an interesting and, for the most part, successful effort to match romantic verse with appropriately emotional scenes. For his verse, Mr. Lawler has used Kilmer's Trees, Malay's The Wide World and Shelley's Love's Philosophy. The moods of the movie footage are excellent. The verse suffers a little, however, because it is released on the screen (or in narrative readings) a couplet at a time, at varying intervals, thus breaking into the overall rhythm. On the whole, however, Trilogy is a good approach to an attractive and difficult ideal." Movie Makers, Dec. 1949, 471.
---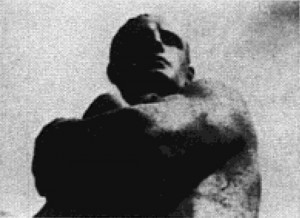 Date produced: 1965
Filmmaker(s):
Description:
"Vigeland on Life is a poetic study of the work of Gustav Vigeland, famous Norwegian sculptor. The narrator reads passages from the poetry of Kahlil Bigran, selecting excerpts from "The Prophet" while on the screen the camera gives us several dozen glimpses of Vigeland's statuary" PSA Journal, Sept. 1965, 50.
---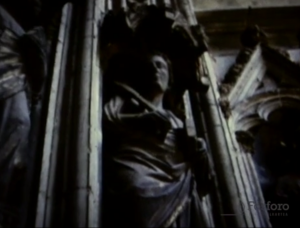 Date produced: 1970
Filmmaker(s):
Description:
El filme utiliza rimas y música para describir la arquitectura gótica de Vitoria, capital de Álva en España.

The film describes through rhymes and music the gothic architecture of Vitoria, capital of Álava in Spain.
---
Total Pages: 2