---
---
Date produced: 1967
Filmmaker(s):
Description:
"A Child's Introduction to the Cosmos is a humorous attempt to describe, in child language, what the Cosmos must be like. Actually, the charm of this film comes in its telling. Somehow the message doesn't matter too much" PSA Journal, Aug. 1967, 37.
---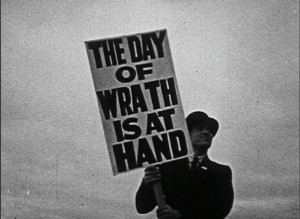 Date produced: 1934
Filmmaker(s):
Description:
"Science fiction film influenced by the style of inter-war European art cinema." East Anglian Film Archive.

"Each year the contest sponsored by the American Society of Cinematographers through this magazine seems to bring forth a surprise. For several years the 8mm cinematrographers have been setting the pace, but never has any of them reached the goal achieved this year by Miss Ruth Stuart. Miss Stuart has been a contributor to this contest every year for the past three years; in 1933 she was given the medal for travel pictures. Her 200 ft. 16mm subject 'Doomsday' was also awarded honors in the British Institute of Amateur Cinematographers. In the American Society of Cinematographers contest just closed she was given a recognition for the Outstanding picture, in photography and Documentary pictures. It will be surprising to many that this unusual honor should befall a woman. Photography, by the unwritten law, is supposedly the realm of male species. Miss Stuart, however showed such a fine understanding of the value of pictures that move, how to fabricate these moving photographs into an interesting document that would hold any audience anywhere in the civilized world. For a person who films she must have developed a stony heart in order to cut as judiciously as the picture indicates. There is a tempo to the production that is very seldom achieved by an amateur. There are no obvious pet shots or scenes. Each sequence, each scene, each picture was left in production for a purpose to give it atmosphere to help the story along." American Cinematographer, Jan. 1937, 25.

"Well photographed, well planned film dealing with the contrasted fears of town and country folk and their reaction to catastrophe" (IAC 1975).

'A fantasy based upon a fear which has preyed upon credulous minds from the beginning of time' is the maker's description of this ambitious attempt to show how people react to the possibility of a catastrophe and then to the real event. The story hinges upon a cosmic event that upsets the Earth's equilibrium, causes an imbalance of weather conditions and other natural forces, resulting in widespread panic' (EAFA Database)."
---
Date produced: 1959
Filmmaker(s):
Description:
"First two women to travel to space. The rocket heads to Mars but misses and ends up on an unknown planet where the women have strange adventures." Sacramento Public Library.
---
Date produced: 1959
Filmmaker(s):
Description:
"A rather clever and well-executed story of the rocket engineer who recovered the important capsule when it returned to earth. The rocket launching is done with miniature and to the credit of the filmer. The rocket engineer does not fully appreciate what he has accomplished until it is too late. Sound effects accompanying the picture create a sense of realism" PSA Journal, Nov. 1959, 48.
---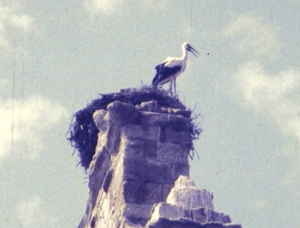 Date produced: 1971
Filmmaker(s):
---
Date produced: 1967
Filmmaker(s):
Description:
"Teenagers...embark on a space mission to explore Alpha Centauri, the second closest star to Earth. The film follows the astronauts during the preparation for their mission, their journey through space, and finally, their encounters with life on Alpha Centauri. The end of the film portrays the astronauts and the Alpha Centaurians coming together in a utopian gathering, complete with cheerleaders, a pony, and an astral princess." Andrea McCarty, http://oldfilm.org/content/mission-alpha-centauri-0
---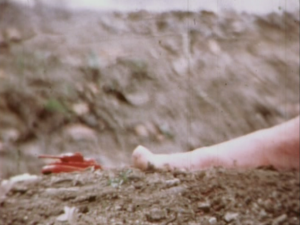 Date produced: 1972
Filmmaker(s):
Description:
" La segunda primera matriz narraba visual y poéticamente una historia de la humanidad, desde el origen hasta la carrera espacial, como una nueva frontera. En una primera sección, entre tomas de nubes, remolinos y oscuridad, hacía referencia al origen de la vida. (...) Después del lanzamiento del cohete y de las imágenes sobre la exploración del espacio, se ve a una mujer desnuda en el campo. La cámara hace un lento tilt down recorriendo su cuerpo. Al pasar por el pubis sigue a una gota de sangre que comienza a deslizarse por la pierna. Cuando llega al suelo aparece un desfile de tanques de guerra en miniatura, rojos, como los que se habían mostrado anteriormente en la película. La película termina con un cartel que dice 'Pero también se puede parir la nada' " (Vázquez Mantecón, 2012).

La segunda primera matriz [The second first womb] told visually and poetically a story about humanity, from its origin to the Space Race, as a new frontier. In a first section, amongst shots of clouds, swirls and darkness, it referred to the origin of life. (...) After the launch of a rocket and images about exploring space, the film shows a woman naked in the country. The camera makes a slow tilt down of her body. When passing by the pubis, the camera follows a drop of blood that slides by the leg. When it reaches the floor, a parade of miniature war tanks appear, red, like the ones previously shown. The film ends with a sign that says 'But you can also give birth to nothing' " (Vázquez Mantecón, 2012).
---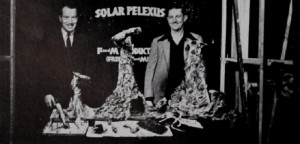 Date produced: 1936
Filmmaker(s):
Description:
"Mel Weslander and Harry French of San Francisco, with 'Solar Pelexus,' were winners of Agfa's contribution of six rolls of film. As the misspelling of the title indicates, the subject was a farce portraying the journey of two men to another planet in a rocket." American Cinematographer, Jan. 1938, 28.
---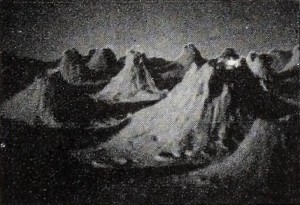 Date produced: 1951
Filmmaker(s):
Description:
"Jack E. Gieck's film is a fanciful abstract study delineating the aspect and activity of the planet Uranus. In it he has wisely kept his footage brief. His lighting effects on models of the mountains and the color patterns of liquids reflect an imaginative concept. A rather too soft focus toward the end of Uranus is somewhat unexplainable, but his choice of an excellent musical score contributes to a fascinating creative experiment." Movie Makers, Dec. 1951, 412.
---
Date produced: 1933
Filmmaker(s):
Description:
"the story of a man who attempts to get to the moon in an aeroplane. This took three months to complete as it entailed a lot of model work" (HMHT 1933: 79).
---
Total Pages: 2