---
---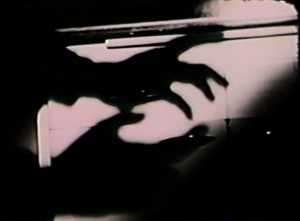 Date produced: 1953
Filmmaker(s):
Description:
Thriller film about an escaped murderer, and a nearby woman who is home alone.
---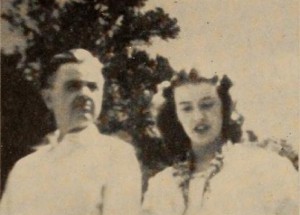 Date produced: 1947
Filmmaker(s):
Description:
"Basing his story line on an incident which is said actually to have occurred in Sweden, Harry W. Atwood has proved once again in Through the Valley his imaginative understanding of what makes a true motion picture. For here is camera work of the first order, expressed in meaningful angles and building through a stirring chase sequence to a point of very real dramatic tension. If anything, the film's climax has been staged with a shade too much of melodrama, while a concluding quotation from the Scriptures left these reviewers regretfully more puzzled than uplifted." Movie Makers, Dec. 1949, 471.
---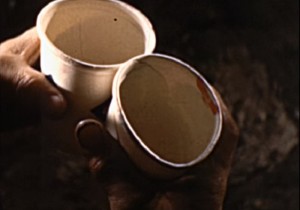 Date produced: 1951
Description:
"Under the able direction of Kenneth E. Carrier, ACL, a production unit of the Grand Rapids Amateur Movie Club has produced an engrossing film drama based on a short-short story from a Billy Rose column. Two Paper Cups begins as if it would tell the familiar tale of a bored husband plotting the murder of his wife for the love of that "other woman." But a double switch at the plot's end saves the life of the married woman and, with irony but without need, takes the life of the husband. Top notch photography, expert staging and lighting, good acting and skillful editing make this photoplay an outstanding example of cooperative filming at its best." Movie Makers, Dec. 1951, 410.
---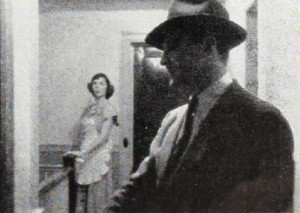 Date produced: 1949
Filmmaker(s):
Description:
"'The Voice of the Key' is a magnificently staged photoplay, beginning with the very professional series of opening titles and featuring remarkable interior photography, considering the limited equipment at the disposal of the filmer. Charles Carbonaro, using photo-floods entirely, has achieved some truly professional illumination in his interior settings, and his camera technique displays an artist's genuine feel for forceful and dramatic story telling with a camera. The story concerns a murder of an unfaithful wife's lover by her husband, and the steps the husband takes to conceal his part in the crime, only to be tripped up by his door key as the incriminating evidence. Carbonaro used a Cine Special Camera and Eastman Super X panchromatic film. The script, which he wrote himself, was adapted from a story published in 'This Week', Sunday supplement magazine of national distribution." American Cinematographer, Apr. 1950, 133.

"Great ambition and a wide knowledge of both amateur and Hollywood camera techniques mark Charles J. Carbonaro's The Voice of the Key. The film is a whodunit, involving many of the human reactions — from love and hate to cynicism, impatience and sudden passion — all of which have to be registered by the actors at Mr. Carbonaro's command. It's a large order, and the film does not quite fill it dramatically. But the good things about The Voice of the Key are very good indeed." Movie Makers, Dec. 1950, 468.
---
Date produced: 1935
Filmmaker(s):
Description:
"Myron F. Pettengill was awarded the trophy for Scenario pictures. This is a 16mm film of about 400 ft. It is a story of the Northwest Mounted. Pettingill is to be commended for his direction, his types, and the way in which he costumed his people. He injected little touches in his characters that left no doubt as to what they represented. He costumed them convincingly. It had many indoor scenes and of course a large amount of outdoor snow scenes. There was a fine handling of the camera." American Cinematographer, Jan. 1937, 25.
---
Total Pages: 3