---
Date produced: 1927
Filmmaker(s):
Description:
"An honorable mention in the 35 millimeter division went to Thomas Fisher, of 410 Semple Street, Pittsburgh, Pa., for his grim and Barrymorish study of Poe's 'The Tell-Tale Heart.' Mr. Fisher played two parts, displayed no little skill in make-up and worked out an interesting, if gory, film." Photoplay, Jun. 1928, 137.
---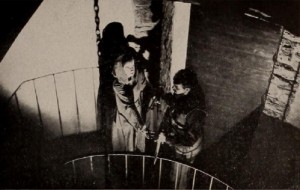 Date produced: 1947
Filmmaker(s):
Description:
"David Bradley, the dynamic heart of Willow Films, producers of Macbeth, has behind him a long and amazing record of outstanding dramatic pictures. Among these are his productions of The Christmas Carol and Oliver Twist, by Charles Dickens; Emperor Jones, by Eugene O'Neill, and Peer Gynt, by Henrik Ibsen. His Macbeth is the greatest of them all. And in a sense, this moving evocation of the brooding Shakespearian tragedy is the end product of them all — since, in it, Mr. Bradley's creative and cinematic abilities have come fully and splendidly of age. The character of this brilliant achievement may perhaps best be illumined by Mr. Bradley's own words from his plans for the film. "We realized clearly," he has written, "that the strength of our Macbeth must be found in stimulating cinematic treatment, portrayed with such angular camera compositions as to suggest the twisted, supernatural aspects of the drama. We planned our lighting for harsh contrasts and textures, so that, on occasion, the brooding menace of cold, murky stone could almost be felt. For our Macbeth was to be, above all, a movie, depending on atmosphere more than acting, 'punch' more than pomp, for its ultimate success or failure." That it has been success, not failure, is rewardingly the case." Movie Makers, Dec. 1947, 534, 536.
---
Date produced: 1933
Filmmaker(s):
Description:
"Pipe Dreams, by Joseph Dephoure, ACL, and Edward Atkins, ACL, is ranked among the year's ten best because of its considerable triumphs over dramatic and technical difficulties. Through the imagination of its producers, a small cast, simple settings and moderate footage have been used to tell a big story, rich in pictorial effect. Dreaming that he has murdered his unfaithful wife, a young man sees in prospect the swift and fearful course of his life to the waiting gallows. The murder, the trial, the death cell and the hanging are represented in large part only by the imaginative and striking use of shadows of the real scenes. Occasional straight shots are heightened in effect by unusual angles and dramatic lighting. Sensitively planned, smartly executed and deftly cut, Pipe Dreams makes its simple story exciting and forceful." Movie Makers, Dec. 1933, 500.
---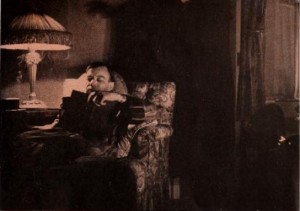 Date produced: 1932
Filmmaker(s):
Description:
"Among the ten best, The Last Entry, running seven reels 16mm., is one of the most ambitious amateur photoplays ever undertaken and completed. The plot, requiring many elaborate interior sets, is based on a mystery story that opens with a house party. While a room is darkened for the projection of amateur films, one of the guests is murdered and all present may be suspected equally. The detective handling the case uncovers the fact that the murdered man, an author, has lived on blackmail effected by threats of exposure through publication, which throws suspicion on several of the guests of the house party who were discovered to be his victims. However, in the end, the murder is solved by screening the same pictures that were on the projector when it was committed. Although this plot offered great difficulties in the direction of large group scenes, the creation of the necessary lighting effects and the interpretation of the actors' roles, it is beautifully and suavely handled. In the film are several lighting treatments that may be listed as among the most effective ever achieved by amateurs. One chase sequence staged through long corridors, a large, dimly lighted attic and on the roof of the mansion at night in the rain, can be likened only to the effects secured in the best professional mystery photoplays. James F. Bell, jr., ACL, was director with Charles H. Bell, ACL, and Benjamin Bull, jr., ACL, cameramen and Lyman Howe, ACL, in charge of lighting." Movie Makers, Dec. 1932, 537-538.
---
Date produced: 1930
Filmmaker(s):
Description:
"Electra, 400 ft., 16mm., produced by Clyde Hammond, is a picturization of that Greek drama. Its most novel quality is the evidence of an intelligent search for the best motion picture treatment to present an accurate film version of the story. A series of tableau like sequences were finally used with much better results than if the plot had been adapted and scenarized in the customary manner. Certainly this film version is much truer to the original than would otherwise have been possible. Not being able to erect the complicated sets that would seem necessary, Mr. Hammond used flat gray walls, producing the suggestion of ancient Greek palaces and dwellings with "props," costumes and occasional wall ornamentation. The photographic quality is uniformly good throughout and, one sequence has very good double exposures." Movie Makers, Dec. 1930, 787-788.
---
Total Pages: 3