---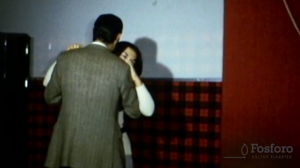 Date produced:
Filmmaker(s):
Description:
El filme muestra a una mujer esperando en su casa, tocando música, leyendo y acordando por el teléfono verse con alguien. Ella ve a una amiga y le dice que su novio, un hombre llamado Javier, está fuera de la ciudad por negocios. Primero van a una feria y después a un bar llamado El Pez Rojo, donde escuchan a una banda en vivo y toman algunos tragos, eventualmente ven que Javier está ahí bailando con otra mujer. Se van y Javier se queda bailando, después aparecen diversas imágenes de letreros de clubes nocturnos. Después se ve Javier manejando por la mañana con la otra mujer y deteniéndose a fumar un cigarro mientras es visto por su novia y su amiga. Mientras la pareja discute, la amiga de la primera mujer golpea a Javier en la cabeza con un arma. Después el filme corta a una escena de la primera mujer despertando y abriendo la puerta a sus amigas, mismas que reclaman haberla esperado demasiado, a lo que responde que se quedó atrapada por una historia que estaba leyendo, implicando que todo había sido producto de su imaginación.

The film shows a woman waiting in her house, playing music, reading and agreeing to see someone over the phone. She meets with a friend and tells her that her boyfriend, a man named Javier, is out of town on business. They first go to the fair and then to a bar called El Pez Rojo [The Red Fish] where they listen to a live band and have drinks, eventually they see that Javier is there dancing with another woman. They leave and Javier keeps dancing, then a series of images of several night clubs signs appear. Javier is then seen driving in the morning with the woman and stopping to smoke a cigar, where he is seen by his girlfriend and her friend. While the couple fights, the friend of the first woman hits Javier in the head with a gun. Then we see the woman waking up and opening the door to her friends who claim that she has kept them waiting for too long, and she says she got caught up in the story of the book she was reading, implying it was all a product of her imagination.
---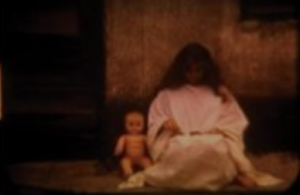 Date produced: 1972
Filmmaker(s):
Description:
"La cinta hacía un recuento de imágenes oníricas, en los que una mujer (Paloma Woolrich) sale de su casa para recorrer diversos espacios que en realidad parecen determinados por su imaginación: desciende los escalones de una calle en una zona peatonal, se muestra aprisionada por una roca gigantesca, aparece catatónica en una azotea con un bebé de plástico, lucha con un hombre contrahecho, apalea a un hombre amarrado, duerme con su pareja y su bebé de plástico en un cementerio, aparece desgreñada en una construcción en ruinas en medio del campo, donde es burdamente pintada por otra mujer" (Vázquez Mantecón, 2012)

"The film made a recount of dreamlike images, in which a woman (Paloma Woolrich, goes out of her house to go through several spaces that actually seem determined by her imagination: she goes down the steps of a street in a pedestrian area, then she is imprisoned by a gigantic rock, she appears catatonic on a roof top with a plastic baby, she struggles with a crooked man, she beats a tied man, she sleeps with her couple and her plastic baby in a graveyard, she appears disheveled in a construction site in ruins in the middle of the country where she is roughly painted by another woman" (Vázquez Mantecón, 2012).
---
Date produced: 1970
Filmmaker(s):
Description:
"EL TERCER SUSPIRO. Separa de un grupo de paseantes en la Alameda a un joven que al aceptar la invitación a subir a un auto que le hacen tres desconocidos (identificados con el movimiento revolucionario de 1910, mediante un montaje de fotografías de la época), durante el paseo por el Periférico se ve acometido por una serie de evocaciones imaginarias. Primero se le ve huir del coche saltando a un paso de peatones, y ser acosado a través de casas derruidas. Al regresar al tiempo presente uno de los hombres le pone la mano en un revólver. Después se ve en un lugar desierto, penosamente sostenido en pie por un aparato ortopédico, mientras una marea creciente lo empieza a cubrir. En ese punto desciende del coche en marcha y se coloca en el centro de la carretera, amenazando con el arma a algo que se aproxima; pero antes de que se produzca el disparo evoca un encuentro amoroso. Esta acción se repite varias veces antes de disolverse en las imágenes de un lago que ahora lo ha cubierto todo"(Garmendia en Vázquez Mantecón, 2012).

"THE THIRD SIGH. Separates a young man from a group of pedestrians in the Alameda, when he accepts an invitation by three unknown men to get into a car (the men were identified with the revolutionary movement of 1910 through a photographic montage of the time), during the ride through Periférico, he is undertaken by a series of imaginary evocations. First he is seen running away from the car, jumping to a crosswalk, and being harassed through demolished houses. When coming back to the present, one of the men puts his hand on a revolver gun. Afterwards, he is seen in a desert place, shamefully sustained by an orthopedic device, while a rising tide starts to cover him. At this point he descends from the moving car and goes to the center of the highway, menacing with his gun something that is approaching; but before the shot is produced, a loving encounter is evoked. This image is repeated several times before dissolving into images of a lake that has now covered everything" (Garmendia in Vázquez Mantecón, 2012).
---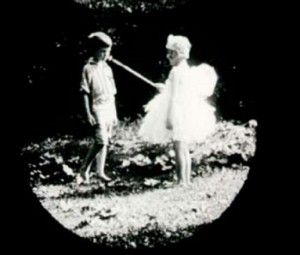 Date produced: 1923
Filmmaker(s):
Description:
"Alexander Black imagines his grandchildren appearing around him in a swirl of double-exposed trick cinematography." UC Berkeley Library.
---
Date produced: 1980
Filmmaker(s):
Description:
"Our hero discovers a way to make 'clones' of himself and puts on a show – including four clones singing a barbershop quartet." Oldfilm.org
---
Date produced: 1938
Filmmaker(s):
Description:
"Dramatic short of a frumpy woman's dream of the alternate course her life might take were she a beauty." oldfilm.org
---
Date produced: 1948
Filmmaker(s):
Description:
"Young girl plays house, cares for doll, irons doll clothes." oldfilm.org
---
Date produced: 1967
Filmmaker(s):
Description:
"Teenagers...embark on a space mission to explore Alpha Centauri, the second closest star to Earth. The film follows the astronauts during the preparation for their mission, their journey through space, and finally, their encounters with life on Alpha Centauri. The end of the film portrays the astronauts and the Alpha Centaurians coming together in a utopian gathering, complete with cheerleaders, a pony, and an astral princess." Andrea McCarty, http://oldfilm.org/content/mission-alpha-centauri-0
---
Date produced: 1966
Filmmaker(s):
Description:
"The Mannequin is another interesting bit of cinema which calls to our attention an inebriated fellow who, partly in his cups and partly in his imagination, sees beauty in a department store mannequin and tries to strike up an acquaintance" PSA Journal, Sept. 1966, 34.
---
Date produced: 1964
Filmmaker(s):
Description:
"Magic Boy received the special citation for combining animation with live action. A small boy is watching a comic book or drawing board and what he sees comes to life before him. Whether Filmer Falco is a real life artist or not, he did a good job with the cartooning, but a really superb job in combining the boy with the animated character" PSA Journal, Sept. 1964, 51.
---
Total Pages: 2