---
---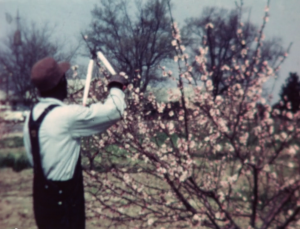 Date produced: 1967
Filmmaker(s):
Description:
"The life cycle of the peach -- from peach blossom to peach pie" (Holmes, 2018).
---
Date produced: 1964
Filmmaker(s):
Description:
"Reel Meal concerns the life of one meat ball, and is filmed to fit the tune of "On Top of Old Smokey." As a chorus sings specifically written words about one poor meat ball that got away, the scenes, cut to fit, record the antics of the fugitive from a plate of steaming spaghetti. A refreshing novelty well done" PSA Journal, Sept. 1964, 51.
---
Date produced: 1934
Filmmaker(s):
Description:
"This story of a loaf of bread begins with the plowing of the ground. It continues thru discing and harrowing. Then come fields of waving wheat; the harvest and the threshing; the journey to the grain elevator and the flour mills. Scenes in a modern bakery follow and from there the bread is sent to the retail store. Children eating bread and jam are representative of the 'ultimate consumer'." Educational Film Catalog, 1937 edition, 80.
---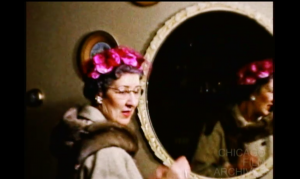 Date produced: 1962
Filmmaker(s):
Description:
"An amateur film made by and starring the husband and wife duo, John & Evelyn Kibar. John is frustrated with Evelyn's hat shopping habits. To distract John's frustrations, Evelyn surprises John with a cake. Title cards with dialogue are dispersed throughout the film." Chicago Film Archives
---
Date produced: 1939
Filmmaker(s):
Description:
"Shows maple sugar making, including collecting the maple sap, boiling the sap down to make syrup and beating it to make sugar cakes. Participants are the Martin Kegg and Day families and the camp site is on the west shore of Lake Mille Lacs on Sherman Point." Minnesota Historical Society.
---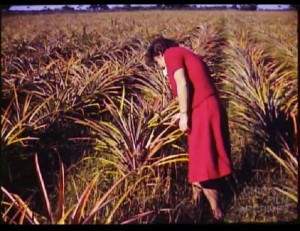 Date produced: 1946
Filmmaker(s):
Description:
"2 part edited travelogue of the industries and everyday life in featured cities of Cuba. Part 1 begins in Havana before travelling to smaller cities, with a focus on buildings, crops and the everyday lives of the people. Part 2 primarily focuses on industry and includes scenes of a tile factory, basket weaving, as well as the farming of potatoes, sugar cane, bananas, and peanuts. The film also features historical monuments, boating, children at school, cock fights, vendors selling wares, and fishing. People demonstrate manual methods of labor like harvesting crops and cutting grass with machines lead by cattle." Chicago Film Archives.
---
Date produced: 1964
Filmmaker(s):
Description:
"How tomatoes change from blossom to fruit -- Frame by frame shots of tomato blossom giving birth to tomato -- Care of tomato plants." UC San Diego Library.
---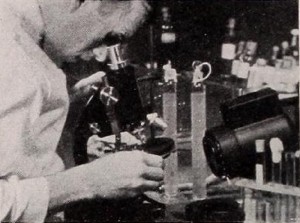 Date produced: 1933
Filmmaker(s):
Description:
"An achieved simplicity in presenting a complex idea is the outstanding accomplishment that wins for the National Oil Products Company an honorable mention for its film. This picture presents the necessity for Vitamin "D" in the food of children and gives the highlights of preparing the Nopco product containing this essential food element. This picture, directed by Ralph Wechsler and photographed by Arnold M. Hill, ACL, follows the safely conventional presentation of industrial film messages in its continuity methods, its use of animated diagrams and its description of ultimate consumer usage. Working within this pattern, the makers of the picture have done extraordinarily well whatever they attempted. The continuity flows so smoothly as to be unperceived unless by a critically inclined observer; the animated diagrams are clear, well executed and strictly limited to the bare necessities of making the idea entirely evident; the photography is unexceptionable in nearly one hundred per cent of the film. This product of the joint efforts of an intelligent director, a very capable cinematographer and a fully cooperating industrial concern shows how perfect a practical film may be if real care is devoted to its making." Movie Makers, Dec. 1933, 522-523.
---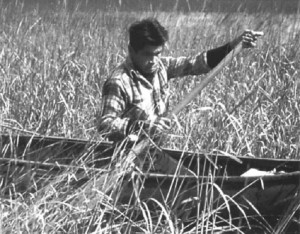 Date produced: 1940
Filmmaker(s):
Description:
"Shows a traditional wild rice harvest, including parching, threshing or jigging by foot power, and fanning. Participants are the John Chicag family and Gerald Strong." Minnesota Historical Society.
---
Total Pages: 2