---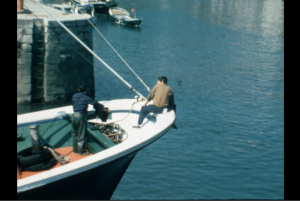 Date produced: 1978
Filmmaker(s):
Description:
Itsasoko bizimodua.

El filme retrata la forma de vida en la mar en Lekeitio

The film portrays the life on the sea in Lekeitio.
---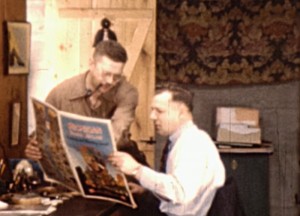 Date produced: 1946
Description:
A man schedules a fishing trip several weeks in advance of the date. Before the day comes, he must overcome several mishaps and hindrances that threaten the trip.
---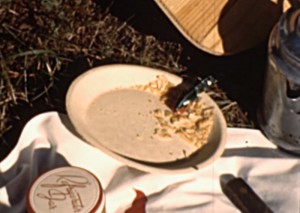 Date produced: 1949
Description:
A group of families takes separate vacations – the husbands go fishing, while the wives and children choose to hold a picnic. Both vacationing groups encounter obstacles that disrupt their plans.
---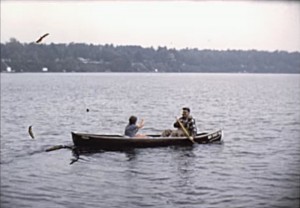 Date produced: 1971
Filmmaker(s):
Description:
A married couple and a friend go on a fishing trip. The film shows them playfully preparing for the journey, driving to the lake, and partaking in fishing and canoeing.
---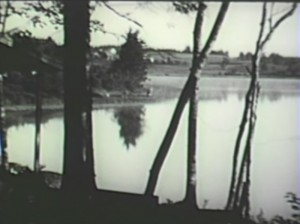 Date produced: 1932
Filmmaker(s):
Description:
"Film documenting a gathering of guides from all over Canada meeting at [Lake William], N.S. Shown are the many events and competitions in which the guides partake including canoe portage, fly casting, canoe tilting, log burling and canoe racing." Nova Scotia Archives.
---
Date produced: 1935
Filmmaker(s):
Description:
"Edited film used by an amateur travel-lecturer documents travel in western and southwestern United States beginning at a rodeo in Phillipsburg, Kansas (trick riding, lassoing jack rabbits, roping calfs, wrestling steers, horse races, bucking broncos and bucking steers as well as scenes of an airplane flyover and of an airplane crashing which possibly was a stunt) and continuing to Black Hills, South Dakota (forest scenery and ca. 1927 construction of Mount Rushmore--blasting off cliff face, scaffolding, men working and completed monument). Shown are roadside scenery, railroad tracks, men cleaning railroad tracks with hose and tank on small train car on the way to an unidentified mountain fishing camp possibly in Colorado (canoeing, fishing in stream, and a smokehouse) and a mountain farm where colts are branded. Cog railway is taken up to Pike's Peak. Travels continue to to the Southwest (unidentified southwestern town possibly Santa Fe with adobe buildings and men and children in Mexican dress singing and playing guitar, American Indian dance performance indoors possibly Zuni, parade of American Indians in unidentified city perhaps Gallup and Navajo band. Scenes of the southwest continue with Navajo in Canyon de Chelly (hogans and herding sheep), prehistoric archaeological sites (Mesa Verde, Chaco Canyon another unidentified cliff dwelling possibly Montezuma's castle) and Taos Pueblo. Film records American Indian dances at a gathering of Indian tribes possibly at Gallup, intertribal horse races and women's tug-of-war. Hopi are shown dancing at Hopi. Also shown are Indian women (possibly Apache or Navajo) and children together and children in cradleboard and the Navajo reservation (hogans, women spinning and weaving under a ramada, herds of sheep and goats and "dipping sheep"). Natural wonders of Grand Canyon, Monument Valley and Rainbow Bridge National Monument are featured.Travel continues to Yellowstone National Park, California (scenery, black bears, hot springs and geysers) and onto the California coast possibly Monterey (seals on rocks). Also shown are an unidentified town with oil pumps and derricks and people waterskiing" via the Human Film Studies Archives, Smithsonian Museum.
---
Date produced: 1982
Filmmaker(s):
Description:
"Grandpa has problems when he retires." Oldfilm.org
---
Date produced: 1960
Filmmaker(s):
Description:
"1 View of small plane at an airport. 2 View of dinghy in a harbor at the Great Salt Lake. 3 Views of shoreline and boat moving through the Great Salt Lake. 4 Views of the west coast of Central America, dolphins leading the boat, fishing, Santa Cruz, local inhabitants, cliff diving and a vacation resort." University of Utah Marriott Library.
---
Date produced: 1934
Filmmaker(s):
---
Date produced: 1960
Filmmaker(s):
Description:
Edited film "chronicling travel through the Caribbean including scenic landscapes, cities and villages, dance, local markets and fishing. Wells travelled on the M/s Stella Maris II. Locations filmed include Puerto Rico, Saba St. Kits, Gaudelupe, St. Lucia, Barbados, Paramaribo, Tobago, Trinidad, Grenada, St. Vincent, Dominica, Martinique, Fortress of San Felikpe Del Morrow (San Juan), For Christianvaern, Fort Fleur depee XVIII siecle, and Sam Lord's Castle," Human Studies Film Archives, Smithsonian Museum.
---
Total Pages: 5