---
---
Date produced: 1928
Filmmaker(s):
Description:
"Members of the Preston family enjoying the carnival celebrations at Greater Brighton, in 1928. Various activities are seen taking place on the beach, seafront, streets and promenade. Includes shots of a jazz band performing outside; people driving miniature cars around a small race track and a woman playing on a one-armed bandit machine. Also includes footage of the Duke and Duchess of York's visit to the Royal Pavilion." (NWFA Online)
---
Date produced: 1967
Filmmaker(s):
Description:
"The Adventures of Herman are not unlike those of Mickey Mouse, for although Herman may be of the same species, he is a bit bigger - just enough bigger to irritate the owner of the house in which he resides. Herman is about ten inches tall, and his movements, through single frame animation, are inter-cut with live action" PSA Journal, Aug. 1967, 36.
---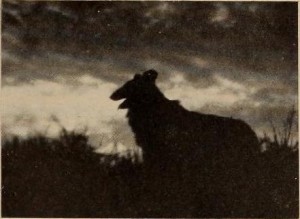 Date produced: 1949
Filmmaker(s):
Description:
"Raymond Berger has based his film on the familiar story of a dog that finds his way back home from a long distance, paralleled with a little girl's grief at the dog's absence. Imprisoned accidentally in the luggage compartment of a parked car, Lassie, a magnificent Collie, is driven miles from home before his equally accidental release. As the dog turns homeward, Mr. Berger maintains the suspense of his adventures over difficult terrain with admirable skill. A little closer cutting in the final re- union scenes at home would have heightened the dramatic quality. The few long shots in this 8mm. film are outstandingly executed, and there are touching closeups of the little girl as she mourns her pet." Movie Makers, Dec. 1949, 468.
---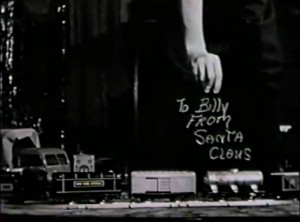 Date produced: 1942
Filmmaker(s):
---
Date produced: 1935
Filmmaker(s):
Description:
"Celebrate the wedding of Amy Norman, visit Belle Vue Zoo,and meet the Powell family, with their own animals, in their garden. A view of Manchester Central Library and the Town Hall Complex precedes cricketing scenes at Bowdon, and finally, a family trip (in colour) to Nefyn in North Wales, where young and old alike enjoy the sun and sea. The Powell family lived in East Didsbury in South Manchester.Manchester Central Library was quite new when this film was shot. It was opened in 1934 by George V, and in 2014 re-opened after refurbishment for its 80th anniversary." (BFI Player)
---
Date produced: 1928
Filmmaker(s):
Description:
"Filmmaking brothers Sidney and Harold Preston present a beautifully shot record of time and place, taking us to the great Lancashire seaside resort in the interwar years. Whether enjoying the bird's eye view from the top of the tower, trying out the Pleasure Beach rides, or just befriending the donkeys on the beach, the three generations of the Preston family are clearly having a grand day out." (BFI Player)
---
Date produced: 1927
Filmmaker(s):
Description:
"This proved to be an unusual serio-comedy, telling of a restless young husband and how he was cured. It was very well acted by Alfred Fontana as the husband, Margaret Ervin as the vamp, Anne Howe, and Beatrice Traendly as the wife. The directon of Russell T. Ervin Jr. was remarkably good, revealing an unusual facility for telling a story concisely and quickly. Then too, he understood how to cover any histrionic imperfections of his cast. 'And How!' is a suprisingly neat amateur film" Photoplay, June. 1928, 66
---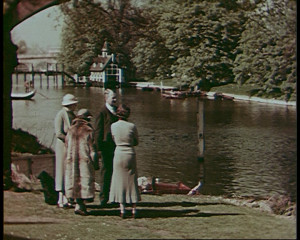 Date produced: 1939
Filmmaker(s):
Description:
"A group of four adults (including Eunice Alliott) look at/ stand close to a motor boat on a river; three of the adults with a small dog board the boat; as Eunice Alliott approaches boat, the man gets out and helps her board; the boat leaves the jetty and heads away; the boat returns to the jetty; the man helps the women disembark; the group walk up steps onto a lawn' (EAFA Database).
---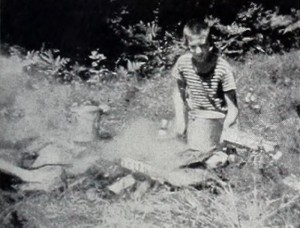 Date produced: 1945
Filmmaker(s):
Description:
"Excellent films have been made that show by more or less indirection what adults believe boys should do in camp. But what would boys like to do? Henry E. Hird, in The Big Adventure, seems almost to have thought with a boy's mind — a very real accomplishment for a busy executive — in producing this dramatic tale of boys in the woods. Two youngsters of about twelve years, armed with bows and arrows, are taken by their father on an island camping trip. Resigned, as most boys are under the instruction of their elders, they watch Father show them camp life in detail — and how he enjoys it! Suddenly he leaves for a war conference in Washington, and the two adventurers are alone for the night. A tramp appears, captures them, is outwitted by them and is seized by a helpful farmer. To bed and fears of invading bears go our heroes — when Dad returns, the conference deferred. It is a safe bet that young boys will approve Mr. Hird's dramatic movie as more realistic than some of the "approved solutions" offered to youthful campers." Movie Makers, Dec. 1945, 496.
---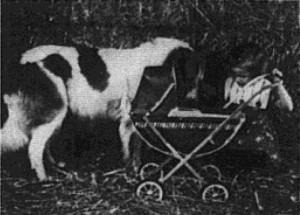 Date produced: 1959
Filmmaker(s):
Description:
"A most pleasant day with a little girl, her four kittens, and collie dog. The kittens do so many things that set them apart from other animals. They seem to enjoy their various playful activies before the flood lights and camera. While all this is going on, the collie feels just a little bit left out of things. Finally, all return to the barn for some fresh milk and a good night" PSA Journal, Nov. 1960, 39.
---
Total Pages: 13