---
---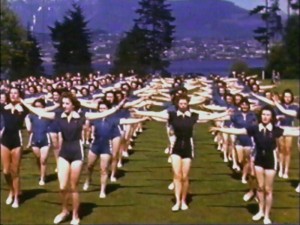 Date produced: 1945
Description:
"Young women at Brockton Point, Stanley Park, put on a display of Pro-Rec activities: massed calisthenics, costumed dancing, drill team (brief shots only), more massed calisthenics. The film concludes with a couple of men's tumbling runs." (BC Archives)

One of the regular displays or demonstrations put on in Vancouver by the Provincial Recreation Program ("Pro-Rec"), a community-oriented physical education program administered by the British Columbia Department of Education. Mrs. Hilda Keatley was the Provincial Supervisor for Women. The program operated in many BC cities and towns during the years 1938-1953. (D.J. Duffy)

The filmmaker has not been identified.
---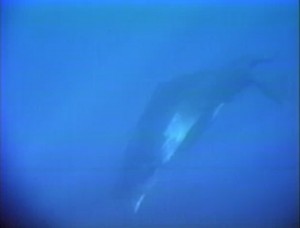 Date produced: 1991
Filmmaker(s):
Description:
"The story of a three-day whale watching trip in July 1991 from Gloucester, Massachusetts, USA, 100 miles out into the Atlantic Ocean to Georges Bank, to find and film sperm whales and six other species of cetaceans (whales, dolphins, and porpoises), including the never-before-filmed North Atlantic Beaked Whale. Filmed and narrated by Dr. Robbins Barstow of Wethersfield, Connecticut, USA." Archive.org
---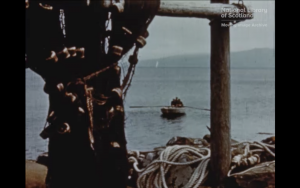 Date produced: 1938
Filmmaker(s):
Description:
"A Joint Production Committee film, complete with 'Teaching Notes', which sets out to describe the Skye crofter's seasonal employment in the salmon fishing industry of the 1930s." (EAFA Database)
---
Date produced: 1947
Filmmaker(s):
Description:
"Film detailing a year in high school through footage from different school events like homecoming, football games, art classes, and other outdoor activities." Church History Library.
---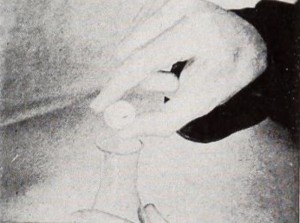 Date produced: 1944
Filmmaker(s):
Description:
"In order to acquaint university students with courses of study other than those which they pursue, Mervyn V. Miller has filmed The School of Physical Sciences. In so doing, he has given each department significant and generous footage to display its particular factors. The result gives other students a general understanding of an activity which otherwise might remain obscure to them. Mr. Miller's project is believed to be the first of its kind. He presented it as a thesis for a doctorate. The film is intelligently planned, edited and executed in such a way as to introduce the student to the unusual features, as well as the commonplace facts, of each of the physical sciences of the school. Through the shrewd handling of the script, the picture is developed as an excellent medium of orientation." Movie Makers, Dec. 1944, 496.
---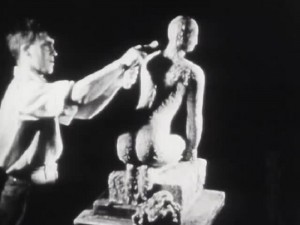 Date produced: 1933
Filmmaker(s):
Description:
"Filmed by Norman McLaren and Willie J. MacLean, [Seven Till Five] shows a day in the life of the Glasgow School of Art." National Library of Scotland Moving Image Archive.
---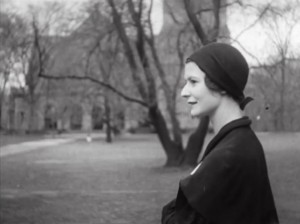 Date produced: 1931
Filmmaker(s):
Description:
"She Goes to Vassar is a one-reel film that provides an overview of college life from the perspective of a new freshman student. From her arrival on campus, to settling into her new dorm and meeting her professors and classmates, the film depicts many facets of the college experience. Perhaps most striking about the film from today's perspective are the shots of the academic environment, as the young women attend lectures and labs instructed by their professors, many of whom are also women. Though it was ultimately used primarily as a fundraising tool by the college's alumni association, the film nevertheless provides a valuable glimpse of this women's college through the eyes of a recent graduate." Women Film Pioneers Project
---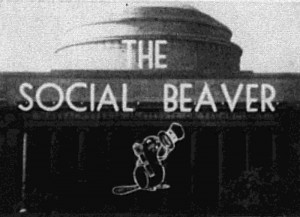 Date produced: 1956
Filmmaker(s):
Description:
"One may assume that Oscar Horovitz is a graduate of Massachusetts Institute of Technology because of his interest in this film. It is a film which the school or alumni may use effectively in interesting students in M.I.T. It is a panorama of the student's activities from his entrance to graduation. It commences with an introduction of the school and carries through the class rooms, study halls, social halls, athletics, religious atmosphere, and the memorable day of graduation. To some, this would be a difficult subject to deal with but Oscar has produced a picture which sustains interest throughout" PSA Journal, Nov. 1957, 53.
---
Date produced: 1939
Filmmaker(s):
Description:
"Documentary: Illustrates plight of leprosy victims before and after the opening of the Bibanga Leper Camp by missionaries." National Archives.
---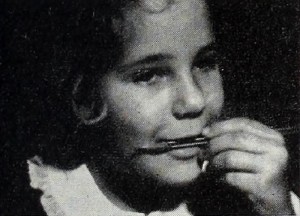 Date produced: 1951
Filmmaker(s):
Description:
"Take a dozen or more normally exuberant youngsters in the second grade of school, mix them amid a day-long session of changing classes, and flavor with the excitement of making a movie — this was the recipe which Herbert F. Sturdy set himself to follow in cooking up Sweeter by the Dozen. He has been remarkably and quite charmingly successful. That the school was West Lake, in the svelte suburbs of Hollywood, and that the pupils were the progeny of "name" figures in the film colony, may have had, perhaps, something to do with it. But kids will be kids — whether in Glendale or Grand Rapids. By some alchemy of the camera, Mr. Sturdy has indeed made them sweeter by the dozen." Movie Makers, Dec. 1951, 412.
---
Total Pages: 5