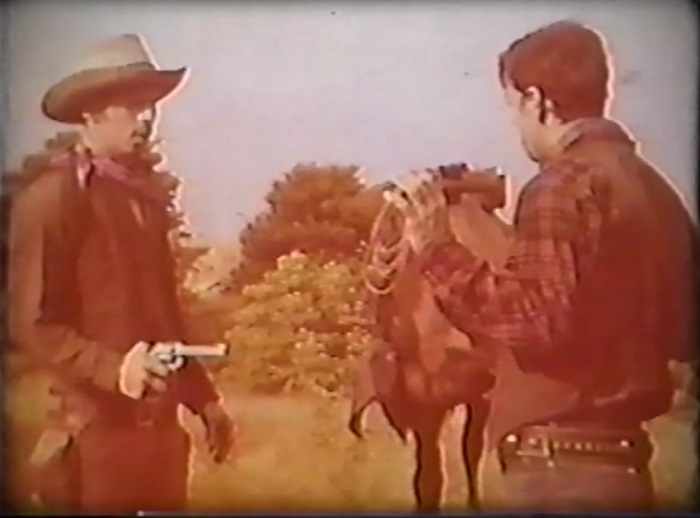 Date produced: 1949
Filmmaker(s):
Languages:
English
Length:
600 ft
Format:
16mm
Colour:
Ansco Color
Sound Notes:
Silent
Awards/Recognition:
ACL Ten Best 1949 - Honorable Mention
American Cinematographer Amateur Movie Makers Contest, 1950 - Honorable Mention
Description:
"Handsome and hard hitting, Bold Badmen is a Western filmed as Westerns should be filmed — without romance, without singing, but with plenty of shooting, plenty of horsemanship and plenty of very tough looking and acting characters. Casimer V. Zaleski knows that movement makes a movie. Bold Badmen is crammed with both kinds — physical and cinematic. Unfortunately, the physical condition of the film (which was inexcusably scratched and dirty) did much to restrain the enthusiasm of the judges for a melodrama of real power." Movie Makers, Dec. 1949, 468-469.
Resources:
Bold Badmen can be viewed in its entirety in a YouTube upload of a Warner Cable television broadcast titled "The Zaleski Brothers Film Festival". The film plays from the 39 minute mark to the 57 minute mark.

A short documentary titled The Real Bold Badmen (dir. Joe Siebert, 2011) tells the story of the making of Bold Badmen. The documentary features excerpts from the film and interviews with the producers of the film, the Zaleski brothers. Watch the documentary on Vimeo:
Decades before the independent film movement, the young amateur filmmaker Len Zaleski was creating short westerns in his hometown of Canton, OH. This documentary is a reflection on the life and passion of this mid-western cowboy whose spirit, even 60 years after the fact, remains as bold and bad as ever.
Locations:
Canton, Ohio (Filming)
Adrian, Michigan (Filming)
Club Affiliation:
Subjects:
Genre:
Form:
Tags:
Video Link:
---