---
---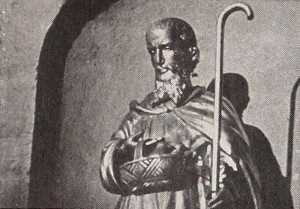 Date produced: 1939
Filmmaker(s):
Description:
"In L'Ile d'Orléans, Radford and Judith Crawley cross a bridge and come back. But they cross a bridge with a difference, because what they see and what they make us see on the other side of that bridge is the inner essence of a withdrawn people, who proudly conserve the memory of things past in the realities of things here. The Maxim Award winner opens a door into a region of Eastern Canada — the Island of Orleans — where old French and old Canadian folkways are lived placidly and with dignity. Actually, the camera crosses a very modern bridge at the film's beginning and returns over it at its end. But, once in L'Ile d'Orléans, in the hands of the two Crawleys, this Twentieth Century box of wheels and gears spins a tale of yesterday, even if it pictures just what its lens sees today. The landscape and the old houses, some of them there for more than two hundred years, set the decor, after which we come to the dwellers in this separate Arcady. They do, with a delightful unconsciousness of being observed, the things that make up their daily lives, and, when invited to take notice of the visitors, they do this with a fine courtesy that is the very refinement of hospitality. Mr. and Mrs. Crawley devote a liberal part of their footage to a careful study of home cheese making, in which camera positions and a large number of close shots turn what might have been a dull and factual record into something of cinematographic distinction. The highlight of the Crawleys' film is a leisurely and sympathetic watching of what is the highlight of life in l'Ile d'Orléans — the country Sunday. We see different churches, all of a general type, but each with its essential neighborhood individuality. Finally, one of these is singled out for an extensive camera visit. Bells ring and the country priest is shown with his gravity and solemn courtesy. The countryside comes to life with its church bound inhabitants who wind over the simple roads slowly yet purposefully and with the assurance of those who know that the land is theirs as it was their fathers'. With such pictures of everyday life, scored with appropriate music for double turntable showing, Mr. and Mrs. Crawley have etched an epoch, in a record which can stand on its own feet with good genre description in any art form. With not a single concession to sentimentality — as should be the case in honest work — but with a sure feeling for that which reaches out for the finer emotions, they have shown us what they found across the bridge. Here is personal filming at its best." Movie Makers, Dec. 1939, 608-609.
---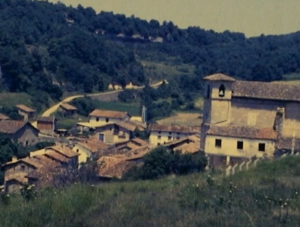 Date produced:
Filmmaker(s):
Description:
Corto documental sobre el pueblo de Izkiz , en el que el narrador describe de forma poética el pueblo entre planos de paisaje y arquitectura de este mismo. Mientras se recitan varias poesías aparecen imágenes de casas, tejados, laderas, ventanas, calles, la iglesia, casas abandonadas, animales, personas, niños –jugando o andando en bicicleta –, personas mayores, escenas de campo y vida campesina, escenas vacacionales, invernaderos, flores, insectos, el río, etc.

Documentary short about the town of Izkiz, in which the narrator describes the town in a poetic way while the film shows shots of landscapes and architecture. While several poetries are recited, we see images of houses, roofs, hillsides, windows, streets, the church, abandoned houses, animals, persons, children –either playing or riding bikes–, elderly people, countryside and country life scenes, vacation moments, greenhouses, flowers, insects, the river, etc.
---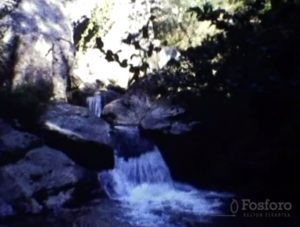 Date produced:
Filmmaker(s):
Description:
El filme muestra diversos paisajes naturales de Ribera en Álava (España) mientras se escucha la narración de un hombre reflexionando mientras deja atrás la ciudad y mira las montañas y ríos. El hombre recuerda distintos fragmentos de su vida y mientras mira el río concluye que aún le queda un largo camino en la vida.

The film depicts several natural landscapes of Ribera in Álava (Spain) while a male voice narrates the reflections of a man while he leaves the city behind and watches the mountains and the rivers. The man remembers many fragments of his life and while he sees the river he concludes that there is still a long road ahead for him in life.
---
Date produced: 1949
Filmmaker(s):
Description:
"Film about the Woodley's at their place in the country." Library and Archives Canada.
---
Date produced: 1965
Filmmaker(s):
Description:
La vida del Basierretarra / The life of the Basierretarra.
---
Date produced: 1934
Filmmaker(s):
Description:
"'Moods of Nature' by Paul Brunford, recently won a prize in the Institute of Amateur Cinematographers' contest in England. Not only does Brunford show a fine sense of rhythm, but a keen eye for composition and a splendid sense of cutting and dramatic values in nature. This picture merely deals with a storm arising and then subsiding. Brunford uses both water and earth to show this. The smashing waves, bending trees and waving wheatfields combine to create his drama. His photography however, is something for which he is to be especially congratulated." American Cinematographer, Jan. 1936, 24.
---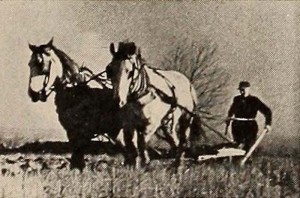 Date produced: 1938
Filmmaker(s):
Description:
"Charles A. Ferrie, jr., an urban movie maker, has gone back to the land for the beauty and charm of Mother Earth. Here, in carefully filtered and unfailingly well composed shots, he has caught the moist freshness of newly turned soil, the delicate loveliness of waving grain, the quiet dignity of men going about the homely tasks of the farm. His method of subject matter treatment has been to study these things from the outside, as a sensitive spectator, rather than to involve them (and the spectator) in a story told against such backgrounds. Mr. Ferrie's photography is consistently good and often striking, while his sequencing adds much of interest and inspiration to an essentially pastoral subject." Movie Makers, Dec. 1938, 620.
---
Date produced: 1952
Filmmaker(s):
Description:
"Edited film describes life on the Navajo Reservation. Scenes include women weaving, grinding corn and caring for children (baby is bound into cradle board) and men herding, hoeing corn, silversmithing, and washing and binding their hair. Also shows Navajo Rodeo (encampments, stinger and bronco riding, wild cow milking and horse racing), trading post at entrance to Monument Valley (exchanging rug for goods), Ganado Mission, workers in uranium mine and scenic views of Monument Valley and Canyon de Chelly. Efforts to deal with lack of water is discussed in narration," Human Studies Film Archives, Smithsonian Museum.
---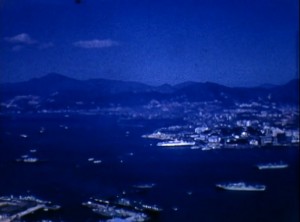 Date produced: 1961
Filmmaker(s):
Description:
"Hansen travels to Hong Kong following his original visit to China in 1937. Initially, he spends much of his time roaming the commercial districts, giving a sense of tourism side of Hong Kong. Immediately following, he spends several minutes focusing on the skyline and captures footage of locations on the outskirts of the city. Hansen then spends the rest of the evening eating at a local cuisine and attending a show. For the remainder of his trip, Hansen shifts his attention from Hong Kong's tourist areas to the residential districts, fishing docks, and rural farming." UC San Diego Library.
---
Date produced: 1934
Filmmaker(s):
Description:
"In Peasants, Konstantin Kostich, ACL, has produced a sympathetic and withal entertaining picture of the people of village and farm land in Czechoslovakia and Roumania. Expert photography, an understanding choice of camera angle and workmanlike sequences mark this interesting film study and serve as a vehicle for its outstanding quality — a sincere and attractive presentation of the people as they are, not as they might be made to appear for the sake of motion picture cleverness. Mr. Kostich needs rely only on his own skill and can afford to neglect making a point of what, in dress or custom, might appear to be a strange peculiarity to another people. Unlike many professional travel photographers, he can avoid these obvious aids to sustain interest and can present his peasants on the friendly basis of real understanding. This does not mean that he does not tell a real story; it simply means that he tells it fairly and sincerely and, hence, beautifully." Movie Makers, Dec. 1934, 534.
---
Total Pages: 3