---
---
Date produced: 1937
Filmmaker(s):
Description:
Educational short film presenting Boulder Dam (now known as Hoover Dam) as an example of a "wealth of the land in the form of energy."
---
Date produced: 1962
Filmmaker(s):
Description:
"Down the Colorado River from Hite to the junction of the San Juan River in Colorado, via a power boat. This is a camping, sightseeing adventure in the deep canyons of the river. We are acquainted with the preparations for this trip Along the scenic canyon way of picturesque land and rock formations we stop to search out some of the birds, lizards, flora, and other life of interest to the nature lover. The placid and rugged beauty of this area contains some of the old Indian caves. From one of the campsites we go by foot to the famous Rainbow Bridge, a natural arch span of more than 300 feet. Canyons unlimited is an inspiration to those who love adventure" PSA Journal, Oct. 1962, 34.
---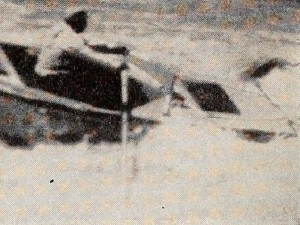 Date produced: 1952
Filmmaker(s):
Description:
"In Grand Adventure Louise Fetzner presents a lively record of a daring run through the wild rapids of the Colorado River, as it courses the Grand Canyon from Lee's Ferry to Lake Mead. While thrilling scenes of the intrepid boats and boatmen provide the film's drama, Mrs. Fetzner has not overlooked human interest sequences on the small daily activities of these hardy adventurers. Generally good in photography and editing, the film falls off in pace somewhat in its latter portions. And perhaps the frequent inserts of a title-map of the Colorado are more hindrance than help in what is essentially an action picture." Movie Makers, Dec. 1952, 340.
---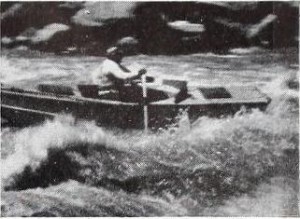 Date produced: 1951
Filmmaker(s):
Description:
"Grand Canyon Voyage is the record of how seven daring people in three tiny boats ran the Colorado River from Lee's Ferry in Arizona, through the awesome gorge of the Grand Canyon, to Lake Mead in Nevada. The trip itself was the exciting and gallant climax to four years of dedicated effort by Al Morton. Ideally, this film record of the trip should be infused with this same excitement, this same sense of gallant adventure. That it is not consistently so inspirited will be a source of sincere regret to all who know Mr. Morton. But perhaps no motion picture of this dangerous, demanding river run could recreate this spiritual overtone. The physical odds against filming were too great, too overwhelming, for controlled camera work and integrated continuity. Survival itself became more important than an image of it. Al Morton, we believe, has done a supremely difficult job far better than would the most of us. He has done it as well, surely, as any cameraman living." Movie Makers, Dec. 1951, 411.
---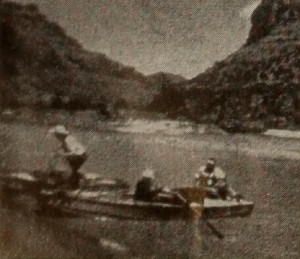 Date produced: 1953
Filmmaker(s):
Description:
"Louise M. Fetzner is a housewife who plainly likes the thrills of running the rapids down dangerous rivers while she makes movies that really move! In Green River, Mrs. Fetzner has a well paced, well photographed and altogether literate account of the adventures which she and her companions had on the Colorado's main tributary. The film is interesting and exciting, and tells its story concisely and without padding. The accompanying narrative is written and delivered effectively, although occasionally the level of the background music rises to overwhelm the narrator's voice." Movie Makers, Dec. 1953, 344.
---
Date produced: 1951
Filmmaker(s):
Description:
"'Jeep Trails Through Utah' was produced by Stan Midgley with the use of a jeep rather than his faithful bicycle. He had to leave his bicycle at home, as the deep sands of Utah can only be traveled in a jeep. In his mechanical horse he criss-crossed one of the emptiest blanks on the American map. He leaves the traveled highways and goes back into the little known areas to find fantastically beautiful and unusual natural formations. He travels over sand-blown desert trails, up rocky mountain paths and through treacherous mountain gorges to produce a gem-like picture of Utah." La Canada Valley Sun, Sept. 9, 1971.
---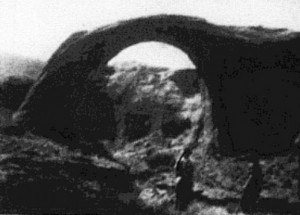 Date produced: 1954
Filmmaker(s):
Description:
"After years of seeing the rugged Colorado River conquered by small parties of adventurers as rugged as the river itself, O.L. Tapp has produced Land of the Rock Up Over, a film in which a party of perhaps half a hundred young men and women thoroughly enjoy a mass invasion of the river country in seven large rubber rafts and only one cataract boat. The charm of Mr. Tapp's capable but perhaps over-long film lies in the companionship, fun, and excitement that stem from the very size of the exploring party. Admittedly in the river passage from Hite, Utah, to Lee's Ferry the river's most dangerous rapids have been avoided. But who cares - the group had fun! Skillfully photographed and with an interesting narrative well-recorded on magnetic stripe, the film holds audience attention by its very competence throughout its considerable length" PSA Journal, Jan. 1955, 50.
---
Date produced: 1960
Filmmaker(s):
Description:
"Tells the story of 'Little Hunter' hunting a bear using images carved into stone walls near the Colorado River by a Native American tribe." Church History Library.
---
Date produced: 1951
Filmmaker(s):
Description:
"Waters Of Lodore - Unlike most letter carriers who go for a hike on their vaction, letter-carrier Morton and a party of friends set out on a boating adventure down the Colorado river during his 1950 summer vacation. Morton recorded the adventure from start to finish, and edited the footage into an absorbing documentary having many thrilling moments. Although the picture is a little slow getting started -the preparation and get-away sequences being somewhat overly- lenghty -the picture, once the boats get underway, is packed with interest and not a few thrills. It must have been a monumental job making movies on such an arduous journey, for it was often a tough enough job just to keep the boats afloat. Staging the boat action in the rougher waters required infinite patience and camera skill, but Morton has been rewarded with some excellent shots of his fellow-boatmen navigating the dangerous rapids. Morton shot the picture on 16mm Kodachrome at 24 f.p.s., hoping later to combine the narration on a sound print. At present, the narration is recorded on wire and synchronized with the picture." American Cinematographer, May 1952, 224.
---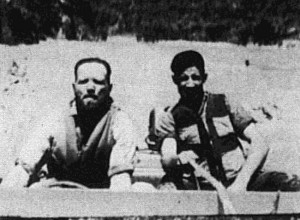 Date produced: 1957
Filmmaker(s):
Description:
"Al Morton's "Wild Water and Bouncing Boats" takes us through Desolation and Gray Canyons on the Green River which flows into the great Colorado River. The Green River starts in northern Utah and joins the Colorado south of Arches Monument in Utah. The picture takes us down the Colorado as far as the Hoover Dam. The country abounds in desert and canyon scenery—to say it is spectacular is a display of modesty. There are canoes and other hand-powered craft on the turbulent rapids with upsets and the struggle to gain an island rock and the shore. There are craft equipped with outboard motors to drive it through turbulent waters and rapids. This film is packed with thrills for those who like rough water" PSA Journal, Nov. 1957, 33.
---